Back
10 Reasons to Visit Beirut
Travel + Leisure magazine recently announced the results for its World's Best Awards 2017 and Beirut captured #3 spot in The Best Cities in Africa and the Middle East category, and Four Seasons Hotel Beirut is a perfect a jumping-off point for the city's fashionable nightlife and restaurant scene, as well as mountain and Mediterranean excursions.
So if you are still looking for reasons to visit Beirut and are wondering if the city is for you, here are our top 10 reasons why it should be at the top of your priority list.
1. People
Beirut has one of the nicest urban populations in the Middle East. From the young to the old, Lebanese are friendly, hospitable, extremely helpful and polite. This is part of our culture and style of living that is just welcoming of new people.
2, The Dining Scene
Take a culinary journey around the world with Beirut's diverse restaurants ranging from haute cuisine to gastro pubs, traditional Lebanese restaurants and street food. Beirut's bar scene is equally varied, so make sure to check out the rooftop bars, pubs and nightclubs.
3. Size and Proximity
The country is tiny but very diverse, and sometimes it's hard to believe you're within the same borders when going from village to town, or from the coast up the hills. In Lebanon you can have a lovely morning skiing in the mountains, then drive to the beach for the afternoon, and end your day with a good party in Beirut.
4. History and Architecture
One doesn't need any justification on the historical significance of this city. Beirut´s history goes back more than 5,000 years. The culture of Beirut has evolved under the influence of many civilisations and people, including Phoenician, Greeks, Romans, Arabs and Ottomans. Even the architecture reflects this feeling as there are sites and structures hundreds and thousands of years old all around the city.
5. Beaches
Beirut is home to some very beautiful beaches and luxurious resorts lined up against the amazing Mediterranean Sea. From north to south, there's a gorgeous and varied coast, with sand, rock, cliff and everything in between separating land and sea.
6. Sightseeing
If nothing else, this city is simply a sightseeing paradise. There are plenty of landmarks in and around the city that you simply should not miss. You can explore the city by foot or just rent a taxi or order one of our Hotel's limousines for incredible day trips around the country.
7. Diversity
Cultural diversity is reflected in language, cuisine, the arts and the country's religious heritages. A visit to any of Lebanon's ancient archeological ruins, traditional villages or religious sites will truly give you a taste of the cultural mosaic of this captivating country.
8. Climate
Beirut is blessed with a mild Mediterranean climate with hot and rain-free summers, pleasant fall and spring seasons, and cool, rainy winters. The climate is perfect for year round visits.
9. Fashion and Shopping
There are plenty of shopping areas in the city, each with its own specialty and flavour. One thing for certain, whether it's clothes, bags, shoes or jewelry that you're looking for, Beirut will provide you with all you need.
10. Wine
Lebanon is one of the oldest wine-producing sites in the world. Grapes have been turned into delicious nectar in the region for thousands of years. Lebanese and wine are almost synonymous and you haven't truly experienced the magnificence of Lebanese wines till you have visited one of the many Lebanese wineries or been to a wine tasting event in Beirut.
From your base at Four Seasons Hotel Beirut - recently voted as one of the Top Ten City Hotels in North Africa & the Middle East - the Hotel's concierge team, which pride themselves on being destination experts, are ready to ensure that your time in Beirut will evoke unforgettable memories.
---
---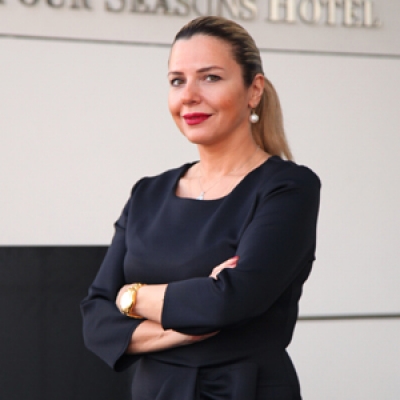 Rita Salamoun
Director of Public Relations and Communications
1418 Avenue Professor Wafic Sinno
Beirut, 2020-4107
Lebanon
---
Four Seasons Hotel Beirut
PRESS KIT

Visit Four Seasons Hotel Beirut Website