Back
World-Class Pâtissière Daniella Lea Rada Appointed New Executive Pastry Chef at Four Seasons Hotel Atlanta
Career spans 15 years, three continents, five countries, eight cities
September 20, 2022,
Four Seasons Hotel Atlanta welcomes Daniella Lea Rada as its new Executive Pastry Chef. In this role, the 15-year pâtissière will lead the culinary artistry of all house-crafted desserts, chocolates, pastries and viennoiseries served at Sunday Brunch, Bar Margot, Park 75, personalized welcome amenities for Hotel guests, In-Room Dining and banquet events.
She joins Four Seasons Hotel Atlanta following the inaugural year of Le Bon Nosh, where she opened the Buckhead restaurant as executive pastry chef and received critical acclaim for her creations, including Atlanta Magazine's article praising her "... impeccable composed almond croissants, scones flecked with orange zest, and a loaf version of hazelnut financiers perfumed with beurre noisette." Prior to Le Bon Nosh, she was executive pastry chef at The St. Regis Atlanta for three years. Other positions include working at Ritz Carlton Santiago in Chile; Renaissance Caracas La Castellana Hotel, Amapola Restaurant, Palace Caracas, and Bucare Restaurant in Venezuela; and Hotel Austral Bahia Blanca in Argentina.
Chef Lea Rada has trained among some of the world's most prestigious culinary institutions in France, Latin America and the United States, working with and learning from the likes of distinguished Meilleur Ouvrier de France recipients Thierry Bamas and Pierre Mirgalet. She graduated from Argentina's Instituto Gato Dumas - Colegio de Gastronomía in 2009, and continues to refine her skills by completing at least one new advanced pastry course per year – often planning her international "vacations" to Paris, New York, Chicago and Buenos Aires in tandem with such courses. She credits her passion for infinite education to her expansive knowledge of ingredients, flavours, textures, colours and presentation.
Born and raised in Caracas, Venezuela to a Holocaust survivor, Lea Rada's fondness for the culinary arts was sparked by her maternal great-grandmother. "Our family recipes were shared through generations, and we would prepare these recipes together - making arepas, empanadas and desserts that incorporated natural sweeteners from locally-grown fruits." When reflecting on her upbringing, she recalls the kitchen as a "safe space" for open communication and mutual respect, where family connected over cafecitos while rolling yucca buñuelos.
"In my pastry kitchen, I begin each day by asking my cooks what they ate for breakfast. It seems like a lighthearted way to start the day, but what I'm really doing is acknowledging the way we are all connected through food. In pastry, there are classical methods to create a tart, but there are cultural nuances that celebrate the historical heritage of people from around the world – and those are the lessons that make us better, in more ways than one."
Chef Lea Rada and her husband have lived in Atlanta since 2018 and work to immerse their two-year-old son Ethan in the cultural heritage of Venezuela while embracing the opportunities of the United States.
---
---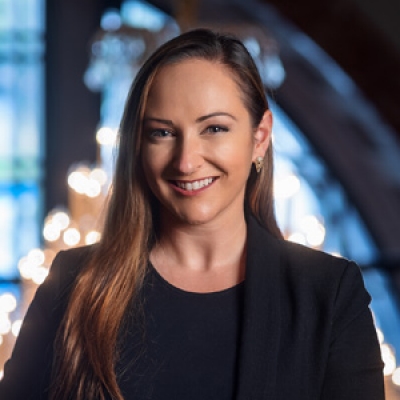 Ashley Svarney
Public Relations Director
75 Fourteenth Street NE
Atlanta, Georgia 30309
USA
---
Four Seasons Hotel Atlanta
PRESS KIT

Visit Four Seasons Hotel Atlanta Website