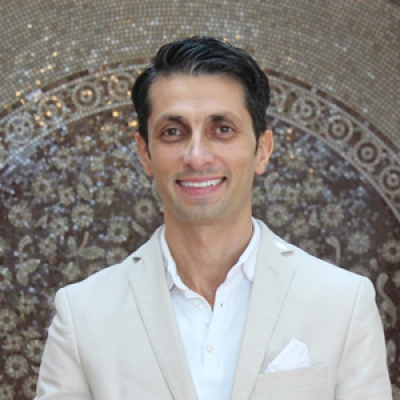 Nicolay Dimitrov
Director of Spa
"Work wholeheartedly and you will succeed. When you work with passion, there is little competition."
Four Seasons Tenure
Since 2014
First Four Seasons Assignment: Four Seasons Hotel Alexandria at San Stefano
Employment History
Four Seasons Hotel Alexandria at San Stefano; The Palm Beach Hotel and Spa Kuwait; Al Courniche Club Kuwait; Peter Island Resort and Spa Tortola, British Virgin Islands; Emerald Beach Resort and Spa Bulgaria; Radisson Blu Tbilisi and Batumi
Birthplace
Languages Spoken
English, Russian, Bulgarian, Macedonian
Nicolay Dimitrov's life story reads like an incredible spa journey. Having dedicated two decades to the hospitality and wellness industry, Dimitrov understands what people seek at a luxury spa. As Director of Spa at Four Seasons Hotel Bahrain Bay, Dimitrov is presenting guests retreat experiences for healing, rejuvenation and relaxation.
From an early age, Dimitrov grew up residing in hotels. His father worked as an engineer in the hospitality sector. He spent most of his free time in either a spa, fitness area or swimming pool. These leisurely moments formulated into a passion. "I have been lucky to translate my experiences into valuable wisdom. It's important to understand the essence of wellbeing and the state of mind guests desire."
Dimitrov studied physiotherapy and rehabilitation at medical university at Sofia, Bulgaria. He also attended various hotel hospitality courses throughout his career. His well-rounded knowledge of physical fitness, health and restorative therapies is reflected in many of the offerings at the Spa.
"It's an honour to lead the incredibly talented team of professionals at the Spa and fitness centre. Four Seasons Hotel Bahrain Bay has succeeded to become the best hotel in the country because of its people and service culture. The people are key to the Spa's success."
Dimitrov continues to build brand loyalty through the increasing spa memberships each month and the life enhancing treatments and experiences presented. He believes people need to regularly slow down and disconnect from the rigours of everyday life. He aims to enrich lives with his vast expertise and contribute to every member's personal spa and fitness journey of transformation, health and wellness. "I love interacting with the guests and members at the Spa. That is one of the best parts of my job," says Dimitrov.
Dimitrov is settled in Bahrain with his loving wife. "We chose to live in Bahrain as many friends described the warmth of the Bahraini people and the weather. It also feels wonderful knowing you are working for the best hotel in the country." In his spare time Dimitrov lives an active lifestyle, focusing on fitness and self-development. He is also an avid film buff.