Back
Woman and Art Exhibition at Four Seasons Hotel Baku
March 29, 2021,
Women are a beautiful, powerful force who are able to create major change in the world.
On the occasion of the International Women's Day, Four Seasons Hotel Baku with pleasure paid tribute and celebrated women by holding an exclusive private exhibition for two days dedicated to one of the inspirational female figures in Azerbaijan who was a very talented painter, Vajiha Samadova.
Vajiha Samadova was a professional female painter famous not only in Azerbaijan, but in the Muslim world in general. Her beautiful artworks have been repeatedly shown at international exhibitions in Vienna, Cairo, Beirut, Beijing, Warsaw, Budapest, Sofia, and other cities around the world representing Soviet art.
She passed away only at 41 years old but is still remembered as a unique colourist and artist, whose sketches even looked like an impeccable work of art. Those who know her talk about the beauty of this woman, her charming smile, her sophisticated demeanour, her character, her fanatical passion for art, of course, her outstanding paintings.
The exhibition included 10 mesmerising paintings done with oil on canvas technique and personal belongings of Vajiha Samadova such as her sketchbooks, favourite dishes, vases, jewellery boxes and some items she was inspired by that could be see in her paintings as well.
"I am proud and touched by the tremendous respect and interest shown by various institutions and organisations as well as leaders of our independent and modern country to the art of my grandmother – one of the first professional female painters of Azerbaijan, who made an indisputable contribution to Azerbaijani art. I would like to express my sincere gratitude to the team of Four Seasons Hotel Baku for the opportunity to showcase Vajiha Samadova's art works during the private exhibition dedicated to the International Women's Day," says Akshin Mirfeyzullazada, the grandson of Vajiha Samadova and the organiser of the exhibition.
This unique event took place in Piazza Lounge March 7-9, 2021 and was available for guests of Zafferano Restaurant as well as for in-house guests of the Hotel.
---
---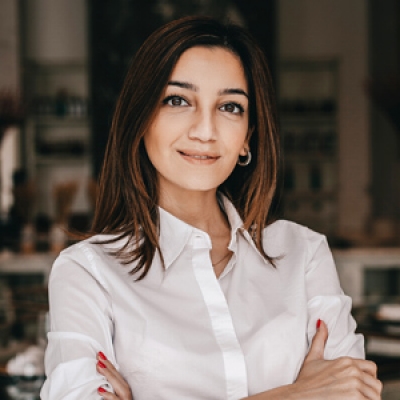 Leila Aliyeva
Public Relations Manager
1, Neftchilar Avenue
Baku, AZ1095
Azerbaijan
---
Four Seasons Hotel Baku, Azerbaijan
PRESS KIT

Visit Four Seasons Hotel Baku, Azerbaijan Website