Back
Four Seasons Hotel Baku Presents: 3-Day Family Itinerary
While you are busy with packing your luggage for your trip to Baku, let our Concierge Team at Four Seasons Hotel Baku take care of your vacation and make it a memorable one. Just print an itinerary and take it with you, and we can assure that you won't miss anything!
Arrival
We hope you are safely arrived and enjoying your room, but before you start thinking of where to go and what to see, let us remind you that you are currently standing in the heart of Baku city. Each side of the Hotel is full of "must see" places. We recommend you start right after a delicious breakfast in Zafferano Restaurant and ...
Go to the left of Four Seasons on Day 1 to meet "Enigmatic Baku"
You will enter the gem of architecture and culture, the Old City of Baku (Icheri Shekher), named a UNESCO World Heritage Site

Then, head to Maiden Tower (UNESCO list of monuments since 2000) and 15th-century architectural complex of Shirvanshah's Palace
Enjoy your first taste of Azerbaijan at Tendir, which offers variety of local dishes and try fresh-cooked hot tendir bread
Visit the Museum of Miniature Books, which has several thousand of the fairy-sized books and is the first and so far only museum of miniature books in Azerbaijan and in the world
Stop by Fountains Square - there are plenty of sidewalk cafés, restaurants and shops
Evening
For dinner, taste our traditional kebabs at our Eyvan Terrace
Start your walk from the back of Four Seasons on Day 2 to meet "Cultural Baku"
Walk in one of the oldest gardens in Baku, the Philharmonic Park
After we will take you to explore the Azerbaijan Carpet Museum and gain a whole new appreciation for the craft and artistry of woven carpets from the 17th to early 20th centuries
Taste national cuisine at Sumakh Restaurant
Visit Heydar Aliyev's Cultural Center by Zaha Hadid
Evening
For dining out, the Concierge can guide you to range of other international cuisines, from British to Argentine
After dinner visit Baku's oldest theatre - Academic Opera and Ballet Theatre or Baku Puppet Theatre
We will direct you to the right side of Four Seasons on Day 3 to meet "Ancient Baku"
Discover the ancient petroglyphs at Gobustan National Park (UNESCO World Heritage Site); a mysterious and magical place, the reserve has more than 6,000 rock engravings dating back 5,000 to 40,000 years
The largest mud volcanoes in the Caucasus are only 30 minutes' drive from Gobustan National Park.
Back at the Hotel, enjoy authentic Italian cuisine in Zafferano Restaurant
After take a rest in your room, cross the street to the Boulevard and enjoy the fascinating view of the Caspian Sea
See the city from the bird's eye view on the new ferris wheel
Rent a bike and ride across the Boulevard
Evening
For dinner, order from In-Room Dining and then cozy up for movie night
The Four Seasons Hotel Baku Concierge team truly believes that you will fall in love with our city like we are, and Baku will be added to your list of "must come back" cities!
---
---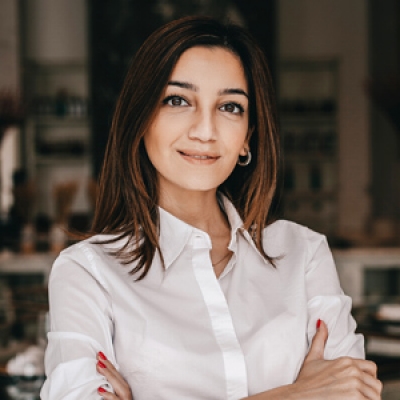 Leila Aliyeva
Public Relations Manager
1, Neftchilar Avenue
Baku, AZ1095
Azerbaijan
---
Four Seasons Hotel Baku, Azerbaijan
PRESS KIT

Visit Four Seasons Hotel Baku, Azerbaijan Website