Back
A Dream Come True: Weddings at Four Seasons Hotel Baku, Azerbaijan
Couples combine Azeri traditions with unique ideas of their own
The wedding day is one of the most important days in one's life: a new beginning, and the first step to family life. It's no secret that in Azerbaijan, people take extreme responsibility in organising weddings, following local traditions and adding their own touches to the celebration. As a result, one will never attend the same Azeri wedding twice, as they are all totally different.
Since opening in September 2012, Four Seasons Hotel Baku has become a central part of the city's most wonderful weddings, hosting fabulous wedding banquets, as well as engagement and hennah parties.
After visiting the Hotel for the first time - to attend a wedding, or perhaps for a birthday party, the recent Christie's exhibition or other social occasions - many people become regular guests who enjoy the comfort, lovely interior design, calming colour palette and fresh flowers, and most of all, the always smiling staff members. This comes from the heart, especially when helping a wedding couple celebrate their big day.
The banquet is a culmination of the wedding; the event from which there should be only warm and bright memories.
However, before the wedding there are two steps the couple will usually take: the engagement, and the hennah party for the bride and her girlfriends. This special bachelorette party is an Azeri tradition where all the women get their hands painted with hennah.
For the banquet, Four Seasons Hotel Baku offers the big, bright and beautiful Segah Grand Ballroom, or the more intimate Rast Banquet Room, for parties marked by perfect service and attention to detail. The Hotel's catering team helps couples create their dream environment with colours, menus and more.
If the couple have their own unique ideas, such as drive into the ballroom in their car – why not? After listening carefully to all of their thoughts, the team will start working on the project.
"We treat each guest as a special one, trying to make all of their wishes possible on their memorable day," say Catering Director Leyla Dadashova.
Considering the name of the Hotel, one idea is to plan each wedding accordingly to the season of the year: by the colours, decoration details and menu. A wedding at Four Seasons Hotel Baku is a symphony of elegance and tastes at the expert hands of the Hotel's Chefs, who can create a different menu suited to each couple's wishes.
"We are opened to new and fresh ideas, and are glad to welcome more happy newlyweds who choose Four Seasons Hotel Baku for their special occasion to our list," says Leyla. "Dreams come true at Four Seasons Hotel Baku!"
---
---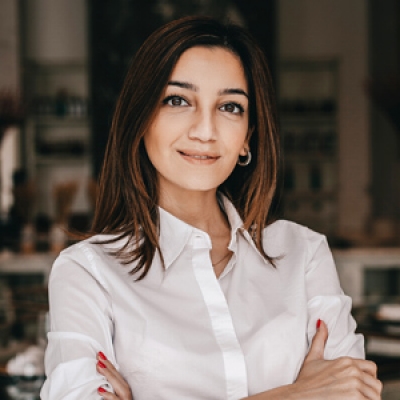 Leila Aliyeva
Public Relations Manager
1, Neftchilar Avenue
Baku, AZ1095
Azerbaijan
---
Four Seasons Hotel Baku, Azerbaijan
PRESS KIT

Visit Four Seasons Hotel Baku, Azerbaijan Website