Back
Discover the Best of Thai Street Art at the ART Space at Four Seasons Hotel Bangkok
Group exhibition POV: STREET OF BKK explores Bangkok through the eyes of seven Bangkok-based street artists
May 19, 2022,
Street art is a chronicle of the moment, intended to awaken thoughts, protest, criticise, satirise, and provoke emotions of viewers and passersby. Street art originated furtively in public spaces, and was often created illegally, but in the present-day street art is out in the open and accepted as part of the landscape in a variety of public spaces, from walls to telephone booths to public transportation. But street art still serves to memorialise moments and express the thoughts of an artist at a moment in time, no matter the environment or context they are being created or displayed.
The new exhibition POV: STREET OF BKK at the ART Space by MOCA BANGKOK at Four Seasons Bangkok presented in collaboration with BRIDGE ART AGENCY shows messages and ideas of the moment from the perspectives of seven artists based in Bangkok. The works on display have been inspired by the culture and lifestyle of city, and each artist shares their own messages or moments where they would like to provoke thoughts about the people, society, politics, beliefs, or ideas of those living in Bangkok.
"Street art tells the story of a moment," says MOCA BANGKOK Managing Director and exhibition curator Kanachai Bencharongkul. "Street art is meant to make you think, and the collection of pieces in POV: STREET OF BKK shows the view of Bangkok through seven different sets of eyes. The result is a unique collection of inspiring pieces, each with their own perspective, using different mediums and techniques that will hopefully make the viewer take a second look and spend time discovering Bangkok from a different perspective."
POV: STREET OF BKK is a medium for introducing tourists and locals to regard Bangkok through the different lenses of these seven artists, and each viewer can then distil the experience into moments that can further develop and enhance their own perspectives of the beloved, bustling, creative, and crazy capital that the artists, and the Hotel, call home.
"Street art is probably not something you would expect to see at a Four Seasons property," says Four Seasons Hotel Bangkok General Manager Lubosh Barta. "However, street art is a huge part of the Bangkok Creative District, which we call home. At Four Seasons, we strive to always connect with our local community and surroundings. When the teams at MOCA BANGKOK and BRIDGE ART AGENCY approached us about this exhibition, there was no question in my mind that it would result in something stunning, and I think our guests will find the exhibition extremely enlightening."
POV: STREET OF BKK features seven of the best street artists from around Bangkok:
Benzilla - a painter, street artist and sculptor. His art features a three eyed character named "LOOOK" an alien who came from nowhere and lives with us to observe this crazy world.
BigDel – a graffiti writer, graphic designer and illustrator; BigDel is considered one of the pioneers of Bangkok street art, active since 1999.
Eartherth – a pop surrealism style illustrator and graphic designer inspired by everyday life. Her artwork uses signature bright, pastel colours and zombie-like characters.
FREAK – a street artist who creates bold, oversized urban murals, digital painting, and graphics. Their concept combines pink, horror, and sci-fi to create one-of-a-kind art work.
GAGSXGARY - Gary Gagliano X GAGS is an American painter now based in Bangkok. He works mainly in enamels on canvas, large scale contemporary abstract paintings, and wheat paste collage mixed media creating sculptures that depict human social behaviour that are then photographed to be used and deconstructed and rebuilt into collage mix media works.
MRKREME – an artist, industrial designer and toy designer whose art revolves around a family of furry monsters with vibrant colours and unique personalities.
NEV3R – a street artist who works across numerous mediums including oversized wall paintings, graffiti, and paintings. His art reflects all of his love for life and art, from music to films and books.
POV: STREET OF BKK is a complementary exhibit for all guests and patrons at Four Seasons Bangkok ART Space. Exhibits rotate regularly, so Bangkok residents and returning Four Seasons guests can view new collections several times a year. Stay up to date on the latest from Four Seasons Bangkok and the ART Space on Instagram.
About the ART Space by MOCA Bangkok at Four Seasons Hotel Bangkok at Chao Phraya River
The innovative ART Space at Four Seasons Hotel Bangkok at Chao Phraya River has emerged from a partnership with MOCA BANGKOK. Located in the Bangkok Creative District, art and creativity take centre stage as imaginative Thai artists offer guests a unique opportunity to immerse in the local creative landscape without leaving the Hotel.
Under the joint initiative, the Hotel displays a selection of impeccably curated Thai works of art by MOCA BANGKOK. Exhibits rotate on a regular basis, so Bangkok residents as well as returning Four Seasons guests can view new collections several times a year. The showcase at the Hotel is an extension of the museum, a chance to appreciate fine art in an unconventional ambience.
---
---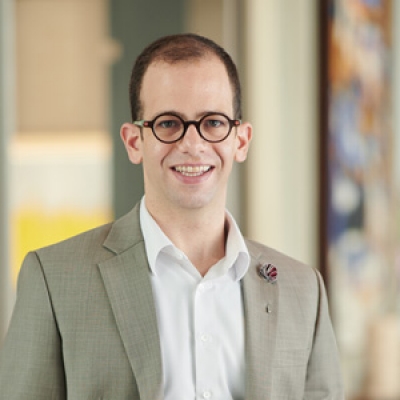 Dan Schacter
Director, Public Relations and Communications
300/1 Charoenkrung Road Yannawa, Sathorn
Bangkok, 10120
Thailand
---
Four Seasons Hotel Bangkok at Chao Phraya River
PRESS KIT

Visit Four Seasons Hotel Bangkok at Chao Phraya River Website