Back
Four Seasons Hotel Beirut Celebrates the Olive Harvest Season by Launching an Exclusive Guest Experience
October 6, 2017,
Many people will agree that autumn is the best time to visit Lebanon. As the weather cools off and the searing hot days become milder, generations of families across the country engage in olive harvesting, a rite of passage of seasons in Lebanon, where olive trees are ready for their fruits to be harvested, transformed and consumed.
Through October and November, Four Seasons Hotel Beirut has partnered with Zejd, a renowned company in Lebanon producing olive derivative products, to take guests on an exclusive tour and give them an inside look at the world-renowned olive oils of Lebanon, a country with rich oleic history and culture dating back centuries.
Zejd, derived from the ancient Phoenician word for olive oil, is a family affair. Back in the 19th century, the Fares family began cultivating olives and pressing oil in Baino, a mountain village in the Akkar region of northern Lebanon, renowned for the quality of its olive oils. Today Zejd hosts an organic olive orchard, an olive oil pressing facility, a tasting room on-site and a flagship store in Beirut.
In Baino's countryside, guests will engage in a private tour of Zejd's organic orchard with the proprietor himself and will be initiated to sustainable olive picking practices and organic farming. After visiting the olive extraction unit and familiarising with the state-of-the art extraction techniques, they will practice extra virgin olive oil tasting to discover its different characteristics and explore the different culinary applications of olive oil along with its many health benefits. At the end of the tour, guests will have lunch at the proprietor's home, where they will savour authentic home-made dishes from Baino prepared with Zejd olive oil, and will receive a bespoke bottle of freshly created olive oil uniquely labeled to take home.
The house of Zejd's olive oil trail experience includes:
Transportation to and from Zejd in Baino, Akkar
A choice of breakfast either at Abdul Rahman Hallab & Sons on the way to Baino or a traditional breakfast upon arrival to the village
Private tour of Zejd orchard and production facility
Lunch at the proprietor's house including homemade specialty dishes from Baino village
A unique personalised olive oil bottle
This guest experience is available for booking through October and November with a week's advance notice. For reservations call the Hotel at + 961 01 761 000 or email concierge.BEI@fourseasons.com.
---
---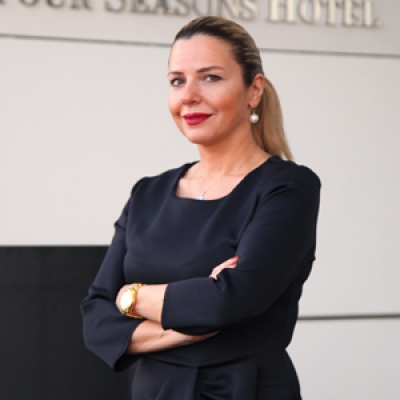 Rita Salamoun
Director of Public Relations and Communications
1418 Avenue Professor Wafic Sinno
Beirut, 2020-4107
Lebanon
---
Four Seasons Hotel Beirut
PRESS KIT

Visit Four Seasons Hotel Beirut Website