Back
The Grill's New Menu: A Taste Filled with Sizzling Sensations at Four Seasons Hotel Beirut
February 12, 2018,
Executive Chef Apostolus Dimou and Chef Youssef Rahmoun are taking their cooking collaboration to new gourmet heights in the newly introduced menu at The Grill restaurant at Four Seasons Hotel Beirut.
The new menu - which shows off the fruits of Dimou's and Rahmoun's experimentation and play in the kitchen - is in keeping with the elegance of the surroundings, featuring a wealth of mouthwatering dishes available for lunch and dinner. Naturally, the emphasis is on prime meats and seafood, with new entries such as the black angus, duroc pork and cod, in addition to other succulent grilled dishes commanding the culinary stage.
Executive Chef Dimou is excited to share this menu, and says: "The new refreshing menu puts a contemporary twist on classic dishes and introduces new and unique tastes to our guests. The collaborative work between the culinary team has allowed us to explore and play with simple ingredients and turn them into gourmet dishes filled of textures." Some of the highlights from Dimou on the menu clearly reflect his unerring love for Mediterranean influences, as well as his expertise in cooking simple ingredients in creative ways. His favourite dishes are the braised lettuce velouté with langoustine and caviar, beetroot salad in textures with fried goat cheese, lamb saddle and the revisited black forest dessert.
With the new menu, Chef de Cuisine Youssef Rahmoun has used his light touch and playful use of delicate flavours to create an exciting new gourmet experience for his guests. He explains: I believe that a dish bursting with flavour, texture and freshness is what excites and delights the mouth and draws people to your food. And this truly represents the essence of our new menu." His personal favourites on the menu are the smoked lobster consommé with butter poached lobster tail, tomato confit and green peas, duck breast with artichokes, tomahawk and the irresistible "Asian temptation."
The Grill culinary team continue to delight working with the Hotel's Pastry Chef Mohammed Abbas who has created scrumptious desserts - inspired while in the kitchens of Valrhona in Versailles - exclusively for this new menu. One of the must-try desserts is the "Chocolate in Textures," encompassing all that is chocolate with its chocolate sorbet, baba au chocolat, crémeux, grué de cacao, tuile and chocolate sauce.
It is the collaborative work, passion and creativity in the kitchen that gives The Grill its exciting culinary edge. The new menu results not only in extraordinary dishes to complement the restaurant setting, but ensures diners and loyal guests remain delighted and surprised by the innovative and superbly crafted cuisine of the talented culinary team.
The Grill can be found on the Hotel's second floor. Offering comfort, class, stunning views of the Beirut marina and a wealth of exciting new culinary experiences, The Grill is set to maintain its reputation as the premium lunch and dinner venue for Hotel guests as well as the capital's residents and visitors.
---
---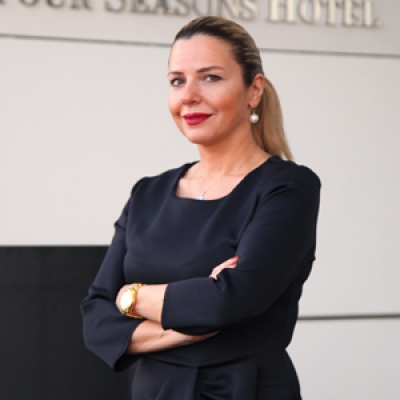 Rita Salamoun
Director of Public Relations and Communications
1418 Avenue Professor Wafic Sinno
Beirut, 2020-4107
Lebanon
---
Four Seasons Hotel Beirut
PRESS KIT

Visit Four Seasons Hotel Beirut Website