Back
Four Seasons Recommends: Exploring Beirut with Children
Explore Beirut with your children and enjoy some quality family time at Four Seasons Hotel Beirut, a perfect base for unforgettable moments in one of the Middle East's finest destinations. Our creative concierge team will welcome your little ones with special children's amenities and will bring you personally curated and first hand tips on exciting kids activities, attractions and other things to do around the city.
The Wonders of the Sea Museum is an educational voyage of discovery to the mysteries and magic of marine life offering a spectacular collection of shells and an amazing array of fish, turtles, eels, crabs, lobsters, sponges and even sharks.
Beirut By Bike, located just steps away from the Hotel, offers you a bike riding adventure in the heart of Beirut and along the stunning scenic route overlooking the Mediterranean sea with bike options available for the whole family. We recommend a ride either first thing in the morning or in the late afternoon when it gets a bit cooler.
KidzMondo is a an indoor theme park, just a few walking minutes from the Hotel, where a miniature replica of a real city allows children to role-play as adults in various occupations and professions. So if your child is dreaming of becoming a pilot, a firefighter or a chef, here's a chance of making dreams come true with a fun-filled and educational adventure blending reality with entertainment.
Waves Aqua Park & Resort is a sure-fire winner among children of all ages and big kids alike with an amazing mix of water-themed rides, including a pool with waves, a lazy river and water slides in all sorts of different colours and shapes. Try the water slide with multiple lanes and see which of your family members can get to the bottom the fastest.
Beirut On Ice at City Mall offers families an exclusive and thrilling indoor ice-skating experience filled with lots of giggles and memorable moments. If anyone feels a little unsteady on their skates, there are trainers available for a few expert tips.
Big cats, bears, giraffes and reptiles are just a few of the 50 animals you will find at Animal City, where animal-loving families can enjoy their time and interact with live exotic animals in the beautiful and natural Naher el Kaleb Valley. Highlights for children include a pony ride and photos with harmless python snakes.
Bioland farm, offers a wide variety of activities geared especially to children where they get to experience the love for animals and nature by participating in special animal feedings, planting and cooking sessions, in addition to running around and playing in the lap of pristine nature. Our concierge team can also arrange for a personalised farming experience where children are taught how to produce cheese in the farm's dairy unit.
Freij Fun Fair City is Beirut's largest amusement park, so head out for an adrenaline-packed day out with the family and experience more than 30 fun attractions including lots of roller coasters, carousels and a large range of rides. For a quick thrill, the Bomber ride is a definite must-try.
For an unforgettable artistic experience, visit Ceramics 'N More, a one-of-a-kind ceramic studio where every guest is an artist in the making and every piece created is a masterpiece. Professional team members are always available to assist you with the provided materials and tools and suggest innovative techniques.
Head on an awesome family go kart racing day at RPM Karting Lebanon in Mtein, allowing you to race it out with the family in one of the biggest circuits in the country. This great place also offers activities such as mini football and a kids playground.
Mim Museum, a state-of-the-art, 14,000-square-foot (1,300 square metre) space of nine galleries offers a collection of 1,480 minerals from 60 different countries, making it one of the world's paramount private collections for the variety and quality of its minerals and a can't-miss attraction. The interactive screens and magnificent displays will leave your children in awe. Make sure to stay for the mixed media slideshow.
A fun adventure discovering the world awaits you at the Planet Discovery Children's Science Museum in downtown Beirut, just a few minutes away from the Hotel. This innovative dynamic space offers hands-on learning and fun and educational opportunities to youth and widens their scientific knowledge through diverse live experiences.
After a fun-filled day out, the whole family can unwind at the Hotel's Spa, which also offers fun and relaxing treatments designed especially for kids and teens.
---
---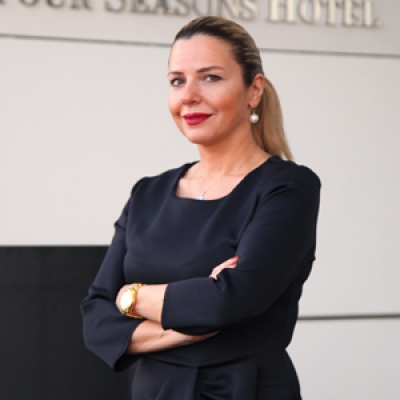 Rita Salamoun
Director of Public Relations and Communications
1418 Avenue Professor Wafic Sinno
Beirut, 2020-4107
Lebanon
---
Four Seasons Hotel Beirut
PRESS KIT

Visit Four Seasons Hotel Beirut Website