Back
Olive Harvesting: An Authentic Lebanese Experience in Baino
An olive harvest is one of the most fascinating experiences you can enjoy in Lebanon. It is a wonderful way to learn a lot not only about the local olive oil and food traditions, but also about the local culture. The atmosphere of a working oil mill and the enthusiasm of olive farmers during the harvesting season is something definitely unique and worth experiencing.
In a constant quest to bring authentic, luxury experiences to its guests, Four Seasons Hotel Beirut has partnered with Zejd, a renowned company in Lebanon producing olive derivative products, to take you on an exclusive tour and give you an inside look at the world-renowned olive oils of Lebanon, while the annual harvest is in full swing.
This tailor-made experience starts with a private tour of Zejd Orchard conducted by the proprietor himself, where guests will actually take part in the harvest while learning insider secrets to olive oil extraction and production processes. Guests will then practice extra virgin olive oil tasting to discover its different characteristics and explore the different culinary applications of olive oil along with its many health benefits. At the end of the tour, a traditional lunch will be served at the proprietor's home and guests will receive a bespoke bottle of freshly created olive oil uniquely labeled to take home.
Upon return to the Hotel and after learning firsthand all the benefits of olive oils, guests are welcome to indulge at The Spa in our unique Mediterranean Experience, consisting of a full-body massage dedicated to achieving balance and relaxation by using olive oil and cedar wood essential oil, known for their calming and purifying effects on the skin and spirit.
The Olive Harvest experience should be booked by guests at least one week in advance. For more information, call + 961 01 761 000, email: concierge.BEI@fourseasons.com or visit our concierge desk.
---
---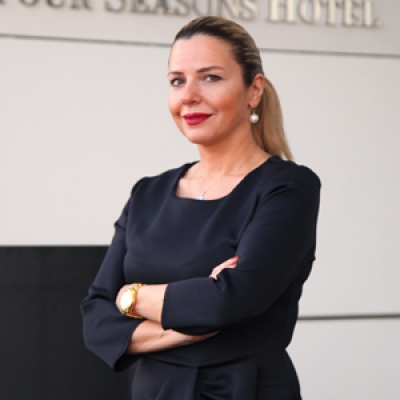 Rita Salamoun
Director of Public Relations and Communications
1418 Avenue Professor Wafic Sinno
Beirut, 2020-4107
Lebanon
---
Four Seasons Hotel Beirut
PRESS KIT

Visit Four Seasons Hotel Beirut Website