CUR8, the all-day dining restaurant at Four Seasons Hotel Bengaluru is all about gourmet pizza, freshly made regional Indian favourites, and desserts finished with a flourish, right in front of guests. The expansive, light-filled contemporary space bustles with a spirited vibe, and is a sensory experience for guests in every way.
Significance of the Name CUR8
Curate means to carefully select, and is significant of the numerous elements of the restaurant⁠ - the varied live kitchens, the bustling bakery counter, delectable desserts, stylish modern fittings - all adding up to a melange of design items of this inviting restaurant. The numeric 8 represents the address of Four Seasons Hotel Bengaluru: 8 Bellary Road.
The Essence of CUR8
CUR8 is designed as a social space – like the living room of a home.
From the custom-designed charcoal grill pit to the pizza oven, a bustling bakery counter to the tandoor techniques, there's a lot going on in this dramatic space. Live baking breads and desserts, artisanal pizza, cold cuts and artisanal cheese all add up to the charm of simple food done to perfection.
A guest has the opportunity to watch the drama unfold at our all-day restaurant as chefs busy themselves. We recommend you either grab a seat on the airy outdoor terrace that can seat 132 guests, or in our modern kitchen-style dining room (that can accommodate 107 guests). Then take your pick of gourmet pizzas and other Italian specialties, or choose from a range of freshly made regional Indian favourites.
The Design Angle
The design of the restaurant is modern and inviting, combining European lines with natural touches.
There is a certain contemporary, Scandinavian look in the angular lines all across, yet marked by a warmth that is hard to miss. The fluid space inspires interactions. The open layout encourages meaningful conversations with chefs through several live stations.
The Two Private Dining Rooms
One of the largest restaurants in the city, CUR8 boasts 239 covers in all. This includes two private dining rooms. The first is perfect for a business board meeting or an intimate family gathering of 12, which can be given an informal touch as it opens out into the beautiful patio, a great location for pre-drinks before the meal. The other private dining room, ideal for a group of 35 to 40, can be arranged in smaller clusters or a single large family-style dining table. It is the ideal setting for a family get-together or even an after-work team-outing that gives a sense of privacy, without compromising on our vast culinary offerings. Once again, this space can also be opened up into the lovely terrace seating.
Highlights of the Custom Made Pizza Oven and Grill
Out of all the fire-fed stations at CUR8, the custom built charcoal oven stands out. It is fashioned after the Spanish parrillada and is a daunting beast powered by charcoal. "One of the requisites of handling this grill is to not be afraid of fire," says Executive Chef Stephane Calvet, almost as a word of caution. Chef Stephane enjoys working at the grill and can often be seen here, especially during dinner service.
The grill is perhaps the largest in the country and is 1.8 metres (5.9 feet) in diameter, and feeds on nearly 200 kilograms (440 lbs) of charcoal per day. Chef Stephane is quick to point out that this grill is also a very eco-friendly initiative by the Hotel, as it doesn't harness gas or electricity and the charcoal ashes are used for creating compost for the Hotel's lush gardens.
Chef Stephane enjoys the smoky undertones that can transform any dish and is often seen experimenting with the burnt charcoal, using the fumes to perfume a soup or a piece of salmon.
The custom-built grill is complemented by:
The custom built, supersized pizza oven with a diameter of around 1.9 metres (6.2 feet) is enabled with double doors so that it can be loaded and emptied from two opposite sides. This pizza oven has a rack inside with a burning wooden log at all times, so that it lends a flavour to the pizza. It can make around 10 to 12 pizzas at one particular time
The two ovens in the bakery section are used for different purposes: one is a large professional oven that doles out fresh breads, croissants and Danish on a daily basis, with breakfast time cranking up production. The other is a smaller family-style oven that kicks into action when there are specific orders for soufflé, frangipane or fancy desserts.
The tandoor is another oven that is powered by charcoal, which adds smoky dimensions to the Indian dishes. Indian breads made at the tandoor are ideal for the selection of dishes at this section and is a huge draw for guests.
Other Elements
The tartine station is a vegetarian/healthy live counter featuring the most seasonal vegetables, sprouts and homemade condiments over yeasted bread slices. A line-up of salads features the most exotic ingredients such as brussels sprouts, beetroot hummus, insalata caprese with fresh mozzarella and other fresh offerings, with a repertoire of cheese from around the world making a definite impact on gourmands. These are displayed on a rotational basis and could feature brie, provolone, cheddar or gouda - to the most exotic wine must or pomace-infused cheese from Barolo, best enjoyed with a selection of honey infused with herbs such as rosemary.
Our in-house bakery team has created a range of sweet and savoury bakes and pastries, but most noteworthy is the choice of artisanal breads. The rustic oven-fresh tiger bread, with a striated crust like the Karnataka tiger's back, is served complimentary at the table with chunky tomato salsa or a piquant mustard dip.
Our retail section is a cosy corner focused on thoughtfully-sourced imported products combined with Indian gems of ingredients, such as the vanilla pods from Kerala. These gems can be found in the heart of a dainty chocolate truffle, or as a part of the cakes that guests can take back home. The fancy iced cakes are perfectly Instagrammable, such as the lush chocolate bacio, or a sunny yellow Hawaiian temptation, while the travel cakes are non-iced, but packed with goodies such as saffron, nuts and raisins. Designed to retain their moist softness, they are best enjoyed with our selection of gourmet teas that come beautifully packed in gift boxes.
Chef Recommends
Madeleines: These simple, spongy, seashell-shaped buttery, honey delights were a comforting, sweet indulgence at Chef Calvet's home, baked by his adored grandmother. "My mother was no match to her in the kitchen," he confides with a wink.
Chef Calvet's favourite dish from the grill: Catalan-style eggs for breakfast and grilled prawns. And if you thought that this was the place just for savoury experiences, wait till you've tucked into our special chocolate pizza, topped with marshmallows and berries.
The numerous sensory elements in this light-filled restaurant and the bustle at the various work stations, lend to it a spirited vibe in a contemporary space.
It's a 360-degree sensory experience - as promised!
---
---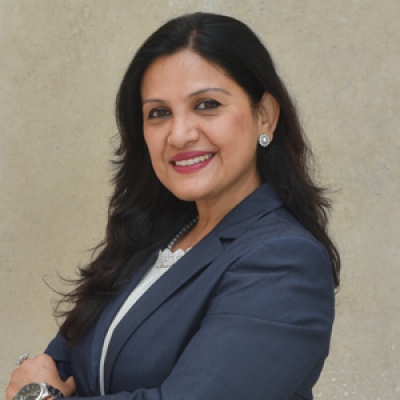 Gargi Guha
Director of Public Relations
8, Bellary Road, Ganganagar
Bengaluru, 560032
India
---
Four Seasons Hotel Bengaluru at Embassy ONE
PRESS KIT

Visit Four Seasons Hotel Bengaluru at Embassy ONE Website