Back
The Untold "Storey" of the 21st Floor
Darkish undertones. Moody, broody corridors surround the elevators as they open up. The place is awash with mystery and the untold.
As you're kept guessing and yet, take a few steps onward, there is seemingly an address to the left. Of course, you have the sense of elevation as you know you are several floors away from terra firma. There is a certain sense of levitation. And, as an enveloping darkness of the evening gathers outside, the space transforms, almost magically. Warm lighting invites, and you notice the unusual touch of whimsy in the design theme.
Welcome to the 21st floor of Four Seasons Hotel Bengaluru, and welcome to Copitas, a glamorous destination where relaxation and sophistication go hand in hand.
Guests are transported to a place where they can lose themselves in exotic cocktails, magnetic conversation, and unexpected combinations. An intimate atmosphere with an air of exclusivity. A fashion crowd hangout, the place to head for those who live to be fabulous and like to be looked at. Here, one can recline with an artisanal craft cocktail clasped in an impeccably manicured hand while looking out across the sparkling Bangalore skyline. Gentlemen relax with friends in smart, fashionable attire. The perfect evening meeting place to try out imaginative, unusual cocktail creations and delicious light bites, innovative drinks and clever interpretations of the classics.
Rich marble mosaic floors in Copitas, the decorative screens and intricate details evoke memories of a time of decadence. Influences from fashion, high couture and delicate jewellery pieces are subtly referenced throughout the interior through the metalwork, light fittings and upholstery. Inspiration also comes from the graceful movement of dance indicated in the patterns to the screens adding to the fluidity through the shadows created. There is a certain trellis of light and shade - a chiaroscuro as they say, when referring to paintings. One is reminded of a time travel into a hedonistic evening from a forgotten time.
Guests can prepare to be surprised by the Crazy Rich Negroni, a special concoction of gin, pandan leaves, coffee, banana peel (as a tribute to sustainability) and blended with Campari and sweet vermouth. Or the seemingly innocuous Namaskara, a tribute to South India with coconut aged rum, papaya juice, pineapple juice, coconut water and finished with a pinch of salt. Or even the signature Copitas - a smooth and elegant libation with bourbon, apple juice, bitters and cocoa nibs that add an edge. Lovers of fermented beverages would love Tepache - probiotic refreshment that is sweet, sour, effervescent and mildly boozy with a clever fermentation of pineapple skin, spices and rum. A Mexican favourite, lovingly repurposed by the team at Copitas.
The Gin & Tonics will be a special affair, mixed carefully by our team of bar chefs. Ambitiously, without the frill of a fancy name, these G&Ts will be the reason for guests to return to this sophisticated address, calling out for an encore. No 2 is London dry gin blended with fresh coconut water and pineapple syrup tonic water, which instantly teleports one to the tropics. No 3 claims to be a "new world" gin with key botanicals of cucumber and rose petals tantalisingly matching up to apple syrup, fresh home grown basil, and tonic water for a cocktail full of mischief.
Chic and atmospheric, Copitas is an address for those who wish to be seen unwinding in style. More than a bar, a journey of discovery where new tastes and unexpected combinations can be experienced and enjoyed in a chic, sophisticated interior. As Robert Kurson once said, "The feeling of a place was the best reason to go."
A few paces ahead and welcoming one into a far and away place in the Orient, there is Far & East. A striking dining destination, this perky space aims to set a new pace in the city.
Bold and vibrant, Far & East is the dining destination for those who seek something out of the ordinary. A stylish trendsetter in the city for modern dining, Far & East is an Asian brasserie that presents Japanese, Thai and Chinese cuisine in an innovative fashion. Rich textures and designs lend to it a sense of place.
A recurring theme of gold trellis works its way into the deep, dark black and gold interiors lending to the place a definitive luxurious charm. Accents of bright tangerine remind one of the Asian vibrancy this restaurant lays claim to. A stylish bar, replete with Asian cocktails is the welcome area and front façade of the restaurant. Guests may pause over exotic cocktails infused with Sichuan peppers, or redolent with the fragrance of lemongrass and galangal with a luxuriant swirl of honey. This place certainly imparts a sense of arrival.
Step in, and a vibrant and fragrant hub of activity will greet you. There is much to see and take in. Plump, warm dim sums jostle for attention with the line-up of innovative funky sushi. But only until the Flaming Duck, gloriously ablaze, makes its appearance as the undoubted show stopper of the evening.
Tear away from this drama and step outside onto the terrace. Take a look at the sweeping cityscape aglitter with blinking city lights. That cool breeze, a gentle reminder of balmy, Bangalore evenings.
Copitas and Far & East comprise the 21st floor, the Hotel's destination floor, full of promises. Located on the highest floor of the hotel, this uber chic storey has been designed by LW Design, with offices in Dubai, London, Sao Paulo, on chic and atmospheric lines.
---
---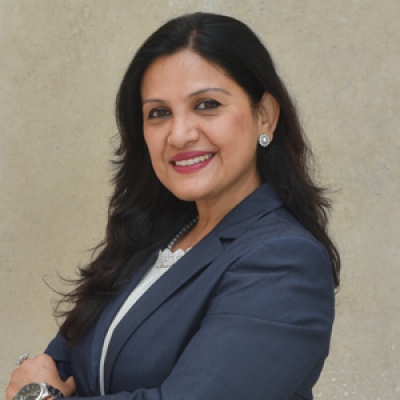 Gargi Guha
Director of Public Relations
8, Bellary Road, Ganganagar
Bengaluru, 560032
India
---
Four Seasons Hotel Bengaluru at Embassy ONE
PRESS KIT

Visit Four Seasons Hotel Bengaluru at Embassy ONE Website