Back
Explore Egypt's largest and most significant private collection of contemporary art at Four Seasons Hotel Cairo at Nile Plaza
Visit a Treasure Trove of Contemporary Egyptian Art at Four Seasons Hotel Cairo at Nile Plaza
Cairo at Nile Plaza, Egypt
Since as far back as 3000BC, Egypt has always been a cosmopolitan of arts. From exceptionally unique sculptures to beautifully harmonized paintings and distinctive pottery and glass-work; Egyptians have handed down their artistic talents generation after generation to this very day. Since it was open in August 2004, Four Seasons Hotel Cairo at Nile Plaza has always celebrated art and has accordingly handpicked the works of leading luminaries from the Egyptian art world, to showcase their work at the Hotel – making a simple walk down the halls of the Hotel an artistic journey to remember.
Art is an essential part of guest experience at Four Seasons Hotel Cairo at Nile Plaza with more than 200 museum-grade artworks of contemporary art pieces that come together to form the Hotel's unique art collection. The collection of paintings and sculptures is considered to be one of the largest and most significant private collections in Egypt.
A marvellous painting by one of Egypt's most celebrated artists, Omar El Nagdi, adorns the wall of our reception, adding immediate panache to guests arrival experience and makes first impressions that last forever. Through Nagdi's expressive textures, colours and symbolic elements, his paintings translate Egyptian life into timeless symbolism that goes beyond mere decoration to discover a mixture of humanist and mystic sensibilities. His unique masterpieces spread across from Plaza Ballroom and inside some of the Hotel's meeting rooms.
Another highlight of the Hotel's art collection are the copper sculptures dominating the Hotel's entrance by Mohamed Rizk. Known as 'the copper-lover', Rizk is the master of hammered copper, his artworks are placed in many public places in Egypt including Al Ahram Journal building, Cairo Opera House gardens, and many more. Describing his work "I can translate the entire world into copper," says Rizk.
Included in the collection are the spectacular paintings by the renowned Egyptian star Farghali Abdel Hafiz, whose paintings are displayed in different areas around the Hotel including the Spa, Upper Deck Lounge and hallways of the 2nd floor, as well as several museums around the world and major international institutions. His studio in Dahshour, one of the most historical sites in Egypt, provides him with a sanctuary of peace that can be seen and felt in his paintings.
Of all the artwork at the Hotel, one painting has a rather unusual pedigree. Proudly displayed at the heart of the Hotel lobby is an acrylic painting by Farouk Hosny, former Director of the Egyptian Culture Center in Paris, and former Minister of Culture in Egypt. With an extremely busy schedule, Hosny's passion for painting never waned; in fact, his love for art was even more enhanced by exhibiting his pieces all over the world, including Le Carrousel du Louvre in Paris, and the New York Metropolitan Museum.
For an in-depth look at the hotels stimulating art collection that illuminate each corner of Four Seasons Cairo at Nile Plaza, the Concierge team curated a guided tour with Zamalek Art Gallery to embark in a journey through Egypt's contemporary art scene.
Get ready to explore the arty side of Cairo when you stay at Four Seasons Hotel Cairo at Nile Plaza.
---
---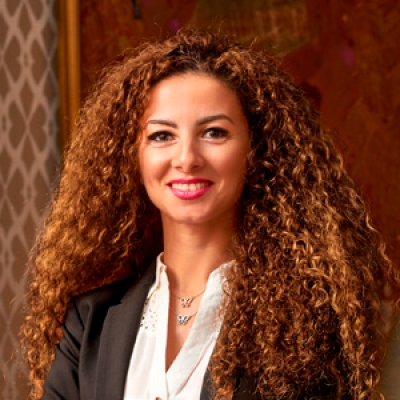 Sherry Adel
Senior Director of Public Relations and Marketing Communications - Egypt
1089 Corniche El Nil, P.O. Box 63 Maglis El Shaab
Garden City 11519, Cairo,
Egypt
---
Four Seasons Hotel Cairo at Nile Plaza
PRESS KIT

Visit Four Seasons Hotel Cairo at Nile Plaza Website