Four Seasons Hotel Atlanta Debuts Fifth Floor Terrace Mural
Atlanta artist Carl Linstrum adds to the vibrancy of the Hotel's outdoor event space
October 9, 2019,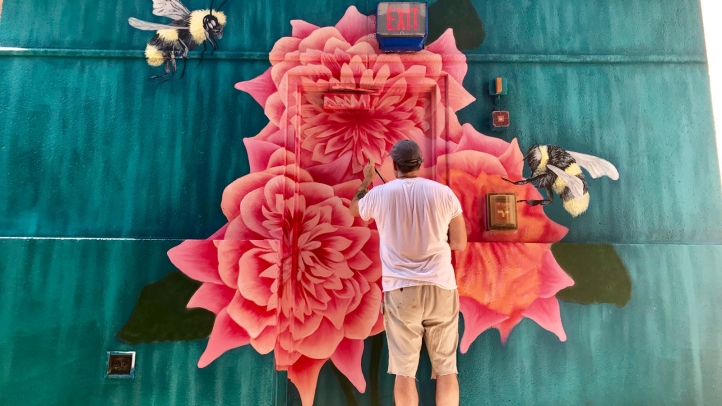 Four Seasons Hotel Atlanta, the city's only AAA Five-Diamond, Forbes Five-Star hotel, has debuted a painted mural at the entrance of its Fifth Floor Terrace commissioned by SCAD Art Sales artist Carl Linstrum.
The recently-repurposed rooftop shows off the scenic ambiance of Atlanta's outdoor environment while acting as the perfect backdrop to social events, weddings and outdoor gatherings. Additionally, the mural is a complement to the Hotel's ongoing art program, which partners with local artists and displays their work in public spaces for retail sale to the public.
The mural, which measures 143 by 172 inches (363 by 436 centimetres), is comprised of a blue-green background, reflecting the elegance and calm of the Four Seasons brand. The flowers have base colours of red, orange and red-violet, while the detail work was created with custom-mixed pinks and peaches. These colours resemble real life roses, complementing the blue background. The leaves are a base coat of green with details of light created with a custom mix of yellow green.  The bees are base coats of yellow and black, with detail work done in browns on the yellow and greys on the black. 
"When Four Seasons Hotel Atlanta expressed their desire for a botanical element to connect their rooftop space to the Midtown arts community, I knew I would be able to create a very colourful and pretty scene for the terrace by incorporating vibrant flowers and bees into the mural. I have worked with flowers as a natural subject matter for decades, and the mural that I designed is based off of a body of work that I started a couple of years ago called Botanical Mechanical, a re-examination of the traditions of botanical painting but in a more contemporary fashion," said muralist Linstrum.
Linstrum, a native Atlantan has been a professional exhibiting artist in Atlanta for nearly 30 years. Adding to his already impressive resume, Linstrum has been a professor of foundation studies at Savannah College of Art and Design (SCAD) Atlanta since 2010, has created interior mural work for 18 years and has recently began exterior mural work.
The story behind the Fifth Floor Terrace mural was inspired by a bee apiary that once existed on the Hotel's rooftop with bees that collected pollen from nearby Atlanta Botanical Gardens. This mural plays off of the memory and instils the locality and dedication to Atlanta.
Linstrum was tapped by Regional Vice President and General Manager of Four Seasons Hotel Atlanta Yvette Thomas-Henry to create the mural, a nod to her and the Hotel's commitment to support and partner with Atlanta's arts community.  It was Thomas-Henry's connection SCAD that led her to SCAD Art Sales and ultimately to Linstrum. SCAD is the preeminent partner for any commissioned or curated project, with its mission to cultivate and celebrate careers in art and design, prioritising professionalism in the context of creative practice.
"We jumped at the opportunity to create such a unique visual with Linstrum for our guests to enjoy. It shows the creativity and appreciation for art in our city and the rooftop terrace was the perfect spot to bring Linstrum's artistic talent to life," says Thomas-Henry. "The juxtaposition of Atlanta's dazzling skyline and Linstrum's vibrant mural is eye-catching and inspiring!"
Four Seasons Hotel Atlanta is surrounded by cultural destinations such as the High Museum of Art, Atlanta Botanical Garden, Woodruff Arts Center, Alliance Theatre and Piedmont Park.  The Hotel's Fifth Floor Terrace and rooftop consists of an outdoor event space with seating groups, ceiling fans and a covered overhang, leaving it primarily open to the city's scenic skyline. The long corridor from the Hotel leads right into the high impact visual as an introduction to the space and backdrop for the most Instagrammable moments.
SCAD: The University for Creative Careers
The Savannah College of Art and Design is a private, non-profit, accredited university offering more than 100 academic degree programs in more than 40 majors across its locations in Atlanta and Savannah, Georgia; Hong Kong; Lacoste, France; and online via SCAD eLearning. SCAD enrols more than 14,000 undergraduate and graduate students from more than 100 countries. The innovative SCAD curriculum is enhanced by advanced, professional-level technology, equipment and learning resources, as well as opportunities for internships, professional certifications and collaborative projects with corporate partners.
In 2017, the prestigious Red Dot Design Rankings placed SCAD as the #1 university in the US and in the top two universities in the Americas and Europe. Career preparation is woven into every fibre of the university, resulting in a superior alumni employment rate. According to a recent study, 99 percent of Spring 2017 SCAD graduates were employed, pursuing further education or both within 10 months of graduation.
SCAD Art Sales
A full-service art consultancy, SCAD Art Sales offers distinctive design and curatorial services to a global clientele of collectors, businesses and organisations. SCAD Art Sales thrives in projects of every size from modest residential and commercial spaces to large-scale venues such as The Art Collection at Mercedes-Benz Stadium, the offices of Facebook, Heathrow Airport and hotels by Sotherly.
With access to a vast network of more than 45,000 artists and designers, SCAD Art Sales provides the creative resources, guidance and expertise needed to define one's personal style and revolutionise collections.
---
---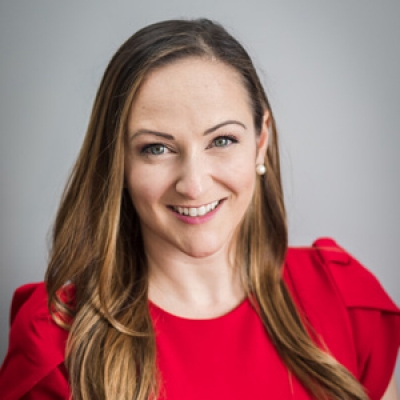 Ashley Svarney
Public Relations Manager
75 Fourteenth Street NE
Atlanta, 30309
USA