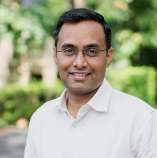 Ashok Nair
"I am a passionate hotelier - I genuinely love observing guests immerse in the simple joys of life and rediscover the child within. That's worth all the effort that goes into curating experiences."
---
Four Seasons Tenure
Since September 2017
First Four Seasons Assignment: Current
Employment History
Taj Falaknuma Palace, Hyderabad, India; Tree of Life Resorts & Spa, Jaipur, India; Kingfisher Training Academy, Jaipur, India; Taj Rambagh Palace Hotel, Jaipur, India; Oberoi Udaivilas, Udaipur, India
Education
Diploma in Hotel Management & Catering Technology from Institute of Hotel Management, India
Languages Spoken
English, Hindi, Malayalam
For Ashok Nair, it's the little things that count – be it discovering a quaint hidden temple in the Mae Rim valley or witnessing a guest's delight at an unexpected surprise. He brings more than 14 years of valuable expertise in creating and delivering guest experiences to his position as Front Office Manager at Four Seasons Resort Chiang Mai.
Ashok's role puts him at the helm of crafting exceptional activities and immersive tours for guests. "A lot of our guests have busy schedules with little time for themselves," he explains. "Seeing a guest immerse in the simple joys of life and rediscover the child within ... it's worth all the effort that goes into curating experiences." Ashok also plays a key role in the Resort's emphasis on personalised well-being, with a knack for creating beautifully-tailored itineraries based on the unique interests of each guest. As a yoga and meditation practitioner himself, he is passionate about helping guests embrace their personal vision of health and happiness.
In the process of designing memorable stays for guests, Ashok admits he is hooked to exploring new places and learning all about them – a trait he credits to the curiosity of his young son. "I have understood the art of learning from him. His enthusiasm and inquisitiveness have sent me on countless quests for new information! Luckily, this comes in handy at work as well," he smiles.
Ashok graduated with a Diploma in Hotel Management & Catering Technology from the Institute of Hotel Management in India. Since the beginning of his career in hospitality, Ashok's focus has been on guest engagement and delight. Prior to joining Four Seasons, he spent a number of years at the illustrious Taj Falaknuma Palace in Hyderabad, where he managed a diverse portfolio and mastered the various aspects of guest satisfaction – first as learning and development manager, then as palace services manager. From collaborating with the State Tourism Board to create exclusive after-hours tours at famous forts and monuments, to developing the extremely successful Amazing Race Treasure Hunt, Ashok's passion for innovation was instrumental in garnering the hotel a place among the four finalists of Virtuoso's "Hotel of the Year" in 2014.
Ashok has big plans for Four Seasons Resort Chiang Mai: he aims to turn the Resort into a well-being destination in itself. "We have so many signature activities that can only be experienced here. Where else in Chiang Mai can you play tennis with a former world-ranked pro? Or meditate in the middle of lush rice paddies, guided by a yogi who grew up and learned his craft in the holy city of Rishikesh?" he asks, his voice brimming with passion and pride. "Our talented colleagues and our attention to detail lend each experience that special Four Seasons magic."