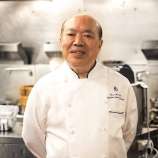 Chan Yan Tak
"Without good leadership, good teamwork and good communication, you will never have a truly strong kitchen."
---
Four Seasons Tenure
Since 2004
First Four Seasons Assignment: Chef de Partie, The Regent Hong Kong (formerly a Four Seasons Hotel)
Employment History
The Regent Hong Kong (formerly a Four Seasons Hotel); Fook Lam Moon, Hong Kong; Dai Sam Yuen, Hong Kong
Birthplace
Education
On-the-job training at Dai Sam Yuen, Hong Kong
Languages Spoken
Hong Kong born and bred, Chan Yan Tak started working in kitchens out of necessity, but he soon grew to love cooking. Which is just as well, as in 2008 he became the first Chinese chef in history to be awarded three Michelin stars, for Lung King Heen at Four Seasons Hotel Hong Kong.
"I have been amazed at the response from people around the world," says the modest executive Chinese chef. "I just carry on doing what I do every day and what I enjoy, and that is cooking good food for people."
Having initially left The Regent Hong Kong (formerly a Four Seasons Hotel) to care for his youngest child following the passing of his wife, Chef Chan was lured back to the kitchen – as executive sous chef at Four Seasons Hotel Hong Kong – by William Mackay, the then regional vice-president and general manager.
"I initially had no plans to come out of retirement," explains Chan, "but when I saw what we could do together, I reconsidered. The opportunity to work with management that really believe in creativity and providing only the best experience possible was really what made the decision for me."
The decision has had the biggest impact on his career to date. Though he is quick to point out that the Michelin stars that followed are not solely his to claim. "They belong to every single member of the team,"he says.

Chan has spent his whole life in Hong Kong. In addition to finding it "an incredibly exciting place to be a chef," he particularly likes the sense of community: "When I go to the wet market to buy some fish or vegetables, I know that I will always see the same faces and be served by the same people who've worked there for 20 or 30 years."
He relaxes with movies and music and spends time with his two children as often as he can. "When they are both around, we like to go out for dinners together – but they like me to cook them their favourite dishes too." And, as always, the most decorated chef in China is only too happy to oblige.