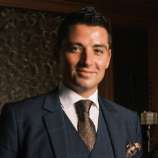 Victor Petiot
"There are no small wines, only small wine-makers. There are no big wines, just big bottles."
---
Four Seasons Tenure
First Four Seasons Assignment: Four Seasons Hotel George V, Paris
Employment History          
Four Seasons Hotel George V, Paris
Birthplace  
Education
Culinary School Poligny, Jura; College of Dinard, Brittany
Languages Spoken
Born in the shadows of the great vineyards of Burgundy, Victor Petiot initially sought to be a chef, enrolling in school for hospitality management. It was not until school, under the tutelage of his introductory wines teacher Monsieur Duseau, that he developed the first spark of interest in the venerable drink of his home region.  "I wanted to be a chef. My life took a turn and I navigated my interest toward wine with the help of this important teacher."
After five years of school in Poligny, he dedicated a year to develop a deeper knowledge at the prestigious Dinard Wine School in St. Malo, France. From winemaking to selling and tasting, he experienced all aspects of wine. He credits his early teachers for helping him to reach his potential at such an early stage in his career, teaching him valuable lessons, which he still practices now.
''My teachers taught me to remain humble in front of the guest and the wine. The creators are the wine makers. As sommeliers we need to keep the awareness of humility while sharing our knowledge of wine with guests."
Routinely the first in class, Petiot's academic success led him to obtain a prestigious trainee position at Four Seasons Hotel George V, Paris. Having quickly gained the trust of the team, he was offered the opportunity to kick-start his career as a young Commis Sommelier at only 21 years old.
After a period of learning, Victor received the rare opportunity to build out the Loire Valley section for the 50,000-bottle cellar at Four Seasons Hotel George V. The Loire Valley is a region he used explore with friends on his days off, a place he now knows intimately.
''My winery training period was in the Loire Valley. When you start learning deeply about one area at such an impressionable time in your schooling, it becomes engraved in your heart and memory. ''
After successful years at Four Seasons Hotel George V, Victor felt ready to expand his passion for wine to Asia. He now leads the Hotel's wine program as Head Sommelier and a major asset in Caprice, the three Michelin-starred French restaurant in Four Seasons Hotel Hong Kong.
The young and passionate sommelier has developed the ability to speak the same language with guests when it comes to wine, despite the numerous languages spoken in Hong Kong. He finds the challenge of pairing wines with Chef Guillaume Galliot's menus to be invigorating, along with sharing his intimate knowledge of wine-makers and vineyards with guests.
Victor is very happy to be living in Hong Kong along with his wife and young child. When he is not talking wine and terroir, he takes time to explore islands and different countries across Asia. When not tasting for his work, he frequents the wine shops of Hong Kong, where he occasionally discovers bottles difficult to find even in his home country.  "Some bottles are impossible to find in Paris, but I find and buy them here in Hong Kong. It's amazing!''