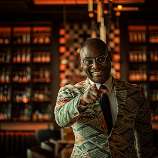 Keith Motsi
Head Bartender and Beverage Operations
"At the end of the day, we are on stage. And every moment is showtime."
---
Four Seasons Tenure
Since 2017
First Four Seasons Assignment: Head Bartender, EQUIS, Four Seasons Hotel Beijing
Employment History
Four Seasons Hotel Seoul, Korea; Four Seasons Hotel Beijing, China; Soho House, London, England; Skippy's Cocktail Bar, Leeds, England; Jake's Bar & Grill, Leeds, England
Awards and Accolades
Altos Bartenders' Bartender Award 2022 (Asia's 50 Best Bars)
Birthplace
Languages Spoken
Bringing an intriguing blend of charisma and diligence behind the bar, Keith Motsi oversees an extraordinary drinking experience at VIRTÙ, the Paris-meets-Tokyo bar at Four Seasons Hotel Tokyo at Otemachi. Here is a Head Bartender who does it all, from keeping a close eye on whether each guest is having a memorable time to putting on his dancing shoes on lively nights – "regulars will soon know all my signature moves!"
Central to VIRTÙ's success is its immersive hospitality, a dimension Keith continues to reinforce and elevate. Every element is worthy of notice: Is it too cold? Are the lights just right? Is the music too loud? "Guests want a place that feels like home," he explains. "Cocktails are key, of course, but people really come for the experience. If they order a glass of water, we'll serve them the best water they've ever had."
To cement VIRTÙ's standing at the top of the bar scene in Tokyo and beyond, Keith has turned his attention towards local preferences, with a view to tailoring drinks to the Japanese palate. "We also have incredible discoveries for both local and international guests," he notes, ticking off some of the bar's most exciting attractions: frequently updated micro-seasonal cocktails; the Bar Masters series featuring top mixologists from around Japan; and a world-leading collection of vintage French spirits and Japanese whiskies.
In his role, Keith is also in charge of the Hotel's beverage operations and focuses on creating a strong link between the culinary concept and beverage offerings.
Storied, layered and intricately crafted though they may be, the drinking experiences led by Keith are ultimately fun. "Part of what Four Seasons does so well is make food and beverage entertaining. People anticipate something serious at a luxury five-star hotel, so we need to bring an element of fun and flair. That brings guests out of their shells," he says. "At the end of the day, we are on stage. And every moment is showtime."
Born in Zimbabwe and raised in England, Keith grew up in a family that loved cooking and hosting: "quality ingredients and joyful gatherings were a big part of my childhood". He first started working at a bar before he was old enough to serve alcohol – a part-time job at Jakes Bar & Grill in Leeds. It was love at first night: "People were celebrating, crying, falling in love, being nostalgic - the atmosphere was incredible. And the bartenders were the rock stars!"
At the time, though, bartending didn't seem like a viable career path. But when Keith moved to London to study architecture, a whole new world opened up. "There were so many great hotels, restaurants and bars. I soon realized I could build a rewarding career doing what I truly loved."
Returning to Leeds, he worked his way up to bar manager of Skippy's Cocktail Bar, then came back to London to serve as head bartender at members' club Soho House. Three years later, in 2017, Keith was in Bermuda when he got a call about opening EQUIS, a concept bar at Four Seasons Hotel Beijing. "I said, 'Asia, why not?' I went on a bit of a whim. My family thought I was joking, at first."
It turned out to be a demanding task, with a huge space and not much time to get it ready, but Keith's efforts paid off in the end. One year after opening, EQUIS was named Best Hotel Bar in China 2018 by Drink Magazine Asia. He then made the move to Charles H., the signature speakeasy at Four Seasons Hotel Seoul. During his tenure, both bar and bartender garnered several accolades, including the Altos Bartenders' Bartender Award 2022 by Asia's 50 Best Bars.
What's the most important thing he's learned across all his roles and travels? "Be nice, genuine and humble. It doesn't cost you anything, and people always remember how you make them feel. When you're good to people, good things come to you. Nice people don't finish last."
Now in Tokyo, Keith has a number of interests keeping him busy when he's not behind the bar. To start with, he is on a Michelin marathon: "Japan has 203 Michelin starred restaurants, and I'm slowly working my way through the list." As a rugby player, he's also enjoying local rugby culture, both as a player and a spectator.
Also on the agenda: exploring the country's whiskey landscape and tracking down rare bottles to add to his collection back home in the UK. His go-to drink, however, is Champagne – "I love how it transforms even an ordinary occasion into a celebration."