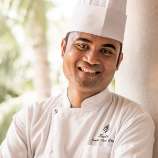 Wayan Sutariawan
"I am proud to share authentic local food with our guests. I like to keep alive the foods of my childhood, which can be hard to find unless you go to a Balinese person's home in the village."
---
Four Seasons Tenure
Since 2006
First Four Seasons Assignment: Four Seasons Resort Maldives at Landaa Giraavaru as Commis II
Employment History
Four Seasons Resort Maldives at Landaa Giraavaru
Birthplace
Education
Hotel and Tourism Institute - Food and Beverage Production
Languages Spoken
English, Balinese and Bahasa Indonesia
Wayan Sutariawan (Suta) was born and raised in Klungkung, Bali's smallest regency, famous for its classic Balinese paintings. But another form of art captured the young Suta's imagination: classic Balinese cuisine. His technical training – and his passion for authentic food – began at the age of 12 when he was adopted by his auntie.
Every day, he had to wake up early to grind chilli, onion, garlic and other spices using a mortar and pestle to make base ganep, or what he calls "the magic spice paste" of Balinese food. It is the key foundation for virtually every local dish.
While all that grinding was hard work, Suta was seduced by the aromas, flavours and rituals of Balinese cooking and changed his career goal from policeman to chef. After completing tertiary education, he joined Four Seasons Resorts Maldives at Landaa Giraavaru and spent five years at the private island resort learning international cuisines to complement his traditional Balinese expertise.
He returned to Bali in 2011 to join Four Seasons Sayan and worked his way up to Senior Sous Chef overseeing two restaurants – Ayung Terrace and Riverside. Suta not only curates menus and manages the culinary team, he is hands-on in the kitchen as the guardian of authentic Balinese cuisine at the resort.
"Bali has become a dining destination offering cuisine from all over the world. I am proud to share authentic local food with our guests, and not just the famous or common Balinese dishes like bebek betutu, suckling pig and sate lilit. I like to keep alive the foods of my childhood, which can be hard to find unless you go to a Balinese person's home in the village."
He was instrumental in the 2018 launch of Sokasi riverside cooking school where he shares his passion and secrets of local cuisine in half-day classes. He also personally presents the Sokasi Chef's Table seven-course dinner, featuring 12-hour roast duck cooked in the underground clay oven, four-hour spit-roasted pig, and ancient recipes that are now increasingly hard to find such as pepes klengis. Originally from Suta's hometown Klungkung, pepes klengis is a delicious serving of fish marinated in klengis (the coconut pulp leftover from the process of making coconut oil), wrapped in banana leaves and grilled over a coconut husk BBQ.  It's a rare gem, just like Suta.