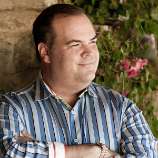 Mark Bingle
"Relationship building is very important in Latin America. It's all about being visible. People want to put a face to my name."
---
Four Seasons Tenure
Since 1996
First Four Seasons Assignment: Front Desk Agent, Beverly Wilshire,

A Four Seasons Hotel
Employment History
Four Seasons Hotel San Francisco; Four Seasons Hotel Silicon Valley at East Palo Alto; Four Seasons Resort Carmelo, Uruguay (formerly a Four Seasons hotel); Four Seasons Resort Costa Rica at Peninsula Papagayo; Four Seasons Hotel Prague; Beverly Wilshire,

A Four Seasons Hotel



Birthplace
Education
Bachelor of Science, Spanish and Japanese Linguistics, Georgetown University, Washington, DC
Languages
English, Spanish, Czech, Japanese
Mark Bingle is right where he wants to be: overseeing two Four Seasons hotels highlighted by strong culinary offerings in the heart of a sophisticated capital city in a region that he has long since grown to love. "One has a modern feel – trendy, hip and chic – while the other is historic with a customised, luxurious, almost residential feel," he says of Four Seasons Hotel Bogota and Four Seasons Hotel Casa Medina Bogota, respectively, to which he was appointed General Manager in September 2016. "With Four Seasons service as the icing on the cake, guests can expect a very warm, very friendly and distinctive experience at both."
The key to managing of two hotels simultaneously, Bingle quickly learned, is deciding "where I need to be and when." That can change every day – even every hour – based upon incoming guests, special events, scheduled meetings and more. Typically, Bingle attends one or the other operational meetings at 8:30 am and divides meals between the two hotels: lunching perhaps at the animated Mediterranean restaurant Castanyoles at Four Seasons Hotel Casa Medina, before heading over to Four Seasons Hotel Bogota. Either way, he spends time at both properties daily as well as at off-property meetings with local corporate clients and dignitaries. "Relationship building is very important in Latin America," he says. "It's all about being visible. People want to put a face to my name."
Bingle ought to know. Bogota is his third Four Seasons address in Latin America. He arrived with close to a decade of experience in the region, including nearly four years as a Resort Manager at the former Four Seasons in Carmelo, Uruguay, which saw him working closely with the owner and asset manager to operate the business while, of course, being the face of the Resort for guests, clients, and the team. "That experience really prepared me well for Bogota."
Bingle's personal management style is "to manage from a foundation of love and trust," he says. "I know that sounds corny. But when I think about how decisions are going to affect guests, employees and the hotel owner, the answers are apparent to me because they come from that philosophy." He is a firm believer that people are the greatest Four Seasons asset, and has seen more than a few colleagues depart the company and then return after realising there really is something special about the culture behind it.
"I've had the opportunity to speak at other companies about customer and employee engagement, and they want to know what's the secret of Four Seasons success. I tell them it lies in the culture of really caring for the person that has been ingrained over 50 years. You can talk about it. But until you live it and breathe it, it's not going to be easy to achieve."
Other than time scooping ice cream for a Ben & Jerry's retail outlet as a young man, Bingle has spent his entire career living and breathing that culture. Born and raised in Indiana, he studied linguistics at Georgetown University and had never even contemplated hotel work until his junior year when he was sitting in an Irish pub and his best friend asked what he was going to do with his education. "I told him I love to travel and I like the finer things – you know, Champagne wishes and caviar dreams," Bingle recalls with a laugh. "He suggested the luxury hotel business. I thought about it for five seconds and said, 'You're right!'"
Following school, Bingle relocated to Los Angeles and, at his brother's behest, interviewed at the major talent agencies to become an agent to the stars. However, after much thought, he knew his stars were elsewhere and applied at the local Four Seasons hotels, his original plan. Beverly Wilshire, A Four Seasons Hotel said yes, and he started as a Front Desk Agent in 1996. His parents, he remembers, were nothing if not surprised when he told them he was going to take an hourly position at a front desk following four years at a top-tier university.
"But looking back, I can say I was there. I know what people go through and the hard work they put in to create the guest experience. Four Seasons has a strong manager-in-training program for those coming out of hospitality school. I did my training on the ground. It gives me a real emotional connection to people working at all levels of the hotel."
Bingle's connection to Latin America began when he spent a summer abroad in Quito, Ecuador and San Luis Potosi, Mexico while still in school. The warmth of the people and their focus on family impressed him then and still does. A good half of the guests at the Bogota properties are Latin American, he says, with the balance being international travellers – most coming for business, others just to experience Colombia. Bingle is enamoured of the sophistication he sees around him: "People dress very stylishly here. They go out to eat a few times a week, and the streets are always abuzz. Bogota is a very inviting destination, and the arrival of Four Seasons is drawing more."
When not busy at the two hotels, Bingle enjoys life in Bogota as "a single with a dog," he says, referencing his English mastiff Rufus. Relocating a 200-pound pooch from the Bay Area, where Bingle served as Hotel Manager at Four Seasons Hotel San Francisco, wasn't easy, but he wouldn't have left the dog behind for anything. "I needed something to worry about beyond work," he says with satisfaction. "Now I can worry about work and Rufus."