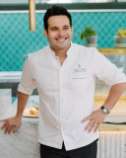 Gorkem Ozkan
"I want to take what I know here to another place while challenging myself to always improve. It makes a difference."
---
Four Seasons Tenure
Since 2013
First Four Seasons Assignment: Junior Sous Chef, Four Seasons Hotel Istanbul at the Bosphorus
Employment History
Sergi Arola, Madrid, Spain; Restaurant De Lindehof, Nuenen, Netherlands; Mimolett Restaurant, Istanbul; Istanbul Marriott Hotel Asia
Education
Associate Degree, Industrial Electronics, Marmara University, Istanbul; Bachelor's Degree, Business Administration, Anadolu University, Eskisehir, Turkey
Birthplace
Languages Spoken
"Every chef needs something to get excited about, and there's a lot going here for me." That's Gorkem Ozkan's takeaway on what he gets every day from overseeing the dining offerings that are key to the experience of Four Seasons Hotel Istanbul at the Bosphorus. Promoted to Executive Chef in his eighth year with the property, Ozkan is out to distinguish himself on the menu while continuing to refine the skills in the kitchen. "When a chef takes over, they want to make a difference. I want to take what I know here to another place while challenging myself to always improve. It makes a difference."
A hands-on manager – "very hands-on" – Ozkan is happy to jump in and spend time on line, the better to ensure precision on the plate and growth on the team. It's easier for people to ask questions and for him to reveal techniques and implement new approaches to preparation if he's right in there with them, he says. "I like being part of the action. The better they are, the easier my job is."
Ozkan's plate is stacked high with six restaurants and lounges, from the all-day dining of Yali Lounge, to fruits of the sea at AQUA, to the Turkish culinary journey of the seasonal pop-up Ocakbasi overlooking the Bosphorus and Asia beyond. It also includes in-room dining and banqueting for over 29,000 square feet (2,728 square metres) of space.
Whatever the venue, Ozkan brings his own techniques and creativity to it. His mission, he says, is not necessarily to rewrite but to refine in keeping with his style. For catered events, for instance, he prefers cooking whole tenderloin via sous vide instead of a temperature probe. "The approach is the same, but precision is different," he explains. "I to want to apply the same techniques we do in the restaurants but for bigger numbers."
He has changed things similarly in the restaurants as well. Certain "guest favourites" will always be on the menu, he says, but one of his first moves as Executive Chef was to recruit a new Chef de Cuisine to bring in different perspectives, the better to get everyone "out of our comfort zone to take a new look at things."
Ozkan has his eyes all over the place. At AQUA, for instance, he is bringing back "the art of Turkish seafood," dressing up dishes with Mediterranean flavours and visual flare, such as Sea Bass Carpaccio topped with a Turkish spoon salad including candied lime skin and smoked pineapple, and Barbecued Tuna Steak with sauce derived from fish bones and anchovies. "I want to be sure AQUA stays at a level all its own in Istanbul," he says, noting his predilection for taking risks. "If you never try things, you'll never know."
Ozkan hadn't planned to become a chef, or even, though he studied electronics in college, to be an engineer. "The moment I started taking courses, I knew I wouldn't do electronics for a day." His interest was music – rock 'n' roll guitar in particular – and he travelled to the U.S. to learn more, but only ended up working odd jobs to pay the bills.
Upon returning to Turkey, a friend who was into pastry recommended Ozkan consider cooking. He interviewed at a culinary academy in Istanbul and, intrigued, sold his guitars and gear to pay his way. As soon as he realized he had talent in the kitchen, he knew he'd found his calling. "I can't explain it, but I was good and could focus on it, so I said, okay, this is what I was meant to do." He dove right in, waking up early to prepare the mise en place for class. "I decided I wanted to be a really good cook, not just a cook. My friends thought I was pushing myself too hard, but it became my life."
Following a brief internship, Ozkan took a job as a line cook in Istanbul with a major international hotel group, then after year hooked up with a chef who was opening restaurants in Turkey. Again, he pushed himself – always first in the kitchen and last to leave. "The more responsibility they gave me, the more I wanted. Music hadn't worked, and I had no interest in failing again. Cooking saved me."
After three more restaurants – including a pair of two-Michelin-starred restaurants in Nuenun, Netherlands, and Madrid, Spain – and requisite Turkish military service, a chef asked Ozkan if he'd consider Four Seasons along the Bosphorus. Initially he declined – "I liked independent restaurants" – but after doing a tasting joined as Junior Sous Chef, paving his way for success at AQUA and other outlets and to learn to manage a team. Within a couple of years he was Executive Sous Chef, and on board to stay.
Though his myriad responsibilities limit Ozkan's downtime, once a musician always a musician. He has long since restocked his guitar gear – he is partial to Fender Telecasters, Gibson Les Pauls, and Marshall Amps – and still enjoys rocking out at home. "My daughter is a little young for me to teach her yet, but when I play or we have music on, she loves to dance," he says. "It's all for fun for me these days, but it helps me concentrate."