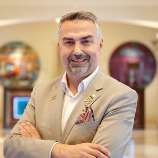 Harun Ozkan
"When you become a concierge, you are a concierge everywhere: on a bus, at home, in another country. I cannot stop myself from asking, 'may I be of assistance?'"
---
Four Seasons Tenure
First hired 1997, now since 2019
First Four Seasons Assignment: Concierge, Four Seasons Hotel Istanbul at Sultanahmet
Employment History
Ajwa Hotel Sultanahmet, Istanbul; Iznik Classics, Istanbul; Four Seasons Hotel Istanbul at Sultanahmet; Çırağan Palace Kempinski Istanbul; Nippon Hotel, Istanbul; Hotel Festival, Istanbul; Hotel Ferah, Istanbul
Birthplace
Education
Bachelor Degree, Political Science and Government, Istanbul University
Languages Spoken
Turkish, English, a little French
"When I speak with guests, I try to reach their soul," says Harun Ozkan of the depths to which he'll plumb in pursuit of rewarding interactions as Head Concierge at Four Seasons Hotel Istanbul at the Bosphorus.
Not every exchange has potential, of course: Ozkan and his team field plenty of requests for directions to the Hotel's event spaces or help recharging spent smart phones. But when the opportunity is right, he'll go deep to understand not only what guests like, but what they desire, what atmosphere suits them, what entertainment they enjoy, and what they hope to accomplish and memories they'd like to make during their time in Istanbul.
"My goal is to recommend things that I know will make them happy," he says. "Five stars in an online review doesn't make something the best choice. I'll know what is, because I'll have been there, I'll know the manager, and I'll have feedback from previous guests."
The Bosphorus property is a whirlwind for concierges, with large wedding parties, hurried business clientele, and young guests ready for the time of their lives in the gateway between Europe and Asia. When Ozkan asked management to increase his team from four to six concierges for better service, the request was granted.
All are members of Les Clefs d'Or – "Golden Keys" – the international professional organisation of hotel concierges, which has 100 members in Turkey who share information and help each other out. The local chapter has become more prominent on the hospitality scene of late. "Ten years ago, restaurants didn't know about us. Now every week we're invited to meet new chefs and management." The goal is to always be well connected, says Ozkan. "If we can't get a reservation or a good table for a guest, there's no point."
Whether working behind the concierge desk, sizing up new offerings, or even venturing around city on their own time, Ozkan and his teammates are always on. "When you become a concierge, you are a concierge everywhere: on a bus, at home, in another country. I cannot stop myself from asking, 'may I be of assistance?'"
Ozkan's career with Four Seasons began in 1997 when he joined the company's other address in the old centre of Istanbul. With its boutique size and historic surroundings, the demands at the Sultanahmet property were night-and-day compared with the Bosphorus. "Like being in a small village versus a big city." The slower pace was beneficial, however, enabling him to take time to really learn to connect with guests.
In 2008, when Four Seasons opened along the Bosphorus, the local concierge team was split between the two Hotels and Ozkan was promoted to Head Concierge in Sultanahmet. After four more years he decided the time was right to downsize his life, and he joined a local gallery selling decorative tiles and ceramics. His time included a major sales trip to the US, where he travelled 15,000 miles through 24 states in three months.
The gallery didn't last, however, so after four years Ozkan returned to hotels. Finally, in 2019, his "old friends at Four Seasons" asked if he'd like to return home to manage the concierge desk by the Bosphorus. "How could I say no?"
Ozkan now jokes that he has "the Four Seasons bug. It's like an addiction: You fall for the culture. You start looking at things through Four Seasons glasses. You expect Four Seasons quality in everything." He laughs again. "It's nice to be back."