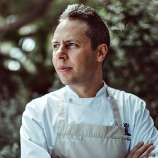 Yoric Tièche
"I really want to enhance the local identity of dining here by offering an experience that guests can't get at other restaurants."
---
Four Seasons Tenure
Since 2017
First Four Seasons Assignment: Current
Employment History
Belles Rives Group: Hôtel Belles Rives and Hôtel Juana, Côte d'Azur; Le Meurice, Paris; Taillevent, Paris; Negresco Hôtel, Nice; Clos de la Violette, Aix-en-Provence
Birthplace
Education
Lycée Hôtelier de Bonneveine, Marseille
Languages
There's a fragrant garden for the kitchen bursting with herbs and spices. There are endless views of the Mediterranean Sea, just past the sparkling swimming pool and the rocky coastline. There is a long and continuing history of illustrious guests from arts and letters, finance and industry, and royalty and leadership. There are three restaurants and a deep wine cellar to assure that none of the above ever goes unsatisfied. And there's the romance of the French Riviera beyond. Mix it all together and what do you get? Inspiration, and plenty of it, for Yoric Tièche in his role as Executive Chef at Grand-Hôtel du Cap-Ferrat, A Four Seasons Hotel.
"I really want to enhance the local identity of dining here by offering an experience that guests can't get at other restaurants," says Tièche, who joined the legendary palace hotel on the Côte d'Azur at the start of summer 2017. It's the latest stop in a career that has seen him working with some of the finest culinary talents in France. "So many chefs are focused on traditional French right now that even here on the French Riviera, Provençal and Mediterranean have become niche cuisines."
Tièche draws additional inspiration from La Cuisinière Provençale, an historic cookbook of great renown by French Chef Jean-Baptiste Reboul. First published in 1897 to instant success, the book lists more than 1,000 Provençal recipes. Tièche's strategy is to "highlight" the best of what he has found between the book's covers and then "reinvent" it for guests, employing "the richness of the region" – fresh seafood, meats and local vegetables – while drawing further inspiration from celebrated contemporaries such as Alain Ducasse and Jacques Maximin.
"People travelling to Grand-Hôtel du Cap-Ferrat need to experience the identity of the region through their senses," says Tièche, noting that his past attempts to propose the cuisine elsewhere didn't work quite as well. "There is not a lot of difference between restaurants in locations across France these days. But here, I have an opportunity to create a destination for this cuisine."
Tièche has three culinary experiences to create at Grand-Hôtel du Cap-Ferrat. At the Hotel's Michelin-starred fine-dining restaurant Le Cap, he offers a revisited Provençal cuisine inspired by his roots, with a contemporary twist and maritime influences. Menus change with the seasons in keeping with the finest and freshest produce from local markets and what he plucks from the Hotel garden. "I've never before worked at a property with such a beautiful garden," he says, musing over the well-tended bounty. "I find it very inspiring. We even have fruit trees!"  
Meanwhile, La Veranda offers a sense of informality with an atmosphere and menu reminiscent of a chic French Riviera bistro, combining influences from Italy and the Mediterranean Sea and inspiration from the coastline of Cap-Ferrat.
For the poolside Grill at Club Dauphin, Tièche is celebrating the products of the sea with a selection of local fish and shellfish dishes, plus a variety of salads and grilled meats. But he is always open to "other inspirations," he says, as well as to adapting selections to his guests – particularly those staying at the Hotel for extended getaways. "Families need a lot of options."
Born and raised in Aix-en-Provence, Tièche's culinary interests were sparked on summer visits to his grandmother in the village of Saint-Jean-du-Gard in the Cévennes Mountains of southern France. There, as an early adolescent, he became fascinated by an animated local baker who took Tièche under his wing. He'd get started at midnight every night with a nudge from his mother and a walk to the bakery. "We'd be up late baking croissants, bread and pains au chocolat. I'd slip back to my grandmother's house at two in the morning."
When Tièche decided to make a go of a culinary career, his parents were supportive, though they suggested he consider pastry only after learning to cook.
Good call. Tièche worked his way up at a string of exceptional restaurants across France, creating Mediterranean cuisine under Alain Llorca at the Hotel Negresco in Nice; cuisine bourgeoise under Alain Soliveres at Michelin-starred Taillevent in Paris; and classic haute cuisine during a decade-long run at Michelin-starred Restaurant le Meurice in Paris, where he was the deputy of Yannick Alleno. Tièche has also opened restaurants in Paris and elsewhere. He earned the title "Best Chef of Tomorrow" from Gault & Millau in 2016.
Whatever the location, Tièche always tries to end up at restaurants that have "a soul and a history, because those are places where things happened. They have a particular scent and you can feel the presence of illustrious chefs who have worked there." He recalls being welcomed warmly by the international kitchen team at Grand-Hôtel du Cap-Ferrat. "They come from all over the world, and they all want to learn," he says, adding, "Teaching the talent is part of the job for any chef with experiences to share."
In the meantime, Tièche remains humble about his talent and his career. He likes to think of chefs as "craftsmen of peace." Dinner and a glass of wine can be "almost a religious experience," he says, especially in France where cuisine is such an important part of doing business and making agreements. "You can share a meal with friends and family, but you can also share a meal with someone you don't know. It doesn't matter what their background, religion or politics is. Nothing breaks the ice like a good meal."