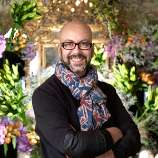 Serge Marzetta
"As in culinary, the rhythm of the seasons plays a huge role for me in selecting the character of the flowers and combinations of textures."
---
Four Seasons Tenure
Since 2005
First Four Seasons Assignment: Current
Employment History
Fleuriste des Augustins, Geneva
Birthplace
Education
Horticultural Paysagisme, School of Horticulturism, Bienne and Neuchatel, Switzerland
Languages Spoken
Of the manifold talents behind Four Seasons Hotel des Bergues Geneva, none put on a production quite like Serge Marzetta. Yet, he acknowledges, he is hardly the star of his show. "Ah – that would be the flowers," says the Florist, who with his team of five has been filling public spaces with spectacular floral displays since the opening of the historic property along Lake Geneva in 2005. "Our clientele is very sensitive to the flowers and the scents they emit," he continues, counting guests among myriad inspirations and adding proudly, "We are very often congratulated for our creations."
Flowers are "a source of emotions and good feelings in Switzerland," notes Marzetta, a true floral designer who taps cultivators from near and far for the elements of his art. He prefers small local floral producers, especially from around Geneva, for rare plants, the better to maintain costs and freshness and flexibility. Given the impossibility of keeping refrigerated inventory at the Hotel, he has built solid local relationships enabling him to be reactive, to personalise requests, and to know the origin of the flowers he employs. "I try not to waste a petal."
When Marzetta can't find what he's looking for nearby, he looks elsewhere, accessing exclusive selections far-flung cultivators from Holland, the south of France, Hawaii, Sri Lanka, Colombia, even New Zealand. "We actually have exclusivity in Europe for a variety of Orchidaceae and Strelitzias. This is the fruit of hard research and long partnerships."
Marzetta prefers to wing compositions, dreaming up distinctive themes on the spot "without forethought." The Hotel plays an important role, with jeweled neo-classical interiors by Pierre-Yves Rochon an essential element in his creativity. Initially, he found the blue hues of Lake Geneva in the lobby tricky to work with, but eventually they revealed "endless possibilities of harmonisation." Indeed, the Hotel is "an exceptional canvas" for Marzetta's work, permitting accentuation of contrasts with through the noble décor of the main foyer, stuccos, columns and polychrome marble.  
He likens his creative process to that of a chef. "As in culinary, the rhythm of the seasons plays a huge role for me in selecting the character of the flowers and combinations of textures." Summer might find Marzetta arraying 1,000 sunflowers – yes, 1,000 – throughout the lobby and other public areas and refreshing them daily. Check in during spring to see bunches of roses or peonies. Reserve Salon Dufour or the historic Salle des Nations, created in 1920 to host the first assembly of the League of Nations, for a springtime wedding and be greeted by spectacular arrangements of hydrangeas or fleur-de-lys – as per client approval, of course.
The Christmas holiday, meanwhile, always presents a significant challenge for Marzetta and his team, with their floral creations required to maintain their shape and appearance from the start of December through the New Year.
Born and raised in Neuchatel an hour or so from Geneva, Marzetta studied horticultural paysagisme – that is, landscape horticulture – in the late 1980s, supplemented by training in floral art and a federal patent for teaching. His career began in earnest in the mid-1990s when he teamed with Thérèse Grübert, the most prominent florist in Switzerland who had been a worldwide Florist Champion in 1970. "She gave me the 'floral virus'."
Along with his demanding Four Seasons schedule, Marzetta has a floral shop, Fleuriste des Augustins – "Atelier d'Art Floral" – located in the Plainpalais section of Geneva, with five staff fulfilling flowery fantasies for corporate clients and consumers. He draws inspiration from travel, particularly to the coast of Brittany, as well as from art, fashion, jewelry, gastronomy and the flowers themselves.
The best aspect of Marzetta's role with Four Seasons is the mise en scène, with his own creativity vital to dreaming up new displays week in and week out. But the most important thing, he says, are the flowers themselves. "So many colours and shapes. Such diversity. Flowers are really incredible."