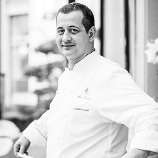 Alan Taudon
Chef – Restaurant L'Orangerie
---
Four Seasons Tenure
Since 2014
First Four Seasons Assignment: Sous-chef at Le Cinq***
Employment History
Restaurant Le Cinq***, Restaurant Ledoyen***
Birthplace
Education
Brevet de Technicien Supérieur (BTS)
Language spoken
Born in Limoges, Alan Taudon spent much of his childhood on his grandparents' farm. Surrounded by rabbits, sheep and chickens, as well as by fresh greens and a herb garden, Alan learned to connect and respect food at a young age, experiencing the commitment his family had for sustainable farming practices and farm-to-table ingredients. Long family meals taught him to appreciate a fresh approach to cooking, sharing plates, bringing together family members, thus creating a lively atmosphere.
After obtaining his BTS, Alan gained multiple valuable experiences in different regions of France, around the world and in different prestigious institutions such as Le Meurice, under the guidance of Yannick Alléno. In 2010, Alan Taudon met Christian Le Squer, and became Sous-Chef at three-Michelin-star Ledoyen. This experience deeply shaped his cooking, developing his palate and enriching his knowledge of taste and flavours. Working in a high-end professional kitchen environment also taught him the importance of teamwork. A natural transition, Alan moved to Four Seasons Hotel George V, Paris with Christian Le Squer, supporting him as Sous-Chef and assuming the role of Head of Research & Development at Le Cinq Restaurant. Alan's close collaboration with Le Squer earned Le Cinq its third Michelin star in 2016.
Having worked closely with Christian Le Squer for eight years, Alan Taudon became Executive Chef of Michelin-starred L'Orangerie. He imagined a light and healthy approach to cooking, creating a new menu to offer a veritable journey of taste with plant- and fish-based dishes, as well as dairy. Successfully marrying contrasting tastes, the cuisine is balanced and feminine, with healthy dishes enhanced by bold flavours offering sharp and distinctive aromas and tastes, allowing ingredients to speak for themselves.