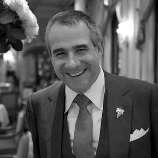 Eric Beaumard
"Sommellerie is not only my job but also my passion. I love travelling throughout French vineyards, meeting the wine producers while discovering and tasting new treasures."
---
Four Seasons Tenure
Since 1999
First Four Seasons Assignment: Current
Employment History
La Poularde, Loire Valley, France; Olivier Roellinger, Cancale, France
Birthplace
Fougères, Ille-et-Vilaine, France
Education
Cook Apprenticeship in Rennes, France; self-education in sommelier
Languages Spoken
Eric Beaumard credits his grandparents with sparking his interest in gastronomy. He cooked with them as a boy, absorbing their passion for flavour and their appreciation of the harmony between food and wine.
At the age of 14, he commenced an apprenticeship as a cook, and he soon began educating himself in "the magic of associating the gastronomic and wine worlds." A severe motorbike accident four years later affected the use of his right arm and hampered his future kitchen career. Undeterred, Beaumard switched his focus to wine, and by the age of 20 he had reinvented himself as a sommelier.
"'Sommellerie' is not only my job but also my passion," he explains. "I love travelling throughout French vineyards, meeting the wine producers and discovering and tasting new treasures."
Beaumard executes his passion with a fervent enthusiasm and individuality. He is widely acknowledged as one of the best in the business and has won a string of titles during his 20-year career, including Best Young Sommelier in France 1987, Best Sommelier in France 1992, Best Sommelier in Europe 1994 (Ruinart Championships), and a silver medal at the World's Best Sommelier 1998.
In addition to his awards, Beaumard believes his greatest achievements to date are his three children. He is also proud of his fourth "baby," his 15-hectare vineyard from which he has been producing his own wine, Beaumes de Venise, for a number of years.
Beaumard was responsible for creating Le Cinq's 50,000-bottle wine cellar and has overseen its daily operations since it opened in 1999. He readily admits, however, that the restaurant has surpassed all his expectations: "Le Cinq has been one of Paris's best restaurants for the past 10 years. Everything was and still is present in the Hotel and the restaurant to create a unique experience for gastronomy and the hospitality industry in general."