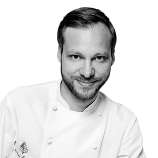 Michael Bartocetti
"Raw ingredients provide me with inspiration, triggering my imagination and kindling my desire to use them in my dishes. I use top quality produce, bringing out ingredients' natural tastes and aromas to obtain delicate and harmonious flavours."
---
Four Seasons Tenure
Since 2019
First Four Seasons Assignment: Current
Employment History
Shangri-La Paris, Plaza Athénée Paris; Pâtisserie Fischer, Lorraine
Birthplace
Education
Brevet de Technicien Supérieur (BTS)
Language spoken
Talented and creative, Michael Bartocetti is above all a committed and responsible chef. He carefully chooses his suppliers, favouring small farms that promote sustainable and responsible agriculture. Driven by a desire to create authentic fresh flavours, Michael uses seasonal produce to craft desserts that are inspired by the natural world. He experiments with innovative flavours and techniques, resulting in perfectly prepared creations. Low in sugar, his pastry is gourmet and daring.
"Raw ingredients provide me with inspiration, triggering my imagination and kindling my desire to use them in my dishes. I use top quality produce, bringing out ingredients' natural tastes and aromas to obtain delicate and harmonious flavours."
Immersed in the world of cooking from an early age, Michael Bartocetti spent much of his childhood in the kitchens of two family restaurants, working alongside his father who was head chef. He observed the cooks, taking in new aromas and scents, and learning about transmitting taste and flavour to each dish. Family friends who were pastry chefs shared their love for the world of pastry making. Michael soon knew he wanted to become a pastry chef.
Michael gained his first experience at Pâtisserie Fischer, a reputed pastry-shop in his native Lorraine. A finalist at the Best Apprentices of France competition, Michael decided to move to Paris to hone his pastry skills. He learned about the demands of working in a luxury hotel, and perfected his craft working for celebrated chefs such as Guy Savoy, Alain Ducasse at the Plaza Athénée and Christophe Moret at the Shangri-La, before joining the team of Four Seasons Hotel George V.