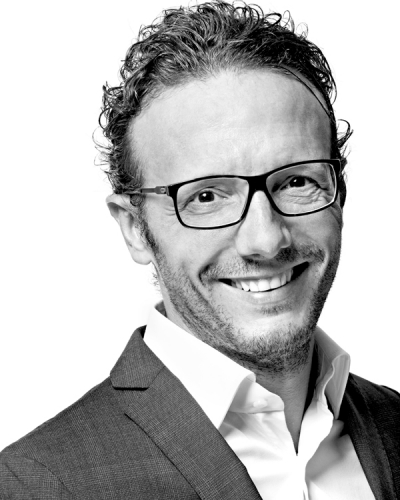 Simone Zanoni
"After a long career in different Michelin starred restaurants, I think I have finally found my place at Le George, where the light and convivial cuisine meets a buzzing and trendy ambiance."
---
Four Seasons Tenure
Since 2015
First Four Seasons Assignment: Current
Employment History
Trianon Palace Versailles, Paris (two Michelin stars); Gordon Ramsay, London (three Michelin star); Amarylis, London (one Michelin star), Petrus, London (two Michelin stars), Claridge's, London (one Michelin star); Aubergine restaurant, London (one Michelin star);

Birthplace
Education
Istituto Commerciale di Lombardia
Languages Spoken
Chef Simone Zanoni has been immersed in gastronomy since the age of six. His love of cooking was born from a heritage of strong family values, and traditions that have remained dear to him. In Simone's view, a dish is unique "when you have put your heart into it and created a journey of flavours."
Born in Salò, Italy, he was brought up by his grandmother on a farm, which was a rich source of fresh produce and in turn inspiration, where the young Simone took pleasure in working with fresh ingredients from the farm's fields and gardens. He graduated from the Istituto Commerciale di Lombardia at 18 where he made the decision to hone his skills and move to London. He quickly established his reputation as an exceptionally talented chef, and despite not speaking a word of English at the time, he began his career in 1997 as a commis, and subsequently a section head, at the capital's Aubergine restaurant (one Michelin star).
At 21, he was introduced to Gordon Ramsay who employed him as a relief sous-chef in his group of restaurants. By 2003, he had stood in for the chefs of Amarylis (one Michelin star), Petrus (two Michelin stars) and Claridge's (one Michelin star). That same year, his exceptional work was rewarded when he was appointed chef of the three-Michelin-star Gordon Ramsay – an achievement further topped by being awarded "Best Italian Chef Working Abroad" by the BMW Italia Guide and winning the Acorn Award. He worked alongside the world famous restaurateur for four years before taking up the reins of the Gordon Ramsay restaurant at the Trianon Palace Versailles, Paris in 2007.
In September 2016, Simone Zanoni was appointed Chef of Le George, the Mediterranean-style restaurant at Four Seasons Hotel George V in Paris. As he began this new challenge, Simone aimed to create a journey of flavours for guests through his cuisine and hospitality. Preserving the highly successful menu, he gradually enriched a selection of dishes with his own influences and inspirations such as the signature Le George V onion tarte tatin with parmesan sorbet.
In February 2017 Chef Zanoni was awarded with his first Michelin star for Le George's restaurant.