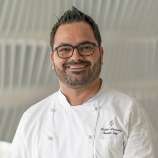 Christian Buenrostro
"Presentation on the plate is important. But as a chef I believe it is crucial to focus first on the flavours you are creating. And above all, respect the product."
---
Four Seasons Tenure
First hired 2005, now since 2014
First Four Seasons Assignment: Four Seasons Hotel Mexico City
Employment History
Four Seasons Hotel Kuwait at Burj Alshaya; Four Seasons Hotel Bahrain Bay; Rotana Hotel Group Qatar; Grand Hyatt Doha Hotel & Villas; Westin Los Cabos Resort Villas & Spa; Four Seasons Hotel Mexico City
Birthplace
Languages Spoken
After four years of celebrated success with Four Seasons in Bahrain and Kuwait respectively, Christian Buenrostro steps into his newest role at Four Seasons Hotel Abu Dhabi at Al Maryah Island as Executive Chef.  Remarking at Abu Dhabi's vibrant dining scene offering so many different concepts, it didn't take long for Buenrostro to feel right at home.
"Looking around at the competition around us, they have set a very high benchmark.  I'm really impressed," says a modest and unpretentious chef, who brings wealth of culinary experience and flair that looks set to have an impact across the whole range of dining outlets at Four Seasons Hotel Abu Dhabi at Al Maryah Island.
Born into a family where both parents work in hospitality, it comes as no surprise that Buenrostro himself ended up in the same industry.   "My parents and my grandmother gave me the inspiration and encouragement that got me where I am today.  I owe it all to them."
Eloquently recounting over his career path and personal highlights, it becomes clear that this is a chef with vast experience and expertise.  Born in Mexico, Buenrostro grew up in a Spanish family, and lived in Costa Rica and Venezuela before moving to Argentina where his career took flight.
"My four years in Buenos Aires were about much more than working in parrillas (Argentinian steak restaurants) and learning the art of asado – I got to work with incredible fusions of Asian flavours with Argentinian Creole cuisine," recalls Buenrostro, who credits the Colombia- owned restaurant Khalu as a real turning point in his culinary growth.  "Working in a standalone restaurant provided me with invaluable experience and helped me to develop an eye for detail across all areas of the kitchen operation from end to end."
Today, Buenrostro is an Executive Chef with three major hotel openings on an impressive resume, most recently at Four Seasons Hotel Kuwait at Burj Alshaya.  Now busy implementing new concepts to his current hotel's Friday Brunch at Crust, Abu Dhabi's dining community saw quickly the impact he has made.   "We have a great atmosphere here at Brunch, it's perfect for all the family.  What I am bringing is a little more of that fine dining element, which you will see with more tableside cooking and service components," explains Buenrostro, who is passionate about being front of house with guests, delivering a truly personalised experience.
Chef's eye for detail quickly spread across the whole culinary operation of the property and its six restaurants and lounges.  Buenrostro is elevating the Hotel's banqueting offering, applying fine dining principles to augment an already comprehensive range of event catering options across the Hotel's two ballrooms and five other event spaces, all of which boast stunning waterfront views of the Abu Dhabi skyline.
At the property's signature steakhouse Butcher & Still, Buenrostro takes a personal interest, with his passion for steak from his time in Buenos Aires.  With that said, he is a firm believer in letting his team shine.  "I cannot be everywhere, and I cannot be behind every single plate that goes out.  It is important to have trust in the people around you," remarks Buenrostro, comfortable with the team at Four Seasons Hotel Abu Dhabi.
In Buenrostro exists a man with true sense of passion for food from all corners of the world.  "I'm a chef from Mexico, but I'm not a Mexican chef!" he jokes, explaining his passion for Asian flavours and how they infuse so perfectly with other cuisine types.
Pointing to key culinary influences including Spanish MasterChef's the Roca brothers (of El Cellar de Can Roca), it becomes clear that Buenrostro is a chef with high standards of excellence, grounded in a passion for the product and the flavours in every dish.  "Presentation on the plate is important.  But as a chef I believe it is crucial to focus first on the flavours you are creating.  And above all, respect the product."