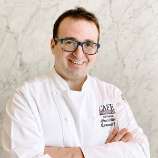 Delfino Chiarello
Restaurant Chef - Cafe Milano
"I like to consider myself an 'artigiano dei sapori,' an artisan of flavours."
---
Four Seasons Tenure
Since 2020
First Four Seasons Assignment: Current
Employment History
The Ritz Carlton Hotel Bahrain; Jumeirah at Etihad Towers Abu Dhabi; Hilton Hotel UK; Heathrow Hotel UK; Grosvenor House JW Marriott UK; Wyndham Grand Chelsea Harbour Hotel UK; The Ritz Carlton Hotel London
Education
Instituto Professionale di Stato per l'Agricoltura e l'Ambiente (IPSAA) Sicily, Italy; International Culinary Arts, University of West London, UK
Birthplace
Languages Spoken
Delfino Chiarello is the Restaurant Chef of Cafe Milano at Four Seasons Hotel Abu Dhabi at Al Maryah Island, which is the first international outpost of its celebrated sister restaurant in the United States, better known as the quintessential "see-and-be-seen" place in Washington, DC.
An industry veteran with more than 20 years of experience, Chef Delfino defines his culinary style as simple yet emotional, classic yet innovative, with a strong emphasis on using modern techniques that retain the flavour of Italian rituals.
At Cafe Milano, Chef Delfino combines his extensive training in gastronomy from his biggest chef idol his grandmother, with his deep commitment to creating a contemporary cuisine that lets the ingredients speak for themselves. This includes authentic Italian classics such as handmade pasta, fresh seafood varieties and vibrant salads with daily specials.
"I like to consider myself an artigiano dei sapori, an artisan of flavours. Staying true to my country's rich gastronomy traditions, I truly believe in respecting the ingredients. I personally select our ingredients used at Café Milano Abu Dhabi by visiting local farms and producers, discovering little known gems across the UAE. Our endeavour at Cafe Milano is to create for our cosmopolitan clientele the most exceptional Italian experiences, peppered by Mediterranean flavours in a passionately seasonal menu," he says.
In addition to creating notable menus for distinguished guests including Emirati artists, and political dignitaries, Chef Delfino is excited to continue to shape Café Milano as the "place-to-be" in the Emirate.
Having joined Cafe Milano and Four Seasons in Abu Dhabi for the first time, Delfino is confident of success and excited about being at the forefront of a new era of luxury hospitality in Abu Dhabi.