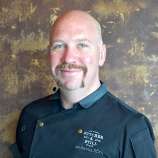 Marshall Allen Röth
Head Chef, Butcher & Still
"Food is the most expressive form of art."
---
Four Seasons Tenure
Four Seasons Assignment: Current
Employment History
Olives in St. Regis Aspen; David Burke Kitchen, New York City
Birthplace
Education
Degree in Culinary Arts, Culinary Institute of America
Languages Spoken
As Head Chef of Butcher & Still, the modern recreation of a 1920s prohibition-era Chicago steakhouse at Four Seasons Hotel Abu Dhabi at Al Maryah Island, Marshall Allen Röth is in charge of serving up exceptional food moments for the restaurant's discerning guests.  
Bringing more 20 years of culinary proficiency to the table, Röth believes an ideal dining experience is a multi-sensory adventure that engages all the senses, from the aesthetics of the restaurant, to the textures and colours of the dishes and aromas of fresh ingredients.
Known for his warm and amicable personality, Röth finds his passion for food and hospitality extremely fulfilling. "My love of gastronomy has taken me across destinations and regions, opening my mind and heart to the culinary nuances of global cultures," he says.
Röth's pursuit to deliver the most pleasing dining experiences has seen him create culinary magic in different capacities over the course of his career: from pastry chef to creative culinary consultant, executive and sous chef at various dining outlets in the United States.
A true meat connoisseur, Röth keeps Butcher & Still close to the heart of what makes a classic American steakhouse such a timeless concept.  By sourcing carefully selected meats from a boutique supplier in the United States, Röth shows that quality is key.
However, it takes more than just having a good product on the plate. Chef Röth points to staying true to the concept as a big factor behind Butcher & Still's growing popularity in the discerning dining culture of Abu Dhabi. "Our guests are knowledgeable, and appreciate the carefully styled menu that accurately represents the 1920s way of cooking, whether that's our unique style of cooking, or the homemade butter and sauces we create from scratch," he adds.
Röth gives great credit to his dedicated team on the service floor, who carry the Butcher & Still experience to the guest with their very own style of professionalism, passion and often good humour. This laid back, friendly style has quickly led to the growth of a dedicated following of return patrons to the restaurant. "Our guests quickly start to feel that they are part of the Butcher & Still family, and our regulars are friends more than customers."