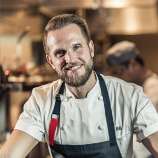 Brian Becher
Regional Executive Chef – Middle East Wolfgang Puck Fine Dining Group
"My last mistake is my greatest teacher."
---
Four Seasons Tenure
Since 2014
First Four Seasons Assignment: Current
Employment History
Wolfgang Puck American Grille in Borgata Hotel, Casino and Spa, Atlantic City, New Jersey, USA
Birthplace
Philadelphia, Pennsylvania, USA
Languages Spoken
Eating is one of the basic necessities for human survival and should never be taken for granted. Each and every bite should be meticulously examined, indulged and enjoyed to truly appreciate the gift of nourishment. Thus, Four Seasons believes that food should be prepared with the utmost care to ensure these optimal results. That is why its hotels trust and hire only the finest and most qualified chefs to take on this great responsibility. Brian Becher is Executive Chef of re Asian Cuisine, a Wolfgang Puck restaurant and CUT by Wolfgang Puck at Four Seasons Hotel Bahrain Bay - a single bite of his food is enough explanation as to why this decision was a no brainer.
Becher's climb to success is one that compares to stories of the greats. His knowledge and skill set did not come to be as a result of mere studying. He learned through far greater means: implementing. "All my culinary knowledge came by way of on-the-job learning through staging, which means working unpaid for knowledge," Becher recalls. "I like to tell people that I went from high school right to the pros." His quick rise to success speaks volumes for his talent and determination.
His accomplishments would never have existed if not for one thing: Grandma's kitchen. "I used to watch my grandmother prepare meals for the family. No matter what each member of the family was doing at the time, they would stop and gather when the food was ready," he reminisces. "This was powerful and significant to me." This was the first seed that eventually grew into Becher's career in the kitchen. "When I got into cooking professionally, I immediately fell in love with the fast pace and on-the-fly decisions that are inherent within the industry. I was hooked." The love has kept on growing ever since.
Chef Becher worked for Borgata in Atlantic City for six years before leaving the comfort of home, the United States, for the many opportunities that the Kingdom of Bahrain and Four Seasons had to offer. "The fact that the project was happening with Four Seasons was a major attraction for me. I wanted to be here in Bahrain because so many cultures are represented here. This, in turn, presents so many opportunities to grow as a chef by experiencing new food, new cooking techniques, and new ingredients," says Becher.
Cooking under the names of Four Seasons and Wolfgang Puck is a huge undertaking. However, it is not the size of the operation that concerns Becher the most. "It is the new market," he says. However, he takes this exciting challenge in stride, which is characteristic of any Four Seasons chef. "I am looking forward to have my ways of thinking challenged."
But just like Becher is trying to learn as much as he can from this new experience, we can also learn a thing or two from him. "The key to our success here in the GCC is to make an outstanding first impression. When we open our doors to our first guests, we have one shot to meet and exceed their high expectations," Becher advises. "To me, anything less than excellent is a failure."
Every struggle comes with its own reward that makes all the hardships worthwhile. For Becher, it's the primitive connection. "The best part of my job is how it allows me to connect with my guests, even ones I have never met," he describes. "They are taking the food that I made with my hands and putting it into their bodies to nourish themselves. When you really think about it, there are very few connections as intimate as that."
When Becher has free time, he still works with his hands. He enjoys working on cars and cannot wait to spend some time on the Bahrain International Circuit track, which is yet another advantage of moving to Bahrain.