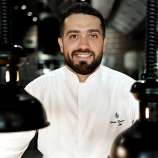 Rami Nasser
"I just love the art of food preparation. It is like music, where you get inspiration from different genres."
---
Four Seasons Tenure
Since 2015
First Four Seasons Assignment: Demi Chef de Partie, Four Seasons Hotel Beirut
Employment History
Four Seasons Hotel Beirut; COYA Restaurant Dubai; Al Mandaloun Restaurant Beirut; Med'ea Restaurant Beirut; La Petite Maison Restaurant; Four Seasons Hotel Beirut
Birthplace
Languages Spoken
Born and raised in Beirut, Rami Nasser was destined to be part of the Four Seasons family. Having earned certifications, training and awards from the likes of Intercontinental and Bristol Hotel, he joined Four Seasons Hotel Beirut in 2010 as Demi Chef de Partie - a title he held for two years, after which he was hired as the consulting chef to bring Le Petite Maison (LPM) to Lebanon.
After the successful launch of LPM, Rami took on the role of kitchen manager at Medea Bar in Beirut in 2013, a plush Mediterranean restaurant where he was responsible for engineering the menu, which resulted in lower food costs, developing recipes, training staff and more.
The young chef was adamant to refine his cooking skills not only in Lebanese cuisine, but also international food that require gastronomy and acute techniques for the perfect plating and contemporary nuance by gaining experience wherever possible.
Making his mark in every team that he worked with, Rami was roped in once again by the LPM team to open COYA in Dubai. Self admittedly one of his most formative experiences, Rami held the title of junior sous chef and managed the cold station, where he developed new skills for cutting fish, ceviche and contemporary Peruvian cuisine.
Taking all the skills he honed at COYA, Rami joined the Four Seasons Beirut family once again in 2015 as Sous Chef where he worked for nearly four years, and with various title promotions under his belt. In addition to handling Arabesque, a Mediterranean restaurant, Rami also looked after other sections in all the outlets at the property.
A lover of new challenges and looking to enhance his culinary knowledge, Rami made his way back to Dubai to be part of the burgeoning food and beverage scene. In August 2018, he joined Four Seasons Hotel Dubai DIFC as Sous Chef.
A young and dynamic chef with extensive experience and commitment to modern gastronomy done with precision and panache, Rami Nasser has dazzled guests with his refined creations and experimental cooking. He achieved a meteoric rise in skill and experience during his time at MINA Brasserie and has since taken on the role of Executive Sous Chef, Four Seasons Hotel Dubai International Financial Centre.