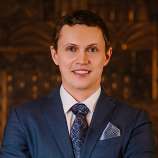 Leonid Bogashchenko
"We are one of the pillars of the guest experience, implementing services that define ultimate Four Seasons culture."
---
Four Seasons Tenure
Since 2021
First Four Seasons Assignment: Current
Employment History
In Russia: St. Regis Moscow; Asia Hotel, Amur Region. In China: St. Regis Shenzhen, Guangdong; St. Regis Lhasa; Radisson Blu Pudong; Sheraton Shenzhen; Hilton Sanya; Howard Johnson Sanya; Kempinski Dalian; Swissotel Dalian
Education
College for Hotel Management, Blagoveshensk, Russia
Birthplace
Languages Spoken
Chinese, English, Russian, learning Arabic
Leonid Bogashchenko has a simple mission at Four Seasons Hotel Riyadh at Kingdom Centre: Deliver for the guests. "We are one of the pillars of the guest experience, implementing services that define ultimate Four Seasons culture," he says of his role as the first Head Butler of the iconic Hotel and the team he is shaping to offer services found nowhere else in the city.
Fashioned with input from Bogashchenko, the Hotel's new Butler Service focuses on a generous handful of offerings to take care of the diverse needs of travellers on the go. They include pre-arrival communications, ensuring the "essentials" will be in place from the moment guests touch down in Riyadh; in-room personalised check-in with a welcoming beverage service such as a tea or coffee ritual; and therapeutic bath service, with tubs drawn to just the right temperature and exquisite foams, rose petals, turndown, and the like to ensure thorough relaxation. Butler-led garment service is designed to surpass guest expectations, with dry-cleaning and pressing within an hour and shoes shined with luxury products from John Lobb Bootmaker. Days end with a "good night touch" of relaxing lavender-scented pillow mist. Finally, a pre-departure service offers additional time and attention in true Four Seasons style, including the preparation of bills and packing of luggage so guests needn't worry about a thing before heading to the airport.
All of the above is just the start. Bogashchenko has also implemented a Butler Service Desk, on call 24/7 to meet every guest request. "The BSD is very convenient. Rather than reach out to the Concierge or Housekeeping, guests can just call one of our talents, who'll take care of everything." It's an especially nice touch for VIPs who prefer their privacy, he says. "A butler keeps a chamber of secrets."
The Hotel's butler service doesn't operate in a vacuum. Bogashchenko notes a "huge" collaboration between various departments including Rooms, Food and Beverage, and Front Office to ensure special details and attentiveness are delivered seamlessly to guests.
Bogashchenko arrived in Riyadh with impressive hospitality experience, having steadily held leadership roles in guest services, food and beverage, operations, and butler services at luxury addresses in China and Russia since joining the industry in 2006.
Hailing from Blagoveshchensk near Russia's southeastern border with China, Bogashchenko knew at age 16 that he didn't want to stay in his hometown. He also knew that he liked helping people. He studied hotel management and, following graduation, started as a management trainee at the concierge desk of an address of an international hotel group in northeastern China.
Entering the hotel industry on the guest services path, he switched to food and beverage in 2011, and then six years later, after a turn as a customer experience manager, was recruited to become chief butler of a luxury resort of another international hotel group located near the Potala Palace in Ihasa, China. Within four months of Blagoveshchensk's appointment, the resort had risen from #11 to become the brand's #1 property in guest satisfaction in the Asia-Pacific region.
"I didn't do it on my own," he recalls, demurely. "It was teamwork, with the general manager and I on the front line figuring out what the guests desired and delivering it."
Now on his first turn in the Middle East, Bogashchenko says his new role with Four Seasons keeps him plenty busy, but he uses what downtime he has to relax with photography, meditation, and crossfit-style training. "Staying fit and focused are essentials to my life both on and off the job," he says. "It makes a day pass quickly and keeps me on my toes."