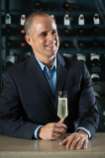 Joe Pena
"I can go out in the dining room and tell you immediately if things are going well based on a sound – clinking, laughing, you can hear it. There's a distinct sound to a happy restaurant."
---
Four Seasons Tenure
Since April 2017
First Four Seasons Assignment: Restaurant Manager at TRIO at Four Seasons Hotel Austin
Employment History
Ciclo at Four Seasons Hotel Austin, TRIO at Four Seasons Hotel Austin, The Driskill Grill (Austin, Texas), Sirio Ristorante (New York), L2O (Chicago), The Halekulani Hotel (Honolulu), The Honolulu Symphony, Hotel Derek (Houston), David Bouley (New York), The Inn at Blackberry Farm (Walland, Tennessee), Lucas Carton (Paris, France)
Education
Culinary degree from École Grégoire-Ferrandi (Paris, France); Bachelors in Cello Performance from North Park University (Chicago)
Birthplace
Languages Spoken
With roles at three Michelin-starred restaurants, a cello seat with The Honolulu Symphony and even a stint at a pig farm, Sommelier Joe Pena's resume reads like some of the world's best wine lists – rare, varied and full of delightful surprises.
Growing up in the small west Texas town of Odessa, and later Houston, Joe would never have predicted his life would take such an adventurous turn. In fact, the only given during his childhood was that music would be a part of it, thanks to the influence of his musician mom and preacher dad. "For my sister and me, it was never, 'Do you want to play an instrument?' It was always, 'Which instrument are you going to play?'"
Joe's answer to that question from an early age was cello. After practicing throughout his formative years and high school, he moved to Chicago for intense training with Danish cellist, Hans Jorgen Jensen. "I trained with him for five years, practicing four to six hours each day, and just got burnt out," he says.
One day, while procrastinating between orchestra rehearsal and cello practice, Joe found himself at a bookstore during a local chef's book signing. "Until that moment hearing him talk, I'd never considered the idea that food could be like art." For Joe, the connection to music was obvious: similar to a conductor, the chef directed everything in the kitchen, ensuring that all elements came together in a perfect symphony of taste and presentation.
That afternoon would prove fortuitous, as shortly thereafter Joe enrolled at the one of the most prestigious culinary schools in the world, École Grégoire-Ferrandi in Paris, France.
Despite his demanding schedule, Joe made the most of his proximity to Europe's renowned culinary and wine regions during his school breaks. One winter, he and a friend drove to Burgundy where they found themselves knocking on vineyard doors – many of them closed for the holidays. Luckily, one of the wineries that opened its doors for the intrepid duo was in famed Clos de Vougeot. "That was the first time I tried a wine and said, whoa, that's crazy good," says Joe of the Grand Cru he tasted that day.
Another break would take Joe to Bordeaux, where he worked his way through restaurants and wineries in Saint-Émilion, as well as at a famous pig farm outside of Léon, learning how to make the region's dry-cured sausage.
Such leisurely days would quickly become a distant memory after Joe started his internship at Michelin Three-Star restaurant, Lucas Carton, working under famous chef Alain Senderens. He calls the three-month apprenticeship the hardest thing he's ever done, due to grueling 15-hour days, six days a week. "When I walked out of there on the last day, I was like, 'I'm glad I survived that.'"
With his internship over, Joe returned to the U.S. and picked up his food and beverage career with front-of-house roles at The Inn at Blackberry Farm in Tennessee and David Bouley, a Michelin-starred restaurant in New York City. He returned to Texas in 2005 with a part-time server position at Bistro Moderne in Houston's Hotel Derek. His "free" time in Houston was evenly split between practicing cello and studying for his Level 1 certificate with the Court of Master Sommeliers, which he passed in 2006.
His renewed focus on the cello would pay off in September 2006 when Joe won a seat in the cello section of The Honolulu Symphony. Unfortunately, his symphony salary left a lot to be desired, so to make ends meet he began working as a server at The Halekulani Hotel. There, Wine Director Kevin Toyama took Joe under his wing, sharing his knowledge and conducting blind tastings after work hours. Joe credits Toyama's mentorship as the impetus behind his selection as a super-regional finalist in the Chaîne des Rôtisseur's Best Young Sommeliers Competition in 2007, as well as his later certification as a Certified Sommelier with the Court of Master Sommeliers.
In 2008, a recession would sweep across the country, hitting arts organizations especially hard. The Honolulu Symphony was no exception, filing for bankruptcy in 2009 and leaving Joe without his main source of income.
Once again, his enviable culinary resume would smooth the way for a new start. In May 2009, he moved to Chicago to work as a captain and Corporate Management intern at the Michelin Three-Star L20, led by French chef Laurent Gras. Joe continued to soak up as much wine knowledge as possible at L20, staying two months longer than the four-month internship required. But soon, his wife's admission into graduate school would necessitate a move to New York City.
Within a month of arriving in New York, Joe landed a captain position, complete with sommelier duties, on the opening team of Sirio Ristorante, a 21-table restaurant in The Pierre Hotel led by renowned Le Cirque maître d' and restaurateur, Sirio Maccioni. "Up until that point, I'd never really experienced Italian wine, but at Sirio's I got to participate in tastings with so many famous Italian winemakers," says Joe. "That really laid the foundation for my love of Italian wines."
After nearly five years at Sirio's, the siren song of his home state – and the allure of being closer to family – led Joe and his wife to move back to Texas, this time to Austin. His previous hospitality experience at The Halekulani Hotel and The Pierre quickly gained him an offer to become the manager of the city's Driskill Grill, the fine dining restaurant within the Driskill Hotel. There, Joe had carte blanch with the wine list, marking the first time he held sole oversight of a wine program.
In April 2017, Joe moved across town to become the restaurant manager at TRIO, the lake-level steakhouse concept within Four Seasons Hotel Austin, which changed to Latin-inspired Ciclo 14 months later. At both, he's gained a loyal following among Austin wine aficionados, not only for his wine list but for the service culture he perfected working at some of the world's best restaurants.
"For me, service is a physical event, it's almost like a sport; there's a start and there's a finish, and at the end you know if you did a good job." He continues, "And like sports, some days you really get into the zone. When I put my head down and suddenly look up and it's midnight, that's a great night in the restaurant."
At home, a great night for Joe means spending time with his young son and daughter, and sharing a bottle of sparkling, Nebbiolo or his dream wine – an old vintage Bartolo Mascarello Barolo – with his wife.