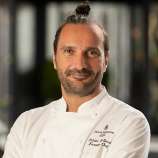 Patrice Martineau
"It takes our whole talented food and beverage team to create a wonderful dining experience every time. That's the recipe for success, and ensuring every guest joins the 'Clean Plate Club.'"
---
Four Seasons Tenure
Since 2021
First Four Seasons Assignment: Executive Chef at Four Seasons Hotel Boston
Employment History
The Terrace Restaurant, Martha's Vineyard; The Harbor View Hotel, Martha's Vineyard; The Montage Hotel, Beverly Hills; The Viceroy Hotel, Palm Springs; El Encanto, A Belmond Hotel, Santa Barbara; Peter Restaurant at The Peninsula Hotel, Tokyo, Japan; The Savoy, London, UK; Daniel, New York; La Cote Saint-Jacques, Burgundy, France; Abbaye de Saint-Michel, Burgundy France
Education
eCornell University, Leading Management Team Diploma; Brevet de Maitrise Cuisine, Culinary Degree with Honours, Champagne, France; Brevet D'etudes Professionelles en Hotellerie-Restauration, Champagne, France
Birthplace
Troyes, Champagne, France
Languages Spoken
French, English, conversational Japanese
Hailing from a long list of internationally acclaimed kitchens, Executive Chef Patrice Martineau's earliest culinary experience can be traced back to his childhood days spent in Troyes, Champagne, France. The youngest of seven children - twin sister included - Martineau followed his mother to a countryside farm every weekend, bringing back fresh eggs, rabbit, duck, and a variety of other produce for the week's family meals. These storybook farm-to-table beginnings created intrigue early on, and from as far back as he can remember, Martineau had set his ambitions on becoming a chef.
Classically trained in some of Burgundy's most illustrious eateries, Martineau began his career in the kitchens of 2-Michelin-star L'Abbaye de Saint Michel and 3-Michelin-star La Cote Saint-Jacques. From there, Martineau went on to serve as Chef de Cuisine at Daniel Boulud's iconic 3-Michelin-star Daniel in New York City, known for its refined European cuisine and gracious hospitality.
Chef Martineau's international resume also includes the role of executive chef at London's historic Savoy Hotel and chef de cuisine at The Peninsula Tokyo's Peter Restaurant, where he fell in love with the Japanese culture and their pursuit for perfection in all things culinary. "For example, every fruit and each vegetable there is impeccably cultivated," Martineau explains, "as if it comes from heaven."
Martineau then again returned to the United States, where he served as Executive Chef in such renowned hotels as El Encanto, A Belmond Hotel, Santa Barbara; Montage Beverly Hills; and Martha's Vineyard properties The Harbor View Hotel and The Terrace at Charlotte Inn.
"I'm fortunate to have had such a rich and diverse journey throughout my culinary career. Each experience has left its impression on me and assisted in developing my craft," says Martineau.
In 2021, Forbes five-star Four Seasons Hotel Boston appointed Martineau as Executive Chef. There he oversees the iconic Hotel's culinary program including Aujourd'hui restaurant, In Room Dining, Events and Catering, and Pastry. His menus are best described as distinctly New England with a sense of European refinement, and his strong relationships with local purveyors ensure the best Atlantic seafood is always highlighted.
The Hotel's culinary offerings are further bolstered by a dedicated and passionate team, whom Martineau takes great pride in developing. Although well known for his kindness in the kitchen, the quest for perfection remains front and centre. His sous chefs take joy in executing monthly tasting menus for Martineau to critique with the goal of helping them hone their skills.
"It takes our whole talented food and beverage team - from reservationists, hostesses, and servers to cooks and stewarding - to create a wonderful dining experience every time. That's the recipe for success, and ensuring every guest joins the 'Clean Plate Club.'"
When he's not in the kitchen, Chef Martineau can be found preparing for the Boston Marathon on his daily runs, wandering through collections at the Museum of Fine Arts, searching for the city's most consistently perfect risotto, or on a weekend road trip to visit his son Lucas who is attending university in Vermont.