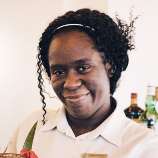 Kendie Williams
"My passion is creating something truly special for the guests – it's what drives me when I'm behind the bar. I find myself wanting to always make a cocktail better than the last by either spicing it up or using new flavour combinations."
---
Four Seasons Tenure 
Since 2010
First Four Seasons Assignment: Server at Mango Restaurant, Four Seasons Resort Nevis

Employee History
Turtle Time, Nevis; Paradise Beach Hotel, Nevis
Education
Nevis Secondary School, West Indies
Birthplace 
Language Spoken
After finding her passion in the kitchen, Kendie Williams is no stranger to making some of the most delicious beverages for her family and guests who come to Four Seasons Resort Nevis. With almost a decade's worth of experience behind the bar, she strives only to use the freshest ingredients, some of which she grows in her own backyard, including locally sourced fruits, spices and herbs.
Working at various restaurants and bars around the island, when people find her serving up drinks, they know they're in for a delicious treat. Kendie prides herself on creating the perfect marriage between natural Nevisian ingredients and smooth liquor blends. As someone who is not an avid drinker, she often uses her knowledge of flavour combinations to craft her cocktails -- and there is no shortage of rum either. 
As a self-taught mixologist, she has proven that when you have a passion, you can create amazing things. Kendie has won numerous awards over the years for her creations, including the 2014 "Hotel Bartender of the Year," Patron's "Best Tasting Margarita – Nevisian Sunshine," Angostura Mixmaster for two years running and was once named one of the "Most Interesting People in Rum," according to Caribbean Journal. 
Travellers who return to the Resort look forward to treating themselves to one of Kendie's unique creations or having her create something off the menu that's equally as amazing.