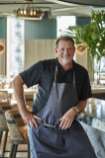 Donald Link
---
Inspired by the Cajun and Southern cooking of his grandparents, Louisiana native Chef Donald Link began his professional cooking career at 15 years old. Chef Link has peppered the streets of the Warehouse District of New Orleans with a collection of award-winning restaurants over the course of the past two decades, including Herbsaint, Cochon, Cochon Butcher, Pêche Seafood Grill, La Boulangerie, Gianna, and his private event facility, Calcasieu.
His flagship restaurant Herbsaint earned Link a James Beard award in 2007 for Best Chef South. The same year, Cochon was nominated for Best New Restaurant. Link has also been nominated by the James Beard Foundation for the prestigious award of Outstanding Chef for multiple years. Pêche Seafood Grill was awarded Best New Restaurant at the 2014 James Beard Foundation Awards, while Gianna was named a James Beard Award Nominee for Best New Restaurant 2019. The James Beard Foundation also honoured Link's first cookbook in 2009 - Real Cajun: Rustic Home Cooking from Donald Link's Louisiana - with their top award for Best American Cookbook.
"Our team is thrilled to partner with Four Seasons, as we share many common values and a passionate commitment to rebuilding tourism in New Orleans," says Chef Link. "This restaurant is an exciting addition to the community, and to the unmatched culinary landscape of our city."
Gourmet Magazine listed Herbsaint as one of the top 50 restaurants in America, and was inducted into the Nations Restaurant News Hall of Fame. Cochon was listed in The New York Times as "one of the top 3 restaurants that count" and named one of the 20 most important restaurants in America by Bon Appétit. For his commitment to the industry, the Louisiana Restaurant Association honoured Link by naming him Restaurateur of the Year in 2012. In February 2014, Link celebrated the release of his second cookbook Down South: Bourbon, Pork, Gulf Shrimp & Second Helpings of Everything.
In 2015, Chef Link and his chef-partner Stephen Stryjewski created the Link Stryjewski Foundation to address the persistent cycle of violence and poverty, as well as the lack of quality education and job training opportunities available to young people in New Orleans.