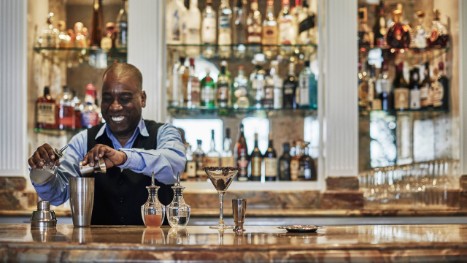 Keith Cash
"There are always new challenges, new fruits, new cocktail recipes to learn."
---
Four Seasons Tenure
With The Ocean Club since 1986, with Four Seasons since 2017
First Four Seasons Assignment: Current
Birthplace
Languages
English, a little Spanish
There are several outlets for enjoying cocktails to remember at The Ocean Club, Four Seasons Resort Bahamas and an abundance of mixological expertise between them. But there is only one Keith Cash – and that's all patrons of the Martini Bar and Lounge need. As Bartender of the Resort's long-running celebration of classic cocktails, Cash brings more than three decades of onsite experience and an assured embrace of inviting service to every drink order he fills.
If you think Cash is in a grind, think again. "There are always new challenges, new fruits, new cocktail recipes to learn," he says with the easiest-going laugh in the islands. He regularly searches online, checks out other bars, and makes annual trips to Las Vegas to stay on top of the latest cocktail trends.
The most important skill for bartenders to own is to know their customers, Cash says. "That's what I strive for." Though working in the thick of innovation in the New Golden Age of Cocktails, Cash still mixes plenty of classics – Manhattans, Old Fashioneds, et cetera – for regulars at the Martini Bar and Lounge. "A lot of my guests are watching their calories: They're not all that into newer, sweeter drinks. So I talk to them, find out what they're interested in, and then coax them into something more interesting."
There is plenty of conversation over orders at the Martini Bar and Lounge. "Oh, I really engage them. Sometimes I even let them come behind the bar and get involved." Is it that simple? "Well, I stand beside them and tell them the proportions."
Cash got his start straight out of high school at one of the larger restaurants on Paradise Island. One day the captain asked him if he might be interested in working at The Ocean Club. "I didn't know anything about mixing drinks, so the bar manager had me cleaning and setting up bars around the property." Those included the Hartford Bar, named for The Ocean Club's founder Huntington Hartford II, as the Martini Bar and Lounge was then known.
After his regular duties were completed, Cash would stand behind the bar and watch the bartenders in action. They gradually engaged him and let him help. "The more I did, the more I learned. But it was hard." The pros noticed his progress and encouraged him. "They'd say, 'you're learning fast!' but I'd tell them, 'I can't take it!'" Despite feeling overwhelmed, he stuck with it.
Smart move. Soon enough, the manager of another property associated with The Ocean Club began popping in regularly for lunch and dinner and liked what he saw of Cash's burgeoning skills. With good word from the manager, Cash was made a bartender. "They promoted me over two or three waiters," he remembers. "Three months in, I was named employee of the year. I was the first ever for the Resort."
The honour included a two-week trip to Atlantic City with opportunity to hone his skills further behind the bar of another associated property. Cash went on to represent the Bahamas in bartending competitions, and he was inducted into the Bahamian Bartenders Hall of Fame.
Cash's current responsibilities go beyond mixing drinks behind the bar, including putting together tastings – "rum is popular, paired cheese" – and leading hands-on mixology classes to dazzle group guests.
He also sources all the premium spirits and special ingredients featured on the cocktail menu. Every year the Martini Bar and Lounge features native fruits – sea grapes, tamarinds, coconuts – which Cash takes home and uses to create syrups for new drinks. Europeans like their cocktails on the dry side, he says, while Americans "will practically drink my syrups straight. Either way, when guests ask, 'Keith, surprise me with something new,' I'm ready."
One thing everybody likes is The Ocean Club's signature Chocolate Martini of Cash's design. "Most resorts do the standard Godiva Chocolate and bay leaf martini. But I take ours to a totally different place," he says, pinpointing various spirits, infused and otherwise, and garnishes of Valrhona Chocolate, Valrhona Dark Chocolate, and Opalys White Chocolate as essential ingredients. "You really have to see it to appreciate it."