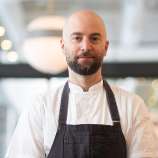 Greg Vernick
---
Cherry Hill, New Jersey native Greg Vernick could be found in the kitchen at an early age thanks to his grandfather owning a butcher shop in Philadelphia and his mother Beth owning a local restaurant near their hometown. Pursuing his passion for the restaurant business, Greg went on to earn a degree in hospitality management from Boston University followed by a culinary degree from the Culinary Institute of America (CIA) in Hyde Park, New York.
Upon completion of his CIA externship with Chef Ken Oringer at Boston's Clio, and after graduation, Greg moved to New York City to work the line for the opening of Jean-Georges Vongerichten's Perry Street. Over a five-year span, Greg rose through the ranks of the Jean-Georges group as sous chef at Jean-Georges, Nougatine, and Spice Market, and eventually traveling the world as a chef trainer for restaurants in Qatar, Tokyo, Vancouver, Boston, and Park City, Utah. After years working with the Vongerichten team, Greg took his final post in New York City as chef de cuisine at Tocqueville.
In 2012, Greg returned to the Philadelphia area with his wife Julie to open his debut restaurant Vernick Food & Drink in the Rittenhouse Square neighbourhood of the city where he serves an honest, no-fuss menu featuring his take on American cooking.
Since opening, Vernick Food & Drink has been recognised by Food & Wine, Bon Appetit, StarChefs, Philadelphia magazine, The Washington Post, and The New York Times. In October 2016, Vernick Food & Drink earned a 4-Bell re-review from Philadelphia Inquirer's restaurant critic Craig LaBan who called it the "best overall restaurant" in the city. In December 2016, Greg was also named "Chef of the Year" by the Philadelphia Inquirer, noting that he has never stopped refining his craft and has helped redefine the concept of what American dining can be.
In May 2017, after receiving his third nomination in the category, Greg Vernick was named the Best Chef: Mid-Atlantic by the James Beard Foundation, coinciding with the fifth anniversary of the restaurant's opening.
Thanks to a new relationship with Four Seasons Hotel Philadelphia at Comcast Technology Center, Greg opened Vernick Coffee Bar, a café and barista bar in October of 2018. Philadelphia Inquirer gave it a 3-Bell review citing, "there's so much more than good coffee perking at this restaurant disguised as a 'coffee bar,' where Vernick has turned the soaring second-floor space into a peaceful oasis to rethink breakfast and lunch in a sleek modern dining room that feels like an urban tree house."
His second restaurant with Four Seasons, Vernick Fish, opened its doors in August of 2019 with the intention of serving his take on the favourite hallmarks of oyster bar fare. Inspired by his years growing up visiting the Jersey Shore and time spent in Boston, Fish is committed to sourcing an extensive list of the best product and showcasing it in the best possible way. Since opening, it's been lauded as one of the Best New Restaurants by Philadelphia magazine and others.
In the fall of 2019, Greg and his long-time team at Vernick Food & Drink opened a neighbourhood wine shop and private dining space called Vernick Wine just next door. The shop carries a lineup of more than 100 bottles of wine spanning natural, orange, and classic old-world styles from around the world meant for everyday enjoyment, as well as a small selection of ciders, sherry and vermouth.