Design Notes: Four Seasons Hotel Kuwait at Burj Alshaya
August 29, 2018,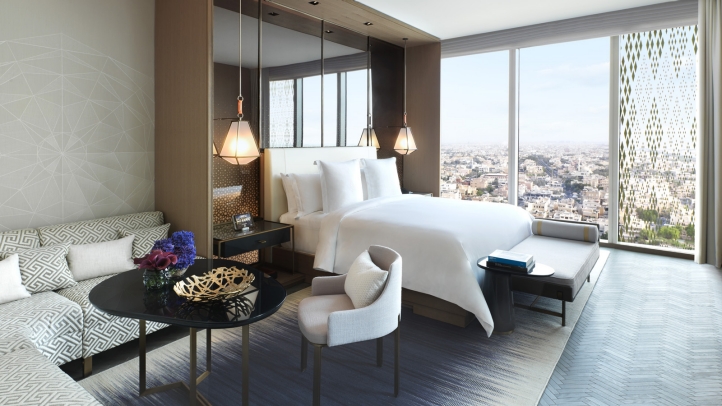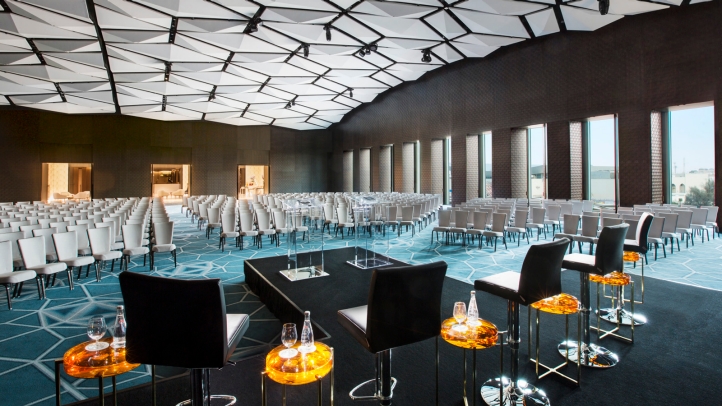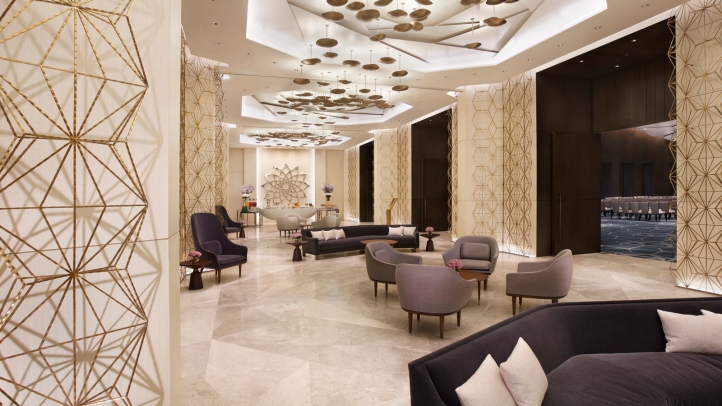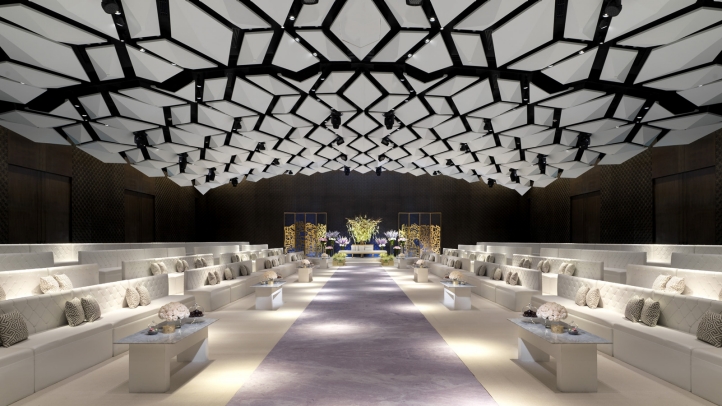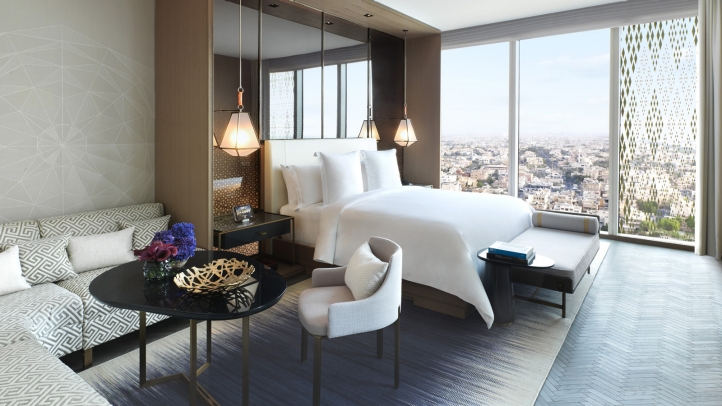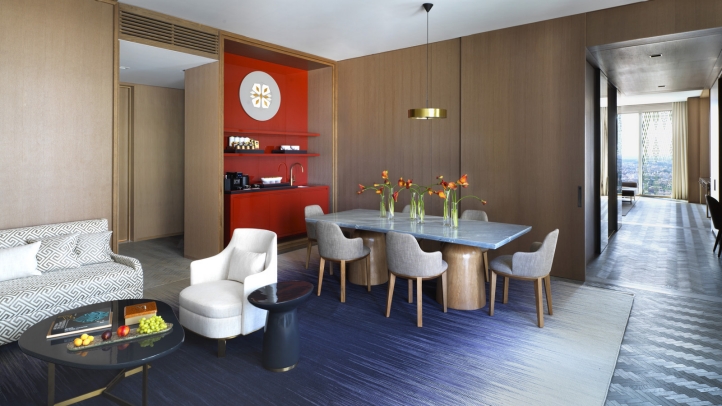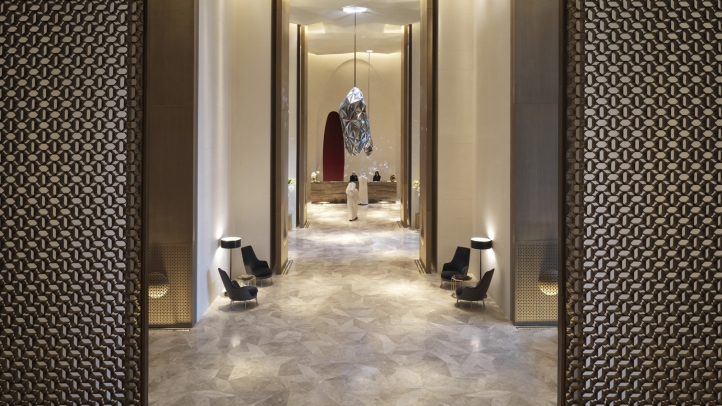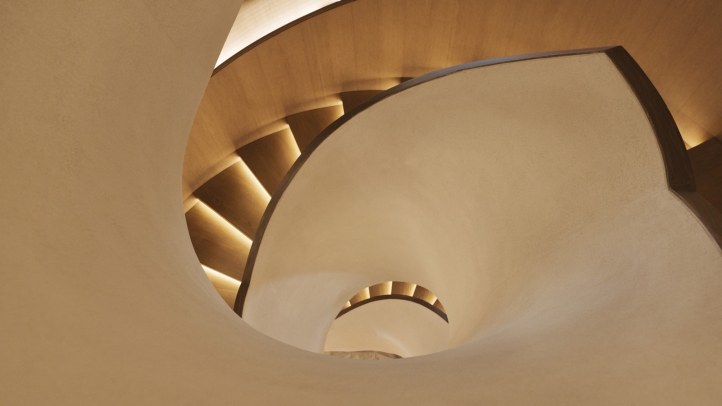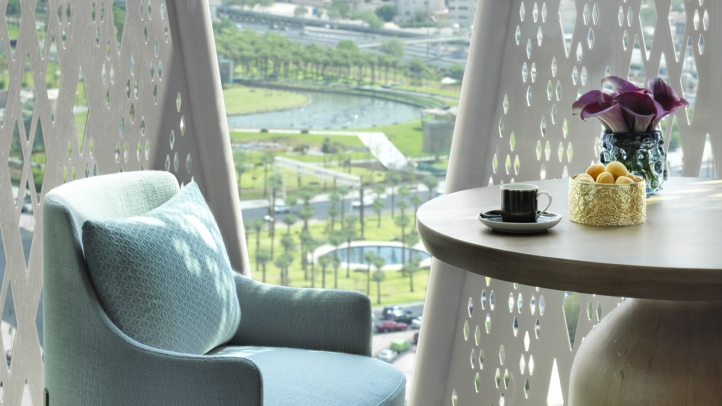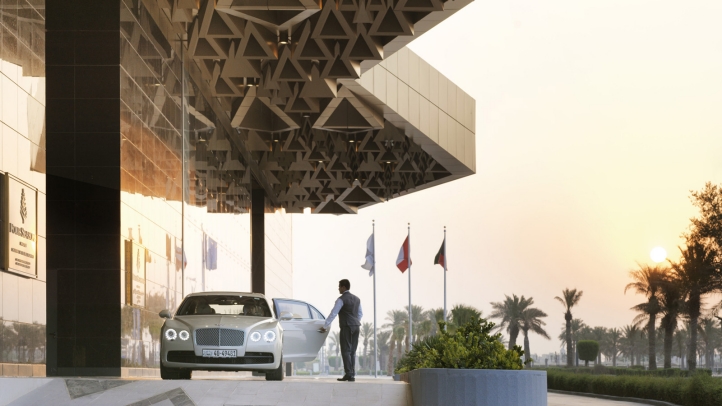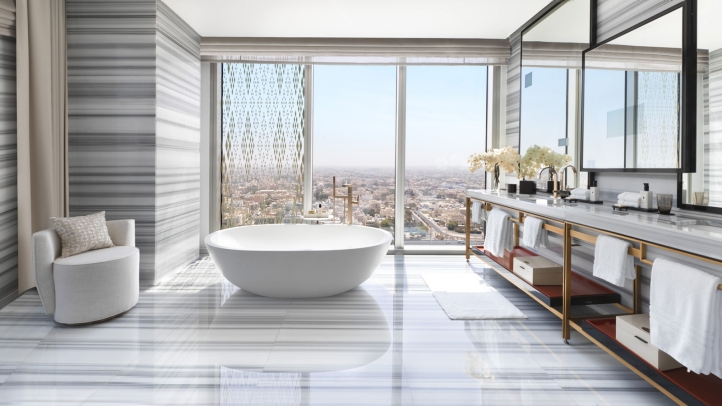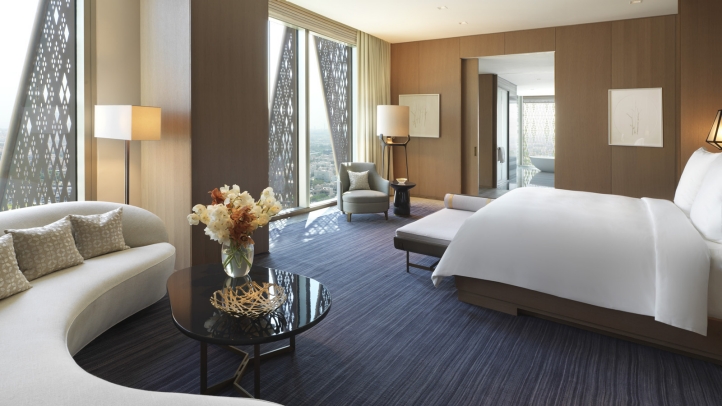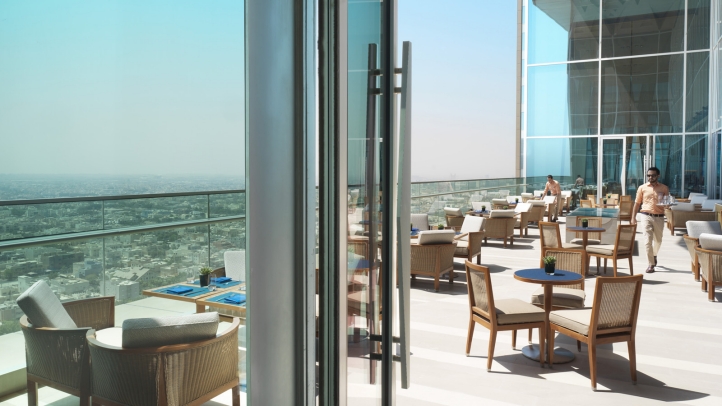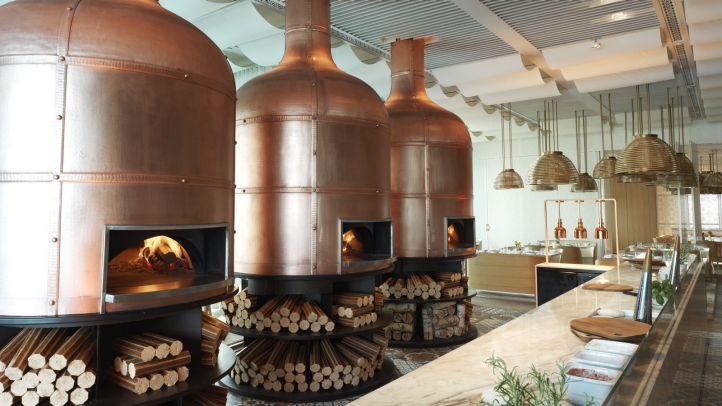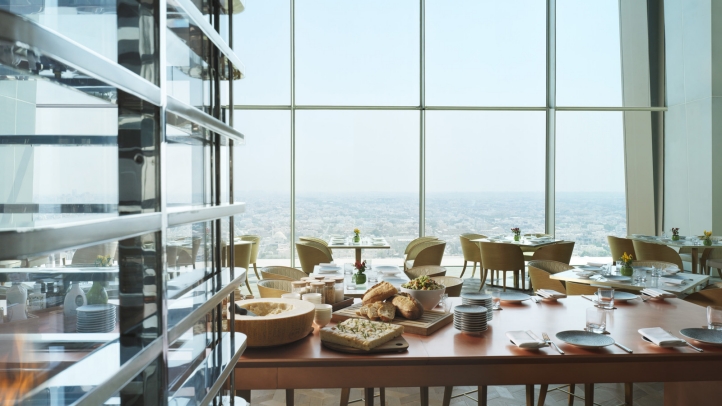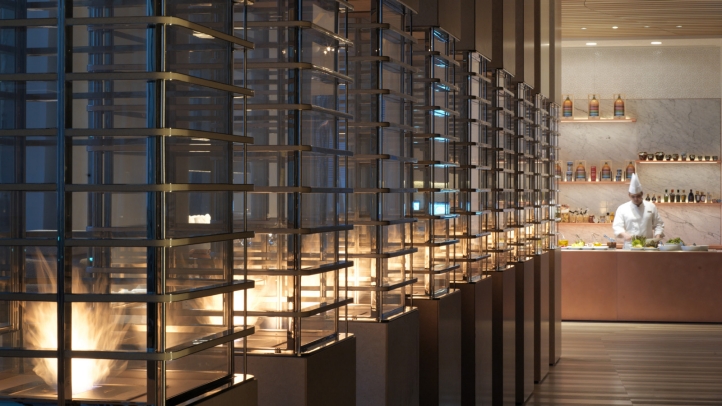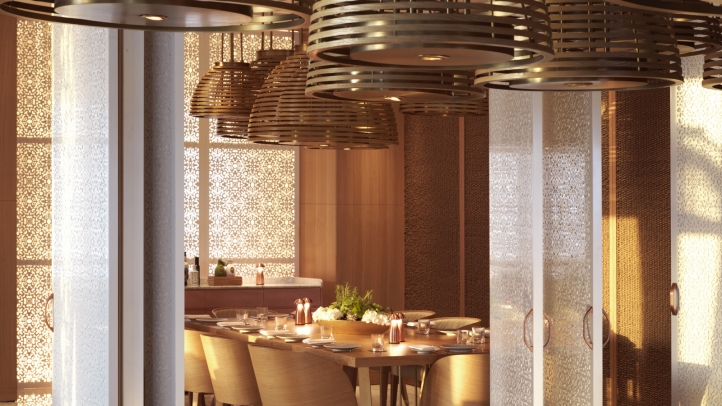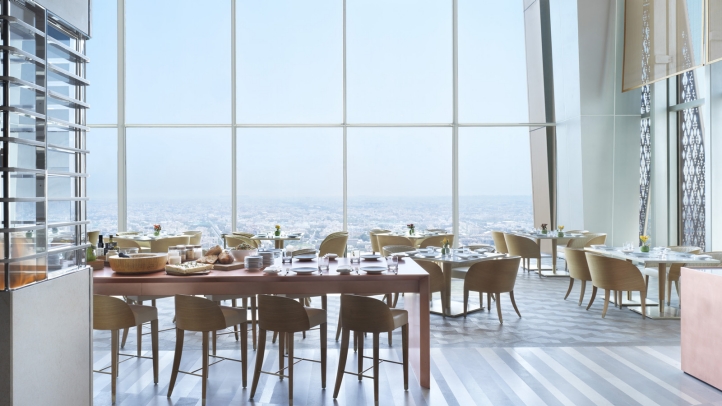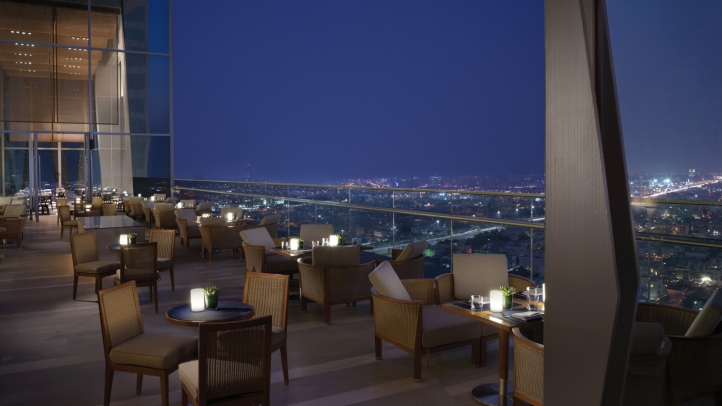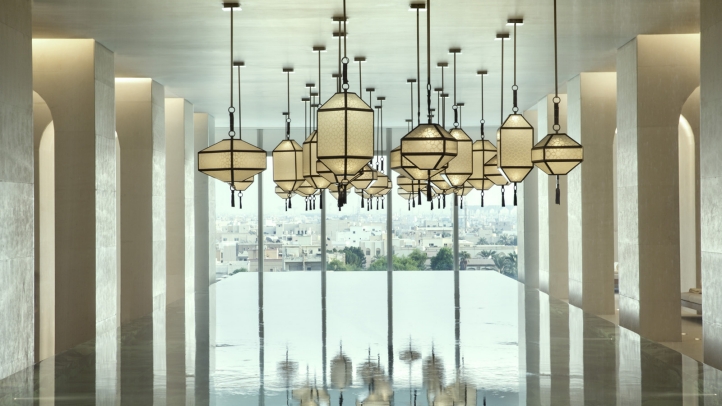 Is Kuwait City the new hot spot of design? Four Seasons Hotel Kuwait at Burj Alshaya certainly points in that direction. Welcoming guests since summer 2017, the sleek, avant-garde address is a polished centrepiece of the city: one of the most striking hotels in the world, with a distinctly modern vision of Middle Eastern design.
The Hotel was fashioned by top-flight international design talent: architecture by Gensler of San Francisco; interiors by Yabu Pushelberg of New York; and two of three featured restaurants by Kokaistudios of Shanghai. Lighting throughout is custom designed, and most public areas display pieces from the Hotel's incomparable collection of contemporary art with works of many mediums from international artists that make guests stop in their tracks.
Noted Glenn Pushelberg, of Yabu Pushelberg: "Our aim was to create a sense of wonderment in Kuwait; to surprise and delight guests. This Hotel was designed with refined, well-travelled and culturally informed traveller in mind. There is a distinct connection to place within the design vocabulary, however, even though the context is from within the Middle East, visitors are transported beyond the boundaries of Kuwait."
Added George Yabu: "Layered throughout are subtle references to Middle Eastern art and architecture, detailed and reinterpreted in a modern way. Materials, a sense of texture, patterning and colours in particular are all informed by the intensity of the desert and the local climate, playing with the contrast between daytime heat and cool nights."
Four Seasons Hotel Kuwait is in one of two towers within the Burj Alshaya complex, a new mixed-use development created around a regional architectural tradition. The Hotel's modern glass exterior is laid out with mashrabiya latticework, an Arabic pattern dating from the Middle Ages, and wooden rhombus-shaped shading fins that, together, give it a distinctive appearance while heightening climatic performance in the desert heat.
Rising 21 storeys, the property presents a spacious setting for international travellers and locals alike, with 284 guest rooms including 67 suites, multiple restaurants and lounges, nearly 3,000 square metres (31,000 square feet) of function space, a luxury spa with indoor pool and guests-only fitness centre, an outdoor pool, as well as renowned Four Seasons service.
"Many Kuwaitis are familiar with Four Seasons, having stayed with us on their travels. Now there is a Four Seasons hotel right in their backyard, and with its design, architecture and artwork it's like no other hotel in the world," says Didier Jardin, General Manager of Four Seasons Hotel Kuwait. "The beauty and stylishness that guests experience through every corner of the property truly set this Hotel apart."
Grand Foyer and Lobby
Cutting-edge interior design unfolds in a dramatic assemblage of textures, colours and modern Middle Eastern touches through the entrance experience of Four Seasons Hotel Kuwait. Soaring ceilings, walls clad in textured limestone, carved oak panels and geometric-pattern stone floors enhance the sculptural quality of the Lobby. Eyes of guests are immediately drawn to The Etymology of the Baroque, a fantastical painted bronze sculpture of an orchid at the height of bloom by internationally renowned British artist Marc Quinn. Meanwhile, the focus of the Lobby is an extraordinary 13-metre (43 foot) spiral staircase: set against a wall of intense burnt orange, the spiral staircase is lined with illuminated steps that climb to pre-function event space on the first floor.
Other striking elements of the Lobby include full-height mashrabiya screens, a sculptural reception desk, cabinets of carefully collected sculptural objects by artist Dennis Lin set against deep indigo walls, and bespoke contemporary design furniture and furnishings. Interior design firm Yabu Pushelberg aimed to refine the traditional notion of a grand chandelier in a hotel Lobby by working with glassware company Lasvit to produce a modern approach, creating an iconic crystal sculptural installation that is suspended in the centre of the lobby ceiling, greeting guests as they enter.
Just inside the Lobby, Al Soor Lounge is named for the famous street that gives the Hotel its address. The lounge offers an inviting, residentially-inspired contemporary setting in a beautiful range of colours and textures. Wood floors dotted with rugs of dramatic geometric designs in white, silver and black, curved oak wall panels, custom geometric gold-leaf glass screens and a bronze light box romantically illuminate the lounge. A sizable brass chandelier by VISO of Toronto provides further illumination: created from rectangular metal tubes aligned through gravitational studies, it was pieced together with no visible screws.
Function Space
The Hotel offers two ballrooms and pre-function spaces of elegant, high-tech design for meetings, social gatherings and business events. Accessed via the spiral staircase from the Lobby, pre-function space on the first floor asserts a strong geometric statement through sculpted ceiling details and floor patterning, with hand-wrought textured metal screens, stunning carpets, and works of art from the Hotel collection.
On the ground floor, the Al Mirqab Ballroom can accommodate up to 700 people for receptions, with 716 square metres (7,700 square feet) of space dressed up with boldly modern design elements including a highly engineered, broadly arched ceiling of reinforced plaster in a faceted, geometric pattern. Distinct regional details include textured charcoal grey wood walls, custom carpeting, and a dandelion pendant light with 1,099 bulb-tipped brass tubes of blackened steel and a steel globe at its core.
On the first floor, Al Bidaa Ballroom is a spectacular setting nearly twice as large, with 1,351 square metres (14,500 square feet) for up to 1,350 people for receptions. Windows overlooking Al Soor Street bathe contemporary Middle Eastern design details in natural light and draperies can be pulled for total blackout.
The ballrooms further feature a custom lighting installation by VISO, each arrayed with more than 200 brass-plated lighting elements in five organic shapes that are capable of rotating and tilting to dramatic effect.
Dining Experiences
Up on the rooftop of Four Seasons Hotel Kuwait, Kokaistudios combined four elements to create for a remarkable setting for dining and entertainment, with a green living wall (earth) and terrace (wind) separating the fashionable pan-Asian restaurant Sintoho (water) from the immaculate Italian offering Dai Forni (fire).
Laid out before a wall of windows overlooking the city skyline, Sintoho (from Singapore-Tokyo-Hong Kong) features seven live cooking stations, including two teppanyaki stations, a robata grill, a sushi bar, a dim sum station and a live teaology counter, as well as two beautiful private dining rooms. Design features include stone cladding and handcrafted partitions around individual stations, handmade oven hoods with brass cladding, water pillars with slow-motion air bubble flow, and tear-drop pendant lights. Table seating is available indoors as well as on an expansive open-air terrace.
The theme at Dai Forni is fire. Playing off the lush greenery of the living wall, design details create an air of avant-garde modernity with distinctive flaming lantern installations, a lava wall of stone from Italy cut into different shapes to create a lava-like elevation, and three rose-gold wood-burning ovens with logs at the ready for chefs to transform highest-quality ingredients into exceptional pizza and other authentic Italian comfort foods in full view of guests. There is seating inside, outdoors on a terrace overlooking the city, as well as within a private dining room.
Down on the 4th floor, the Hotel's all-day, market-style restaurant Elements is designed with live stations for food-pantry presentation of international and traditional cuisines. The main walnut-wrapped dining area is set beneath a dramatic arched ceiling crisscrossed with wooden bands and illuminated by pendant-style lighting. Stone floors are laid out in a modern geometric pattern, and towering windows overlook the city and Al Shaheed Park. Artworks within Elements include a mesmerising photograph of ink colliding in midair by Shinichi Maruyama; a silkscreen inspired by mashrabiya from Ammanda Seelye Salzman; and a three-dimensional sculpture in metal by Hans Schüle.
Also on the 4th floor, Al Bandar is a resort-style lounge serving lunch next to the Hotel's outdoor pool. Guests can relax and unwind in one of five air-conditioned cabanas or on comfortable lounge chairs during the day, and enjoy a welcoming lounge-like vibe with music and lights into the night.
Spa and Pool
Calming, restrained and ethereal, the Spa and its indoor pool are grounded in sculptural refinement. The Spa offers 10 private treatment rooms intimately curated with soft, residential quality furnishings and finishes and outfitted with windows to let the sun shine in and blackout blinds for soothing privacy and calm. The room count includes two suites with bathtubs, a psammotherapy suite, and a hammam suite with convex walls for an enveloping effect and a neutral palette enhanced with soft, subtle indigo gradients. Individual changing rooms for women and men are each arrayed with a sauna, steam room and whirlpool.
Within adjacent fitness centres – one for women only, the other mixed – the architecture of the Hotel's indoor swimming pool is based on a modern colonnade, with the pool running down the middle, lit by dozens of glowing lanterns hanging at ranges of heights, and flanked by archways and alcoves creating semi-private lounging areas for guests. Perimeter walls and the pool itself are lined in deep indigo stone with dramatic veining, while smooth and textured limestone highlights the archways.
Corridors and Accommodations
Corridors leading to guest rooms are lined in oak and embellished with Middle Eastern-inspired patterning that wraps the ceiling and dissolves toward the carpeted floor. Bronze room numbers are set casually leaning on custom bronze shelves.
The Hotel's 284 guest rooms and suites are explicitly chic and contemporary, schemed in soft shades of indigo, burnt orange and grey, along with thoughtful detailed custom furnishings for relaxation or productivity. Upon entry, guests follow a short millwork-lined corridor into the interior space. Accommodations range from Superior Rooms starting at 46 square metres (495 square feet), to the opulent Royal Suite at 438 square metres (4,700 square feet) spanning the entire 19th floor with appealing touches including oak hardwood floors, curved sofa, wall-mounted flat-screen TV and personal pantry.
Flashes of bold colour complement neutral furnishings while sculptural, framed design elements are softened by curvilinear furnishings. Beds are framed with up-lit indigo glass decorated with a dissolving motif, and burnt orange lacquer panels define the entry niche, pantry and stationary wall. Custom furniture with wood, bronze and dark grey lacquer elements were designed exclusively for the Hotel. Additional bespoke details include hand-laid mini herringbone oak floors, topped with a modernised flat-woven rug in the sleeping area.
Generously-sized bathrooms are contemporary with oval tub, separate rain shower, twin vanity sinks framed by mosaic tile and richly veined marble, and TV and lighting integrated within the mirror. Layered, framed mirrors with integrated lighting complete the bespoke look.
Art Collection
The Hotel's art collection is worth a visit on its own. At once visually arresting and artistically appealing, the collection includes more than two-dozen works selected to synergise with the design of distinctive settings located throughout the property, from Lobby to guest rooms. Taken together, the contemporary works charge the senses and inspire observation and conversation, demonstrating a passion for offering rewarding experiences in a class by themselves. Tours of the collection are available as part of the Hotel's activities programming. Selected pieces and their locations include:
Lobby
The Etymology of the Baroque, by Marc Quinn – Gleaming in white, this painted bronze sculpture by the internationally renowned artist is based upon a naturalistic genus of the orchid family. It is the first thing guests see upon entering the lobby.
Ballrooms
Copper-Plated and Chrome-Plated Steel Wall Sculptures, by Steven Naifeh – Compelling studies of negative and positive space, each of the four sculptures (two per ballroom) begin with traditional tessellation geometry and evolve into abstract works exploring ideas of scale and image negatives.
Framed Porcelain and Gold Leafed Pomegranates, by Alissa Coe – This elegant, handcrafted diptych by the Canadian artist includes numerous ceramic pieces carefully formed and thoughtfully placed, creating an exquisite composition of delicate leaves and tempting pomegranates hand-leafed in gold.
First Floor Meeting and Ballroom Area
Carbon Fibre Wall Sculpture, by David Henderson – Highly engineered, this gravity defying form gracefully displaces the surrounding space and acts as an ambassador for the artist's keen interest in physics.
Metal Sculptures on Plinths, by Sahand Hesamiyan – Striking, deftly crafted sculptures offering a look at geometry itself. The Iranian artist is intent on creating accessible works that are fully experienced and encourage interactivity.
Boardroom
Ink on Canvas, Framed, by Mohsen Daeinabi – Abstract forms created from an assemblage of calligraphic lettering, including divined brushed curves and dabs of ink. The artist also practices zen calligraphy.
Corridor, First Floor
Framed Photograph, by Adam Katseff – Located near the Hotel's prayer rooms, this work incorporates themes of minimalism and the elemental, reducing the location in the image to basic planes and simple shapes while removing any sense of time or place.
Corridor, Second Floor
Giclee Print on Paper, Framed, by Sama Mara and Lee Westwood – A visual journey between traditional Islamic art and Western contemporary composition, this is music coming to life in the form of an intricate, kaleidoscopic print of vibrant colours and complex shapes that harmonize sound and space.
From architecture to artworks, design details to materials, all richly layered with Middle Eastern motifs and inspired by the desert landscape and climate outside, Four Seasons Hotel Kuwait represents the utmost in elegance and modern sophistication on the contemporary hotel scene in Kuwait City and the world beyond.
---
---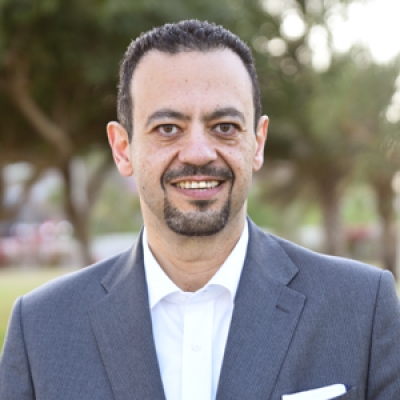 Mohamed Karara
Director of Marketing
Al Soor Street, Al Mirqab
Kuwait City, P.O. Box 735, Safat, 13008
Kuwait