Back
Unwrap the Magic of Peninsula Papagayo and Discover an Unspoiled World of Eco-Luxury at Four Seasons
Immerse in the pure wanderlust of the Pura Vida lifestyle through a dynamic tapestry of events that breathe life into the festive season
September 28, 2023,
Celebrate the most wonderful time of the year in an unspoiled world of eco-luxury at Four Seasons Resort Peninsula Papagayo. This season, the Resort has unveiled a coastal experience like never before with the addition of Virador Beach Club - a haven of barefoot luxury nestled within the Resort - and the Wellness Shala, a sanctuary for an extensive range of well-being offerings. Small children will receive the gift of a Kids For All Seasons transformation, inspired by the mangroves of Peninsula Papagayo. Golf lovers can rejoice in the enhancement of the Arnold Palmer Signature Golf course that has been renovated with a strong focus on sustainability.
The team has curated events designed to warmly welcome families and craft new traditions, from the Latin American tradition of the asado to Santa's tropical Beach Party on Christmas Day.
Resort Happenings
Santa's Beach Party – Don't miss Santa's annual beach bash, designed for families of all ages. The party offers a light breakfast and coffee while celebrating the holiday spirit with vibrant music, engaging performances, face painting, cookie decorating and of course photos with Santa and his jolly bunch. December 25, 2023 at 9:00 am, Playa Blanca. Reservations not required.
Latin American Asado - Experience a true Latin American tradition with the asado. Inspired by Argentinian culture, this joyous occasion brings together the Papagayo community to enjoy various cuts of grilled proteins with the picturesque Guanacaste sunset as backdrop. Choose from six dedicated stations, plenty of side dishes and homemade sauces, as well as numerous plant-based options. December 26, 2023 from 5:30 to 10:00 pm, Nemare.
Papagayo Street Fair - Peninsula Papagayo comes alive with this bi-annual event. Feel like a local and experience the genuine essence of Costa Rican craftspeople, along with artisanal shopping, local cuisine, live music and entertainment, games, and food trucks. December 28, 2023 at 5:00 pm, and the Golf Center.
Shaka Fest – Celebrate Surf culture with SURFX at this interactive event. Grab a chilled pipa, coconut water, and balance on the slack line at Blanca Beach. Discover local shopping in this event for the whole family.
New Year's Eve at the Disco - Step into a night of enchantment at Virador Beach's special New Year's Eve extravaganza. This year's theme is a vibrant fusion of disco fever and Latin flair. Groove to the rhythm of salsa and merengue beats under the starlit sky in the ultimate dance party and enjoy an incredible feast that promises to indulge every palate. A display of fireworks will top off the night. December 31, 2023, Virador Beach. Reservations required.
Restaurant Pop-ups
Guests can delight in pop-up events throughout the Resort and bring the magic of the season to the dinner table. The pop-up events happen throughout the festive season on the Blanca Pool deck.
Churros & Tacos - Indulge in the tastiest of treats with this classic combination. Bahia Chef Herberto brings to live these delicious Latin flavours with homemade churros created on the spot and made-to-order tacos with handmade tortillas, a Costa Rican comfort food.
Street Food Fest – Taste flavours from around the world in this curated event highlighting finger-licking street foods. Choose from tacos to burgers and everything in between.
Sunset S'Mores - No better way to end a fun filled day on the Peninsula than with a beach bonfire and make-your-own s'mores with homemade marshmallows.
Pizza Night - Guests can be in on the best kept secret on Peninsula Papagayo, pizza night from Pesce. With house made sauce, fresh dough and artisanal cheese all made in an Italian pizza oven, this is a family favourite.
Wellness Offerings
Thanksgiving
Yaniv Shanti: As a dynamic speaker, motivator, life coach, and happiness activist, Yaniv Shanti is the visionary founder of El Despertador, the Happiness School. Through transformative experiences, Yaniv guides individuals on a journey of rediscovering their innate happiness, helping them unlock their true potential. November 19-25, 2023
Festive Season
Dr. Luz: Dr. Luz is a highly skilled holistic healthcare practitioner with expertise in both allopathic medicine and acupuncture. Driven by a deep commitment to physical and mental wellness, Dr. Luz offers exceptional services that draw on extensive research and practical experience. These services are meticulously designed to enhance overall health and promote well-being. November 27 to December 2, 2023
Gustavo Grijalva: Gustavo Grijalva is a certified mobility specialist, functional trainer, and yoga teacher. His sessions offer a mindful blend of physical and inner work, combining pranayama (breathwork), asana, joint health, and movement. With focus sessions designed to provide unique experiences, Gustavo's approach nurtures holistic growth and well-being. December 15, 2023 to January 7, 2024
Rui Pedro: A skilled master in Traditional Chinese Medicine, Rui Pedro specializes in acupuncture and energy balancing. With a wealth of experience and a passion for his craft, Rui Pedro is dedicated to fostering optimal well-being. Through acupuncture and energy balancing expertise, he facilitates transformative healing journeys, leading to a more balanced and healthier life. December 15, 2023 to January 7, 2024
---
---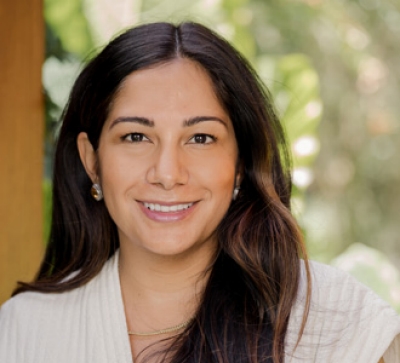 Melissa Quiñones DeShields
Public Relations Director

Peninsula Papagayo , Guanacaste
Costa Rica
---
Four Seasons Resort Peninsula Papagayo, Costa Rica
PRESS KIT

Visit Four Seasons Resort Peninsula Papagayo, Costa Rica Website