Back
Four Seasons Hotel Hangzhou at West Lake Celebrates 10 Years of Excellence and Magic
September 9, 2020,
Hangzhou at West Lake, China
Debuting in 2010, Four Seasons Hotel Hangzhou at West Lake has long been acclaimed among the world's most luxurious hotels. Over the past 10 years the Hotel has won numerous accolades and recognition including: Forbes Travel Guide Five-Star rating for five consecutive years; and Jin Sha and The SPA has been recognised by Forbes Travel Guide with a Four-Star ranking for five consecutive years. Condé Nast Traveler Gold List 2020 China Top Ten Hotels, Travel + Leisure China's Best Boutique Hotels and more: its overall success is the direct result of a talented team who are committed to creating exclusive experiences and extraordinary memories for each and every guest.
"I am so honoured to work with such a dedicated team. We never stop moving forward, instead we constantly present the best experience. Many accommodations open to a terrace conservatory that features windows that may be pushed back in fine weather. Views encompass forest glades, traditional gardens or lovely West Lake. Jin Sha has no boundaries while making the most of the finest local and seasonal ingredients; and WL Bistro, a newly positioned Italian restaurant, offers an unparalleled outdoor dining experience with stunning views of landscaped gardens, infinity pond and West Lake. A series of wellness activities help guests rediscover themselves to achieve a more balanced and present state of mind, body and spirit," says Michael Branham, General Manager.
Exclusive Experiences
Four Seasons Hotel Hangzhou at West Lake has been committed to creating a series of cultural and artistic experiences that combine local cultural characteristics with the natural beauty of UNESCO World Heritage Site of West Lake. For travellers looking for the ultimate West Lake experience, Four Seasons Hotel Hangzhou at West Lake offers a journey like no other. With either boat arrival or breakfast on wooden boat, guests are invited to float in style to their unforgettable Hangzhou stay at this intimate lakeside retreat.
Discover the Art of UNESCO Intangible Cultural Heritage seal engraving with the Hotel's Concierge, where guests can create their very own stone seal to bring home with a master engraver at the Xiling Seal Engraver's Society while enjoying the elegant and refined traditional Chinese gardens, making for a truly unique experience.
Wellness Meetings
Four Seasons Hangzhou at West Lake is a perfect choice to blend business with some time-out for a variety of activities to de-stress, slow down and reconnect. Meeting mindfully at Four Seasons Hotel Hangzhou at West Lake aims to support planners who are conscious that creating breaks are critical to a successful event while decreasing anxiety and improving focus for the attendees.
Character and Craftsmanship
The talents have been part of the Hotel's journey and the Four Seasons Golden Rule - treat others as you want to be treated - is deeply permeate into every thoughtful service; this is the key to success.
The culinary team, led by Chef Wang Yong since hotel opening, is expert in Zhejiang cuisine, creative culinary style, focus on quality and seasonal ingredients, including specialties with consistent quality and creative seasonal section. The once-a-year chef table is an opportunity to discover special flavour combinations in a surprise menu conceived by Chef Wang himself.
Simon Li, Head Sommelier has created the finest selection of wines and champagnes. Under his management, Jin Sha and WL Bistro both won the reputation of China's first and most prestigious award China Wine List of the Year - Three Glasses.
Chef De Cuisine Wilson, and Food and Beverage Manager Ocean Wang, two brothers, made WL Bistro the most desirable restaurant in Hangzhou serving family-style Italian cuisine.
Miya Zhang, Assistant Director of The Spa, has created a series of wellness activities. "The Spa is a relaxing haven. It is not only a spa that offers treatments but a place where we encourage a healthy lifestyle by guiding each guest to a state of greater wellness."
Navy Zhu, Chief Concierge, always creates highly personalised journeys that tell the story of Hangzhou. He is deeply passionate about uncovering hidden local gems and showcasing the city's grand cultural icons to guests.
Sisi Zhan, Guest Experience Manager, always makes a great line-up of activities keeps kids busy and happy as she develops different seasonal activities that offer an array of fun and educational activities for all kids.
---
---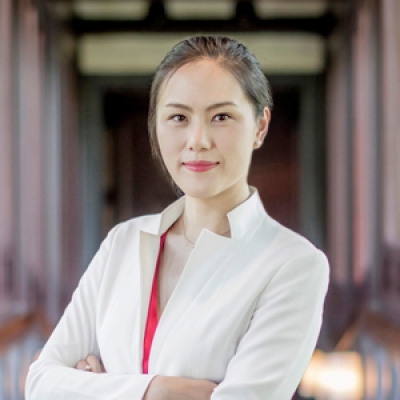 Cecilia Xu
Assistant Director of Public Relations
5 Lingyin Road
Hangzhou, Zhejiang 310013
China
---
Four Seasons Hotel Hangzhou at West Lake
PRESS KIT

Visit Four Seasons Hotel Hangzhou at West Lake Website