Back
Celebrate the Longjing Tea Season with Four Seasons Hotel Hangzhou at West Lake
The Longjing (Dragon Well) tea picking season has almost arrived, and here's everything one needs to know about this special harvest
April 8, 2021,
Hangzhou at West Lake, China
During the first week of April, Hangzhou will commemorate the Longjing tea picking season. This special time will give rise to some special Longjing tea-themed items at Four Seasons Hotel Hangzhou at West Lake.
Hangzhou has a 4,000-year history of tea production and is host to the China National Tea Museum. The world's first monograph about tea, The Classic of Tea, was written by the "Sage of Tea" Lu Yu (733-804) in Hangzhou. The tradition of drinking green tea was a characteristic of refined Hangzhou life. Combined with the use of tea utensils and tea ceremony, a rich tea culture gradually developed. Hangzhou currently has about 2,000 teahouses.
Longjing, also called Dragon Well, is only harvested in spring and its premium crops are produced during two specific periods in April: before Tomb Sweeping Day (known as Ming Qian picking), and before Grain Rain (6th solar term; known as Yu Qian picking). Ming Qian Longjing, also known as "new tea," the delicate, hand-pressed tea buds with one leaf brings a rich flavour and full aroma from within.
Tea Plantation Tour
The tea plantation is located at the Lion Peak hill in Longjing village; the birthplace of West Lake Longjing tea. Visit the tea plantation, observe its manufacturing process, and experience the art of tea picking in April or May. A guide will demonstrate the traditional Chinese way of making and drinking tea after the tour.
Tea Temptations at Jin Sha
Experience delicacies inspired by Longjing tea to celebrate this special season in style at the award-winning Chinese restaurant Jin Sha:
A Cup of Dragon Well Tea - The aroma is vegetative and sweet. Steeped for two minutes, the cup colour is green-yellow, reflective of the strength of the leaf. The taste is clearly vegetal with chestnut flavour that will warm and a hint of astringency, a traditional style of Dragon Well. It offers a quenching, lingering finish.
Sautéed River Shrimp with Longjing Tea Traditional Hangzhou Style - This is a specialty of Hangzhou, produced using the meat of live river shrimp and Longjing tea leaves. The white and green colour of this dish reflect the fresh delicate flavour. According to legend, it arose when the Qianlong Emperor visited Hangzhou.
Longjing Cream Pudding - Crème brulee is a French dessert; however, Jin Sha makes this dessert with Longjing tea and it is one of its signature dishes.
Tea Breeze at The Spa
Relax in a soothing bath infused with Longjing tea; this fragrant signature treatment works in harmony to restore the body's equilibrium at The Spa.
Dragon Well Tea and Jade Spring Ritual - This ritual begins with a green tea and black stone foot wash, followed by a bath infused with the concentration of Dragon Well tea leaves. The skin is exfoliated with a Dragon Well tea scrub, and thereafter, nourished with a warming imperial tea wrap, followed by a relaxing aroma massage, using herbal concentrate infused oil helps to boost circulation and restore a natural state of equilibrium.
---
---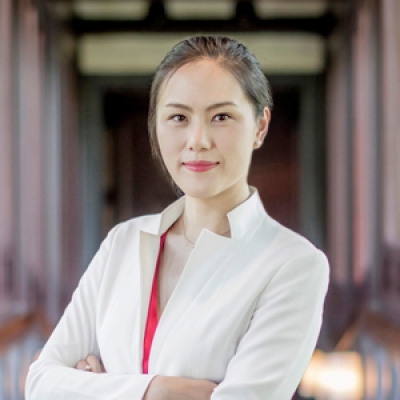 Cecilia Xu
Assistant Director of Public Relations
5 Lingyin Road
Hangzhou, Zhejiang 310013
China
---
Four Seasons Hotel Hangzhou at West Lake
PRESS KIT

Visit Four Seasons Hotel Hangzhou at West Lake Website