Back
Four Seasons Hotel Hangzhou at West Lake Welcomes Weilu Wang as Pastry Chef
April 15, 2021,
Hangzhou at West Lake, China
Weilu Wang has been appointed as Pastry Chef of Four Seasons Hotel Hangzhou at West Lake. She has garnered incredible experience that will bring unmatched talent to Hangzhou as she joins from Eleven Madison Park in New York, a three Michelin star restaurant and Black Pearl Three Diamond restaurant that has also been named to the World's 50 Best Restaurants list. Chef Weilu will oversee the entire pastry operation at the Hotel. Her exposure to some of the most highly trained chefs combined with her passion, talent and critical eye for creativity and quality will be certain to enhance the guest experience.
Chef Weilu graduated from Le Cordon Bleu Paris in 2011 and then began her career as pastry sous chef at Monsieur Chocolat. She then spent five years in Stockholm as head pastry chef at patisserie Prince Philosopher. Chef Weilu seized an exciting opportunity in New York at the world-renowned Eleven Madison Park, where she continued to hone her craft in haute cuisine. Right after that, Chef Weilu joined the team of Oaxen Krog in Stockholm, which was named as one of the World's 50 Best Restaurants for five consecutive years. In this two-Michelin starred and the 2020 Nordic Sustainability Award-winning restaurant, she worked as pastry chef collaborating with chef-owner Magnus EK on a series of innovative desserts of Scandinavian features. Chef Weilu now brings her exceptional skills to Four Seasons Hotel Hangzhou at West Lake, where she will undoubtedly impress with her craftsmanship.
The majority of Chef Weilu's recipes come from her extensive travel experience, where she immerses herself into the local culture, often strolling through provincial markets in the hope of discovering unconventional flavours. She is very excited to join Four Seasons Hotel Hangzhou at West Lake and explore all that Hangzhou has to offer, and looks forward to creating new pastries and desserts and infusing them with regional ingredients.
An Interview with Weilu Wang
How did you discover your sweet tooth? Under what circumstance?
I have always been guided and inspired by many talented and creative pastry chefs, chocolate experts and cuisine chefs. At the same time, I have been exposed to many high-quality desserts, bread and chocolates, which greatly developed my taste and positively affected my culinary aesthetics.
How has being in France influenced you and your style?
To think differently, to be simple, original and elegant.
What were your greatest achievements when you worked at Monsieur Chocolat, Prince Philosopher, Eleven Madison Park, and Oaxen Krog?
Ultimately to understand pastry in terms of "taste" at Monsieur Chocolat, pastry as "art" at Prince Philosopher, as "gastronomy" at Eleven Madison Park, and as "nature" at Oaxen Krog.
What is your biggest inspiration when it comes to culinary arts?
Inspiration comes from everywhere unexpectedly. Nature first, then all kinds of art (the imitation, imagination, and re-creation of nature).
What are your thoughts on working in Mainland China?
Chinese culture is an inexhaustible treasure. Anyone who works here will benefit tremendously from that. And Chinese people have incredibly good taste and they always desire a greater quality of cuisine.
What are you excited to bring to the menu here at Four Seasons Hotel Hangzhou at West Lake?
Simple, well-considered, seasonal,and affordable sets and the philosophical ideas behind them.
If you couldn't be a patisserie chef, what would you have wanted to be?
I never think about that. I haven't done pastry well enough yet and pastry is a universe for me, there is still too much to learn.
What advice would you give an amateur pastry chef?
I am also an amateur in front of all experts. Only a few experiences to share: Taste sits always on the very top of the pyramid. Everything else only serves to the taste. Among them, techniques, knowledge, aesthetics, passion are basements to support it in finding a balance and an order. Never stop thinking, trying, learning, and being original, as pastry has never stopped evolving.
What do you love most about your job?
It connects me to a beautiful world.
What are your hobbies?
Art, design, architecture, literature, plants, animals, technology, fashion, makeup.
What is your IG?
Who is your idol pastry chef and what is his/her IG?
Benoît Charvet (benoit_charvet), Claire Damon (damon.claire), Claire Heitzler (claire.heitzler), François Perret (francoisperretpatisserie), Jessica Prealpato (jessicaprealpato), Laurent Jeanin (passed), Michael Bartocetti (michaelbartocetti) and many more. Luckily we live in a golden age of pastry!
---
---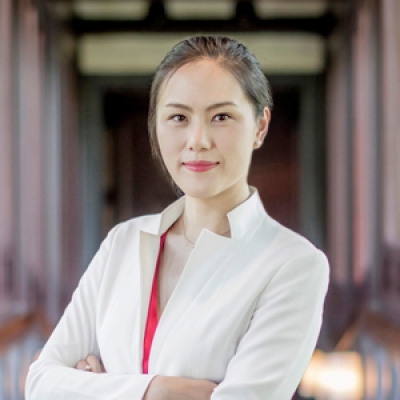 Cecilia Xu
Assistant Director of Public Relations
5 Lingyin Road
Hangzhou, Zhejiang 310013
China
---
Four Seasons Hotel Hangzhou at West Lake
PRESS KIT

Visit Four Seasons Hotel Hangzhou at West Lake Website