Back
Five Questions for Chef Wang Yong of Award-Winning Jin Sha Restaurant
Hangzhou at West Lake, China
Wang Yong is the chef at award-winning Jin Sha restaurant at Four Seasons Hotel Hangzhou at West Lake. Here, he offers insights into his approach to the dining experience at Jin Sha.
What are the key characteristics of Hangzhounese cuisine?
The cuisine of Hangzhou is light, mild and slightly sweet.The most famous dishes are related to Hangzhou's history and culture. Dishes such as fish in vinegar or Beggar's Chicken, which is covered with lotus leaves and baked in a clay shell, reminds people immediately of beautiful West Lake. Both the fish and lotus can be sourced from West Lake.
What are the most common cooking techniques used in Hangzhounese cuisine?
Precision in knife cuts is prized in Hangzhounese cooking. Every slice and dice must be uniform. Here in the south, we like to add a touch of sugar to bring out the fresh flavours of the ingredients.
What are the main differences between Hangzhounese and Shanghainese cuisine?
Shanghai cuisine is heavily influenced by the colours, aromas and tastes from its neighbouring provinces, Jiangsu and Hangzhou. Like Hangzhounese cuisine, sugar is an important ingredient in Shanghainese cuisine, especially when used in combination with soy sauce.
What's your secret to cooking Dongpo pork?
At Jin Sha, we serve the Shanghaianese version of this dish, which is a braised pork with abalone in a sweet soy sauce with sugar and yellow wine. Like the more traditional Dongpo pork, the wine breaks down the fat to make the braised pork belly flavoursome, succulent and give it the tender "melt in mouth" texture. It is so tender it can easily be separated into small pieces with chopsticks.
One of the signature items at Jin Sha is the classic noodle soup with sliced pork, bamboo shoots and preserved vegetables. What is your secret to cooking this dish? How is the stock made?
The noodles are cooked in wild rice stems, preserved vegetables and bamboo shoots. Fresh bamboo shoots, shredded meat, and pickled green cabbage are the key to cooking good noodles.
---
---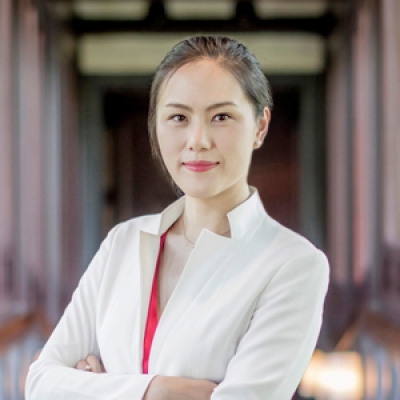 Cecilia Xu
Assistant Director of Public Relations
5 Lingyin Road
Hangzhou, Zhejiang 310013
China
---
Four Seasons Hotel Hangzhou at West Lake
PRESS KIT

Visit Four Seasons Hotel Hangzhou at West Lake Website