Back
Four Seasons Hotel Hong Kong Welcomes the Year of the Tiger 2022 with Roaring Fun
December 22, 2021,
Lunar New Year is a time to celebrate tradition and joyful family reunions with a grateful spirit. Four Seasons Hotel Hong Kong welcomes the Year of the Tiger with sumptuous culinary celebrations and unique Hotel experiences throughout January and February 2022.
Discover handmade Chinese New Year Puddings and Festive Menus from Lung King Heen, Afternoon Tea Sets at The Lounge and festive hampers on Four Seasons eShop. Stride into Chinese New Year fully revitalised at the award-winning Spa and stay at Four Seasons Hong Kong to enjoy special privileges.
New Take on Traditional Classics
Savour Chinese New Year puddings handmade by chefs at the three Michelin-starred Lung King Heen. A traditional and symbolic treat, puddings represent togetherness, good luck and prosperity.
Four Seasons Hotel Hong Kong offers four unique puddings this year including a new flavour to mark the holiday season.
Water Chestnut Pudding with Camomile Tea
Chinese Executive Chef Chan Yan Tak and his team added a twist to the traditional Water Chestnut Pudding by seeping honey-like camomile tea into the mixture. The three Michelin star Chinese restaurant chose to collaborate with Yú Teahouse, a local Hong Kong company that sources the finest tea leaves, promoting a healthy regimen of tea drinking to guests and bringing wellness to their daily lives. The chosen camomile tea blend contains lemongrass and mandarin peel, lending a refreshing yet soothing taste to the pudding.
When it comes to balancing the delicate flavours, chefs make sure tea is seeped at 85 degrees and brewed for the right amount of time – short brew time will result in a weak flavour, and if too long, tannin will give the pudding a bitter taste. This silky-smooth pudding will make the perfect accompaniment to a reunion celebration around the table.
A perennial favourite among local guests, Lung King Heen puddings also come in three classic flavours: the Lunar New Year Pudding with Coconut Milk; Abalone and Turnip Pudding with Conpoy; and Taro Pudding with Black Truffle and Air-dried Meat. Each pudding is handmade and produced in small quantities by the star team led by Chef Chan.
Chinese New Year Pudding Boxes
Water Chestnut Pudding with Camomile Tea – HKD 498 per box
Lunar New Year Pudding with Coconut Milk - HKD 498 per box
Abalone and Turnip Pudding with Conpoy - HKD 598 per box
Taro Pudding with Black Truffle and Air-dried Meat - HKD 598 per box
Puddings are available to order online from December 28, 2021. Guests can enjoy 15 percent savings for purchases made on or before January 15, 2022. Pudding pick-up dates are from January 24 to 31, 2022 at the Cakeshop from 10:00 am to 8:00 pm daily.
For enquiries, call Lung King Heen at 3196 8880 or email lungkingheen@fourseasons.com.
Sha Yung – A Childhood Favourite
Executive Chef Ringo Chan's most prized childhood dessert is Sha Yung – a deep fried dough that is crispy on the outside yet light, fluffy and eggy on the inside, completed with a sugar coating. This traditional Chinese pastry is best eaten when it is freshly fried, thus, for a limited period, from January 1 to February 28, 2022, they will be produced in small batches and sold in the cake shop daily at 12:00 noon, 2:00 pm and 4:00 pm at HKD 25 each.
A Feast Fit for a King
The Hotel's three-Michelin starred Cantonese restaurant Lung King Heen has prepared a six-course menu for the Lunar New Year celebration, bringing luck to guests in the Year of the Tiger.
Relish renowned signature dishes within spacious interiors at HKD 1,680 per person including favourites such Abalone Casserole with Air-Dried Seafood and Mushroom, and Simmered King Prawn with Spicy Plum Sauce.
All prices are subject to 10 percent service charge.
For enquiries, call Lung King Heen at 3196 8880 or email dining.hkg@fourseasons.com.
Chinese New Year Afternoon Tea
Throughout January 1 to February 28, 2022, The Lounge offers a special Chinese New Year afternoon tea set that includes the signature scones and festive delights such as Kumquat Crispy Puff, Da Hong Pao Red Bean Rolls and more. Savoury food lovers will find joy in the 24 Months Comte Cheese French toast and Wild Mushroom and Mousse Mini Tartlet.
For Lunar New Year days on February 1 to 3, 2022, the Afternoon Tea set is enhanced with a live cooking station, featuring an unlimited refill of Chinese Brown Sugar Puddings, Turnip Pudding, Taro Pudding and Rice dumpling in Ginger soup.
The Chinese New Year Tea Set is priced at HKD 658 for two persons for Mondays to Saturdays, available in two seatings, 2:30–4:15 pm and 4:30–6:00 pm; for Sundays and Public Holidays, the afternoon tea set is priced at HKD 698 for two persons, available at 3:00–4:30 pm and 4:30–6:00 pm. For February 1 to 3, 2022, Festive Afternoon Tea with live cooking station is priced at HKD 498 per person.
Afternoon Tea takeaway is also available at HKD 698 on eShop.
For reservations, contact the Festive Team at 3196 8708 or email shop.hkg@fourseasons.com.
Winter Carnival Staycation at Four Seasons
Make it an enchanting winter to remember with spectacular fun at the Winter at The Wheel carnival for the family, an artisan handcrafted welcome amenity in a newly renovated room, a sumptuous buffet breakfast, and a pampering Time Response Experience Kit by Amorepacific valued at HKD 1,980 for glowing complexion with antioxidising energy from young green tea leaves.
Available from January 2 to February 15, 2022 the Winter Carnival Staycation rates starts from HKD 3,192 for a Deluxe Peak View Room or HKD 6,300 in a Superior Harbour View Suite.
Inclusions:
Complimentary daily breakfast for two adults
Free breakfast, lunch and dinner at selected Hotel restaurants for kids aged 6 or below (up to two kids) (excludes Caprice and Lung King Heen)
50 percent savings on the adult breakfast price for kids aged 7 to 12
Special priced children's lunch and dinner menus at selected Hotel restaurants for kids aged 7-12 (excludes Caprice and Lung King Heen)
Two complimentary tickets and 20 tokens to the Winter at The Wheel, Central Waterfront, (additional ticket with 10 tokens at HKD 130 per person)

One complimentary set of Time Response Collection Experience Kit by Amorepacific valued at HKD 1,980, featuring the Skin Reserve toner, fluid, cream and serum, and Eye Reserve cream
Handcrafted welcome in-room amenity
Complimentary upgrade to Harbour View Room from Mondays to Thursdays except public holidays
Special rate of HKD 450 on overnight parking for one vehicle
Special shopping privileges at selected shops at ifc mall
For reservations, call Reservations at 3196 8333 or email res.hongkong@fourseasons.com.
Kids Activities
Meanwhile, the Hotel ensures that its little guests find joy and entertainment during their stay:
Access to the special Chinese New Year kids' program between February 1 and 18, 2022
Little Kitchen Chef classes (February 1, 2, 3 and 13-14) – Wonton Making Class or Coconut Glutinous Dumpling, priced at HKD 800 per child, subject to 10 percent service charge
Complimentary Arts and Crafts classes (February 1 to 6, 2022) – making Tiger themed bag and Fai Chun, firecrackers and lucky fan
God of Wealth will grace his presence at breakfast venues on February 1, 2, 5 and 6, 2022

Complimentary use of the Kids' Playroom and Logitech Car Racer PlayStation Experience (advance reservation is required)
Explore the Hotel's secret spots with the Scavenger Hunt and earn prizes
Virtual in-room guided activities, board games and Nintendo Switch (on request and subject to availability)
Shop with Four Seasons Anytime, Anywhere
Four Seasons eShop will refresh its page starting December 28, 2022, transitioning from Christmas promotions to feature Chinese New Year puddings and hampers online.
Send well wishes of luck and fortune to friends and families by gifting Lung King Heen Chinese New Year Hampers. Guests can choose from Lung King Heen Ultimate, Lung King Heen Deluxe and Lung King Heen Gourmet hampers, priced at HKD 13,998, HKD 3,988 and HKD 2,800 respectively. All hampers include a fine selection of gourmet treats that represent good luck, prosperity and health. The Ultimate Hamper has a large variety of lavish items including the most sought-after Lung King Heen Homemade XO sauce, which is produced in limited quantities, the prized superior dried black moss, 5 to 6 heads dried fish maw, 5 heads South African abalone, and more.
For any enquiries, contact 3196 8708, email shop.hkg@fourseasons.com or order online.
24K Gold and Pearl Magic at The Spa
24K Gold Age-Defying Facial
The 90-minute propitious facial will enliven the skin while restoring emotional balance to total well-being. The facial starts with a foot ritual to release any tension, followed by a double facial cleanse and exfoliation. The treatment contours the face with special massage techniques, leading to a therapeutic mask that harnesses the powers of 24k gold leaf and Mogra that penetrate and revive the deep layers of skin, reducing fine lines and wrinkles. The healing elements works synergistically to boost collagen production and increase cell renewal.
This results-driven treatment is priced at HKD 2,990, subject to 10 percent service charge.
Pearl Infused Remineralising Body Mask and Therapeutic Massage
This 90-minute body treatment allows guests to experience the power of pearls designed to deliver multi-sensory results. It begins with a foot soak leading to a full therapeutic massage. The treatment is complete with a mineral rich full body wrap, infused with active ingredients of pearl and conch shell extracts to stimulate skin cells and regeneration. While cocooned in this mineral mask experience, guests will receive a rejuvenating head massage.
This rejuvenating treatment is priced at HKD 2,500, subject to 10 percent service charge. Guests will receive a Mogra Rejuvenating Gold Cream (15 ml) as a gift upon booking either of the treatments above.
For reservations, contact The Spa at 3196 8910 or email spa.hkg@fourseasons.com.
---
--- Chu Wong
Director of Public Relations and Marketing Communications
8 Finance Street, Central
Hong Kong,
China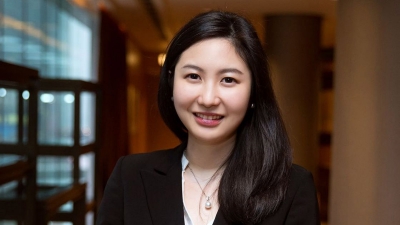 Priscilla Chan
Assistant Public Relations Director
8 Finance Street, Central,
Hong Kong,
China
---
Four Seasons Hotel Hong Kong
PRESS KIT

Visit Four Seasons Hotel Hong Kong Website