Back
Celebrate Fresh Cuisine and Meals Perfect for Sharing with Malibu Farm at Four Seasons Resort Lanai
Enjoy the bounties of the season with favourite recipes
May 13, 2020,
As temperatures rise and seasons change, cooks in the kitchen can enjoy an abundance of fresh ingredients with produce sprouting up from the ground, ready to star in vibrant and delicious dishes. Garden-to-table comes to life in just a few steps at Four Seasons Resort Lanai via the Mailbu Farm Harvest Garden. Located minutes from the restaurant, the garden provides Malibu Farm with a variety of fresh ingredients. Lanai's Malibu Farm, an outpost of the LA eatery popular with local residents, surfers and A-list celebrities alike, offers a mouth-watering selection of salads, sandwiches, snacks and libations bursting with flavour. Imagine dining poolside looking at the beautiful Hulopoe Bay, home to frolicking spinner dolphins.
Set a table with effortlessly chic and tasty meals at home with these tempting recipes:
Broccomole
1 cup broccoli florets
1/4 cup finely chopped onion
Jalapeno pepper diced, to taste
1/2 bunch cilantro
2 limes
Cook broccoli florets in salted water for 1 minute. Drain and combine all ingredients in a food processor, pulse until a mash forms. Season to taste with salt. Grab a bowl of chips and enjoy.
Cauliflower Pizza
4 ounce log goat cheese
3 tablespoons crème fraiche
1 egg
Lavash bread
1 cup three cheese blend (monterey jack, cheddar and mozzarella)
1 cup cauliflower, raw and thinly sliced
Olive oil
Kosher salt
Preheat oven to 400 degrees F. In a processor, mix together goat cheese, crème fraiche and egg, until smooth and spreadable. Lay a slice of lavash bread onto a baking sheet that has been lightly brushed with olive oil. Spread a thin layer of the goat cheese spread onto the lavash bread. Top the lavash with the three cheeses blend, then the cauliflower. Drizzle with olive oil, sprinkle with salt, and bake for approximately 8 to 10 minutes, until brown and crispy around the edges. Slice pizza and serve.
Burrata and Papaya Salad
Sweet pomegranate dressing:
1⁄8 cup balsamic vinegar
3 tablespoons pomegranate molasses or maple syrup
1 teaspoon chopped shallot
1⁄4 cup olive oil
Salt to taste
Macadamia nut candy:
1⁄3 cup sugar
1⁄2 cup roasted macadamia nuts, smashed
Salad:
1 bunch spinach
1 papaya, sliced
8-ounce ball of burrata cheese, shredded
Fresh chopped mint and pomegranate seeds to garnish
Whisk together all of the dressing ingredients in a large bowl. To make macadamia nut candy, have more nuts than sugar. In a small, dry skillet over medium heat, add 1/3 cup sugar. When the sugar begins to melt, stir in nuts. When melted and mixed, pour onto a lightly greased sheet pan and set aside to cool, then break the brittle into little candy pieces. Toss the spinach and the papaya in the sweet pomegranate dressing, then scatter shreds of burrata cheese on top. Garnish with brittle and mint. When they're in season, pomegranate seeds are a great addition, too.
Vegan Chop Salad
1 tablespoon dijon mustard
1/4 cup red wine vinegar
1/4 cup extra-virgin olive oil
Kosher salt
1 tablespoon finely chopped chives
4 cups chopped romaine and kale mix
1 cup chopped roasted butternut squash
1 cup chopped roasted beets
1 cup chickpeas, drained and rinsed
2 avocados, diced
Whisk together dijon mustard and red wine vinegar until emulsified, then slowly whisk in olive oil. Season with salt and add the finely chopped chives. Place romaine and kale in a large bowl, top with squash, beets, chickpeas, and avocado. Drizzle over dressing and toss to combine.
Non-vegan option - add grilled chicken, skirt steak, local fish or prawns.
---
---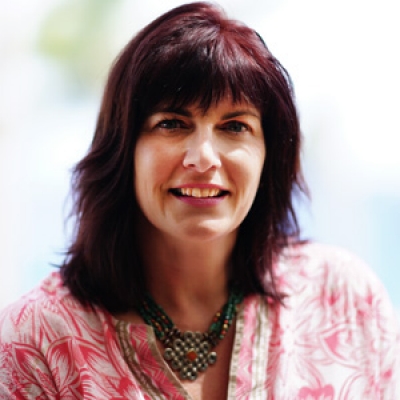 Lori Holland
Director of Public Relations
6100 Center Drive, Suite 1250
Los Angeles, CA 90045
U.S.A. Olivia Kragen
Digital Marketing Manager
6100 Center Drive, Suite 1250
Los Angeles, CA 9045
U.S.A.
---
Four Seasons Resort Lanai
PRESS KIT

Visit Four Seasons Resort Lanai Website