Back
Celebrate Valentine's Day on a Secluded Island with Four Seasons Resort Lanai
January 7, 2020,
This February, warm island breezes carry couples away to a romantic escape. Escape the crowds at Four Seasons Resort Lanai, a sophisticated gateway offering luxury and comfort, elegant dining and an array activities, from relaxing on the beach to sailing, a game of golf or tennis, or exhilarating rides on UTVs or horseback on a 90,000-acre (36,000 hectare) island paradise.
Enjoy aloha (love) all month long with these special experiences:
Sweetheart Rocks
The Resort's luxury spa suite experience pays homage to the iconic Lanai landmark Puupehe, or Sweetheart Rock, overlooking the Hulopoe Bay marine reserve and Pacific Ocean. The first half hour of the experience starts with the Salts of the Earth body scrub, which is followed by an aromatic, hydrating and grounding 90-minute Oceanic Stone Lomi Lomi Massage tailored to guest preferences, as well as scalp and foot masks for top-to-toe relaxation. Enjoy in one of the gorgeous couple's suites at the Hawanawana Spa. Follow it up with a hike to Puupehe to welcome the sunrise or sunset together – on a clear day gaze upon Maui, Kahoolawe and even Oahu. Sweetheart Rocks is USD 830 for two, 120 minutes total.
Island Romance Retreat
The couple who spas together finds wellness together – especially in a luxury spa suite. After side-by-side ANDA Vital Nutrient Gua Sha facials, the revitalising effects that started on skin, neck and shoulders are extended all the way down to one's toes. This exclusive treatment has it all: breathing and balancing rituals, a therapeutic full-body massage, and a comforting light wrap and foot treatment – all featuring signature Gua Sha elements. Continue to relax with a mineral bath in the guest room. Five sachets of Mineral Wellness Soak with Eucalyptus and a deluxe-size Fuz Balm are gifts. Island Romance Retreat is USD 1,200 for two, 150 minutes total.
Dine à Deux
Enjoy a special Valentine's Day menu in ONE FORTY. Chef Andrea Ferrandi will offer a three-course prix fixe dinner for USD 95 per person; a la carte items will also be available. This ocean-view restaurant showcases prime and wagyu beef from Snake River Farms, local Hawaiian catch, prepared to perfection, traditional side dishes an accomplished wine list featuring more than 500 labels.
Activities Just for Two
For a truly romantic escapade, book a private activity on land or sea where two is the perfect number. Set sail on Lanai V, a luxurious 45 foot Insetta, a centre-console catamaran designed and built by INSETTA Boatworks, a family-owned company known for marrying high quality materials and stellar craftsmanship. The design was intended to bridge the gap between smaller boats and large sport-fish yachts for a more intimate experience that still delivers peak performance, safety and comfort. Couples can snorkel, fish, go scuba diving or simply enjoy a beautiful ride along the stunning cliffs of the island. Or saddle up for a horseback ride through ironwood and eucalyptus forests in the rolling hills of Koele, once the headquarters of the island's ranching operations in the early part of the century. Offering breathtaking vistas of neighbour islands, the wranglers have a secret route for couples for afternoon rides – time to enjoy the sun setting behind a string of proud Cook pine trees – a memorable end to a unique way to see Lanai.
For an action-filled escape, book the Lanai Explorer offer and enjoy unlimited activities on land and sea experiences including horseback riding, off-road adventures, sporting clays, archery, tennis, water sports and more. Rates start at USD 1,400 per night, for two people.
Revel in romance with even more adventures:
Tour a charming plantation town in a beautiful private carriage drawn by Shire draught horses. The one-hour ride begins in Lanai City and ends at Lanai Ranch at Koele, a favourite spot to watch gorgeous sunsets.
Cherish one's wedding and a shared life together in a special vow renewal celebration.
Head out to the Manele Golf Course after 3:00 pm for Sunset Nine. Grab a putter or go along for the ride and check out the most scenic nine holes in the world, then enjoy a cocktail together.
Rent a Jeep and head to Halepalaoa Beach on the eastern side of the island. Named for the whales that once washed ashore, this golden sandy beach is a quiet place to relax, sunbathe and swim. Pack a picnic and enjoy a day together lounging in secluded bliss.
Capture the moment in canvas and commission a sketch or painting by local artist Mike Carroll. Mike moved from Chicago to pursue his life-long passion for art, and his gallery in Lanai City showcases original oil paintings and prints celebrating Hawaii. Couples can share a favourite romantic spot or send in a photo for a unique remembrance of a special time together.
---
---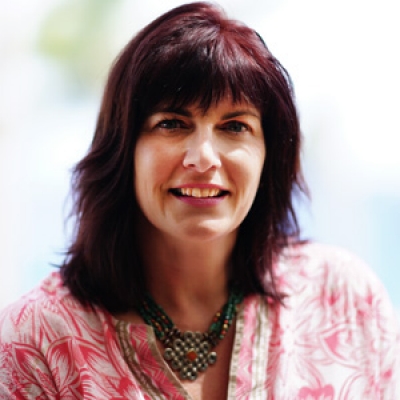 Lori Holland
Director of Public Relations
6100 Center Drive, Suite 1250
Los Angeles, CA 90045
U.S.A. Olivia Kragen
Digital Marketing Manager
6100 Center Drive, Suite 1250
Los Angeles, CA 9045
U.S.A.
---
Four Seasons Resort Lanai
PRESS KIT

Visit Four Seasons Resort Lanai Website